Now that Thanksgiving is over, many of us will be getting ready for Halloween. If you are like me and favor non-food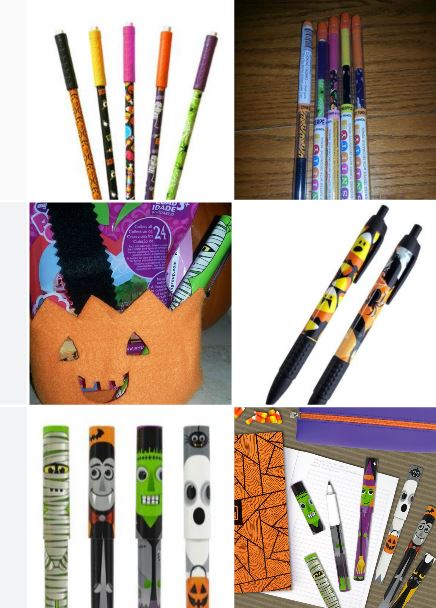 alternatives to Halloween candy then you may be searching for some ideas. Lucky for you I already gave you some fantastic suggestions from Hasbro.
Today I am back with some fun and cost-effective alternatives to candy from International Arrivals that will be appreciated by both parents and kids, long after October 31st is over.
Snifty Scented Pencil Toppers: Halloween treats never smelled so good. These decorative Halloween pencils come with toppers in 5 scents such as Fruit Punch, Carmel, Grape, Pineapple and Cotton Candy. Each topper and pencil is packaged in a reusable tube.
Snifty Scented Pens-Halloween: Carmel Pumpkin & Candy Corn scents wafting through the air as you write out your weekly spelling list. Fun graphics cover the pens with images of black cats, candy corn & witches. The pens have black ink & the scent is embedded in the grip for long lasting fragrance.
Spooktacular Writers: Priced at $1.95 each, Ook-Spooky black ink pens with friendly Halloween characters faces on their caps are the perfect non candy treat for trick or treaters. Choose from 6 creepy characters including; Witch, Black Cat, Mummy, Dracula, Frankenstein and Ghost.
Who said Halloween had to be about junk food? With so many parents concerned about the amount of candy their child receives at Halloween, maybe it's time to avoid it altogether, and opt for one of the above alternatives to Halloween candy from International Arrivals.
What do you think? What do you plan on giving out to trick-or-treaters?
International Arrivals is a contemporary gift/stationery company who offer an assortment of fun and functional items geared toward children and children at heart.
Website: intlarrivals.com