Summer's here, and it's time to get outside, break open the barbecue and start grilling! At Today's Woman, we love a good
summer barbeque, and that's why we're sharing a few tips and must have barbecue accessories.
Don't enter the season without spring cleaning your most important cooking tool.
Take a close look at your burners to ensure there aren't any holes. If you spot any, it's time for a replacement. In fact, you should do an overall inspection of your barbecue, checking over your gas hose, thermometers, control knobs,and handles.
Clean your barbeque grill with the power of steam using the Steam Cleaning Grill Brush from the fine folks at Hammacher Schlemmer. Safe on stainless-steel, ceramic, and iron grills, the Steam Cleaning Grill Brush is rather easy to use.
Simply preheat your grill for 10 minutes on high to burn off as much baked-on residue as possible, then with the water valve in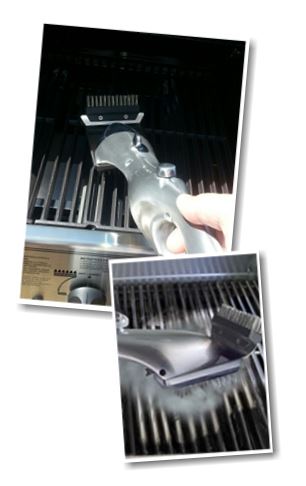 the off position, fill your Steam Cleaning Grill Brush with water, turn the water valve to on, and start to brush away caked-on food residue and grease.
For more steam, loosen the fill cap. For hard-to-clean areas, flip the brush over to release just the right amount of water from the three-row scraper brush
The Steam Cleaning Grill Brush is equipped with a handy hang-hook for convenient storage, and comes with two removable brush heads, which are dishwasher safe.
In our opinion the Steam Cleaning Grill Brush is a must have barbeque gadget for anyone planning to do some grilling this summer. As a frequent user of the grill, this is by far my husband's favorite grill companion.
Be sure to maintain your barbecue throughout the summer make sure you wash and clean your cooking utensils, tubes and grill after each use and make sure you wash and clean your cooking utensils, and grill after each use.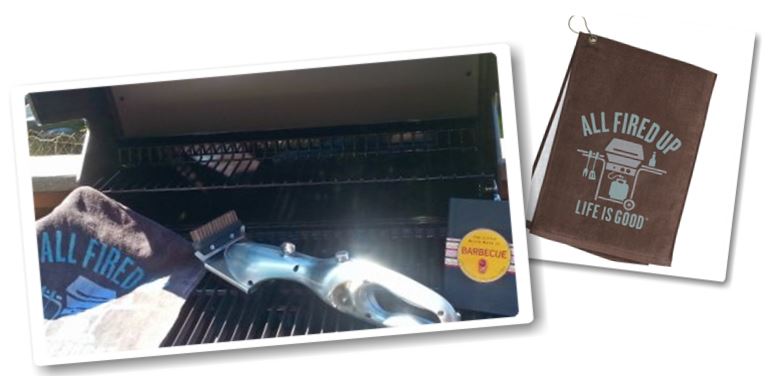 The most important tool and often forgot tool for that backyard cookout is the humble grill towel.  We own the BBQ-themed Life is good.® towel from Hallmark. I like that it hooks to our barbeque for easy access. It makes a great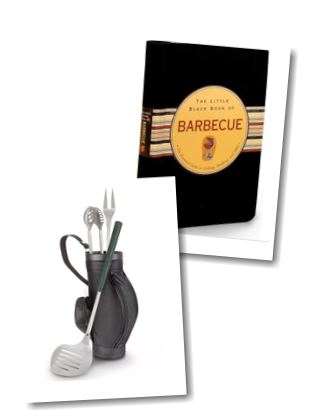 gift for the griller in your family along with this little black book.

Written by Mike Heneberry, the Little Black Book of Barbeque is the essential guide to grilling. The small little black book includes recipes for burgers, steaks, pork, chicken, and seafood– as well as a number of side dishes that will make you king of the grill. The book would make a great father's day or birthday gift for a young man just learning to barbeque or for the seasoned pro.  Retail price is $9.95   and available via Peter Pauper Press.
Every grill master needs a good pair of tongs to turn his delicious masterpiece during cooking.The Golfer's Grill Clubs from Hammacher Schlemmer make a cute gift for the man whose two favorite pastimes are golf and barbecuing. The stainless-steel tongs and fork have 18″-long shafts, helping cooks organize food while keeping hands away from heat, and the sand wedge-shaped slotted spatula allows marinades to drain away before placing food on the grill.
What are your barbecue must haves?