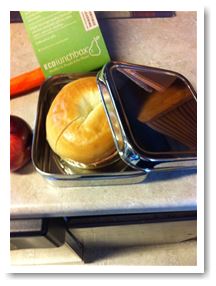 Does mom load her lunchbox with a sandwich in the morning, only to find it flatten by lunch? I have a solution. Designed by a experienced lunch-packer and mother of two, the ECOlunchbox Solo Cube is the perfect companion for just about any sandwich. Also, the solo cube is plastic free, therefore BPA free as well, Keeping mom safe from harmful chemicals possibly leaking into her lunch. The Food container measures 5 1/4 inches square and 2 inches deep. The solo cube is the perfect size for my sandwich or bagel. I have also used it for fruit.
With camp season around the corner, the ECOlunchbox Solo Cube is also perfect for the camp site as food may be reheated in the metal containers over a camp stove. Each container fits over 2 cups of food!
The stainless steel containers by Ecolunchbox really stand up to the daily abuse inflicted on them. I speak from extended experience, as I own a couple ECOlunchbox stainless steel containers. I use them on a daily bases for lunch. These also go through the dishwasher on a daily basis and are still in pristine condition. They are a premier product and I look forward to adding more of them to my storage pantry.
With ECOlunchbox lunch boxes there is no need for plastic wrap, plastic bags or any other disposable lunch wrapping products.
I have also recently had the pleasure of taking my lunch to work in the Furoshiki ECOlunchwrap. Chic and versatile, furoshiki is the original eco lunchbag from Japan.
Initially, I was unsure how to manipulate the wrap. Once I wrapped my lunch a few times, I quickly got the hang of it. First, you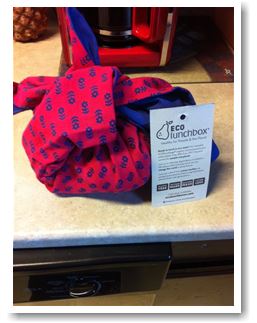 lay the fabric flat on the counter. Secondly, you add you lunch items to the center of the lunch wrap. Then, you tie a knot at each end of the lunch wrap. You then pull the one knotted end through the base of the other knotted end. This creates a makeshift handle on the lunch wrap. This ancient Japanese tradition of knotting, folding and twisting fabric into reusable carriers dates back to the 17th century. I think it is rather cool.
I found it to be quite an attractive little lunch bag and the perfect gift for mom. The fabric used for the Furoshiki Ecolunchwrap is beautiful, bright and truly attractive. ECOlunchwrap is sewn from colorful artisan textiles using wooden blocks and wax batik techniques perfected over generations. Cleaning is also very simple, as the wrap is machine washable.
Using this lunch wrap by Ecolunchbox saves money. Rather than continually purchasing disposable lunch bags, you only need to purchase a Furoshiki ECOlunchwrap, then reuse and reuse.
Also, with using an ECOlunchwrap, less waste goes to the landfill; less waste means preserving our environment for future generations. I hope more people try the reusable, environmentally friendly products made by ECOlunchbox. I could not be more satisfied with my lunch system. The earth is not ours to destroy, but ours to preserve for our children and every contribution to preserve and save our environment helps!
Website: ecolunchboxes.com