The Hallmark Company has been a part of our lives for well over 85 years.  Hallmark produced their first figurines and
ornaments within the 1973 Christmas era.  Since 1973,  there has been more than 8,000 Hallmark Keepsake Ornaments created.
Every year their are a few ornaments that capture our heart. More than just decorations, Keepsake Ornaments capture the memories of the holidays, commemorating the events, relationships and interests that shape our lives throughout the years.
Capture this year's moments, both big and small, with one of the new 2015 Hallmark Keepsake Ornaments. Celebrate memorable milestones with "Baby's First Christmas" and "Our Family." Celebrate the 50th anniversary of the Peanuts® Christmas special with four Peanuts® "Decking the Tree" Keepsake Ornaments. Add your favorite Disney's Frozen trio to your tree, complete with Olaf, Anna and a singing Elsa. Capture favorite activities and interests with a sports figure like Russell Wilson of the NFL's Seattle Seahawks and Jonathan Toews of the NHL's Chicago Blackhawks or characters from the movie
Star Wars™: The Force Awakens™. Build anticipation for the season with "Countdown to Christmas Snowman Ornament."
Without a doubt, the Christmas tree is the highlight and center point of our holiday festivities.  Each year, I add a new Ornament or two to our decoration collection. Last year the COZY COUPE was added to our tree.
If you're a Disney fan, then you'll be thrilled with these two new Keepsake figurines. Both of which I am adding to my collection.
I am very impressed with the unsurpassed quality and craftsmanship of Hallmark's "Disney Pinocchio When You Wish Upon A Star Ornament."  The tale of a wooden marionette who becomes a real boy still captivates viewers even after 75 years. Push the button to hear the Academy Award winning song, "When You Wish Upon a Star." This ornament will be one my family
will cherish for years to come.
Did you know Mickey Mouse has made a magical appearance as a keepsake ornament more than 107 times? New for 2015 is "Disney The Sorcerer's Apprentice Mickey Mouse Ornament." This Keepsake Ornament is the fourth in the Mickey's Movie Mousterpieces series, and celebrates the 75th anniversary of Fantasia.
If you are giving a Hallmark 2015 Keepsake ornament as a gift, you are sure to find something that matches the unique personality and interests of your recipient.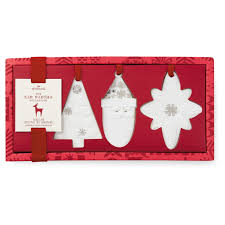 In addition to keepsake ornaments, this holiday season we're happy to include the new "Hallmarks Porcelain Christmas Tree Ornaments" on our tree. I love the gentle message and peaceful colors of these ornaments. They will be a welcome addition.
If you're looking for decorative Holiday snowmen, Hallmark has quite the variety to offer! I have been collecting snowmen for a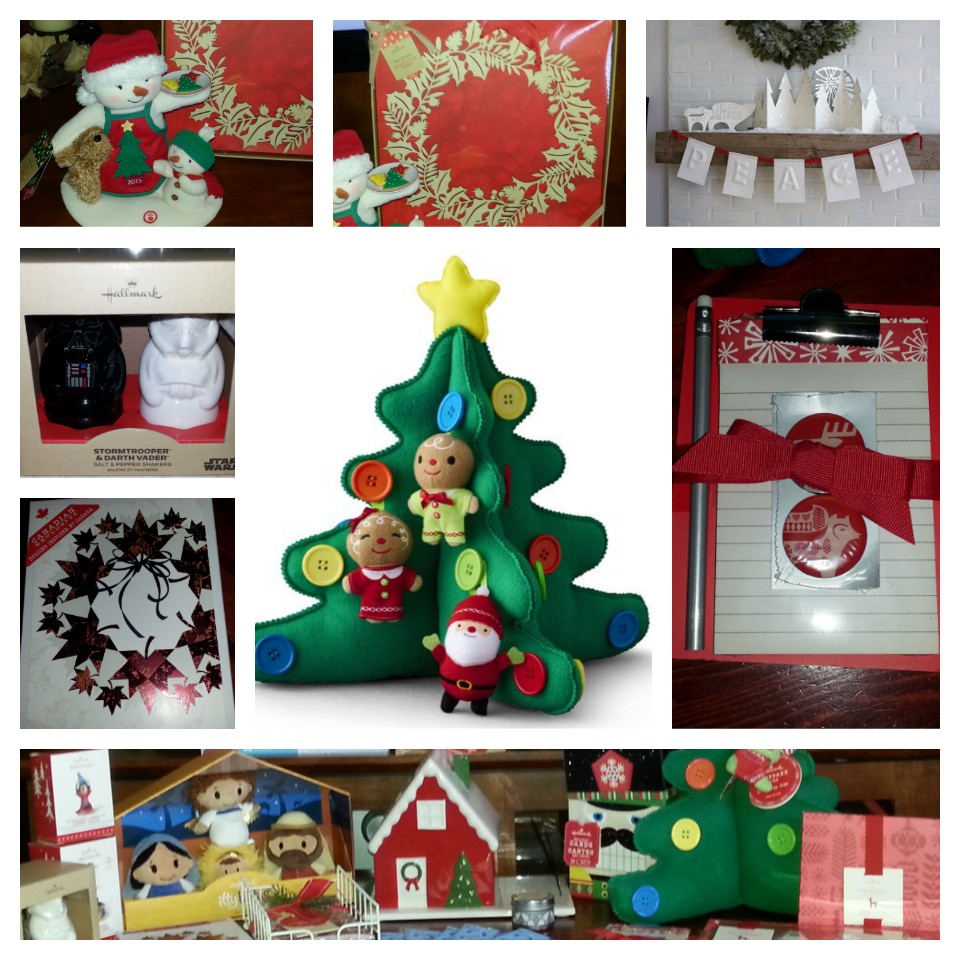 few years now and have quite the collection.'
This years addition is "Hallmark's 2015 Time For Cookies Snowman Plush," which features two snowmen, one big (Mom or Grandma holding a plate of cookies) and one small (a child holding a cookie), and a pup. Press the button to hear a fun version of "Deck the Halls." The plush coordinates with "There's Snow Time Like Cookie Time" storybook (sold separately).  The Time For Cookies Snowman is also available as an ornament for your tree.
Holiday Season is the one time of the year when most of us strive to have our homes looking their best. Nothing is more welcoming than greeting your family, friends and guests with a holiday themed wreath. The laser cut Wooden Wreath is made out of wood and incredibly lightweight. It features holly with berries and evergreen sprigs that say the holidays are here.
This year Hallmark has a lovely Embossed Peace Banner that hangs gently across the mantle with a festive red ribbon. It comes in a pretty box, and has deeply embossed letters and snowflakes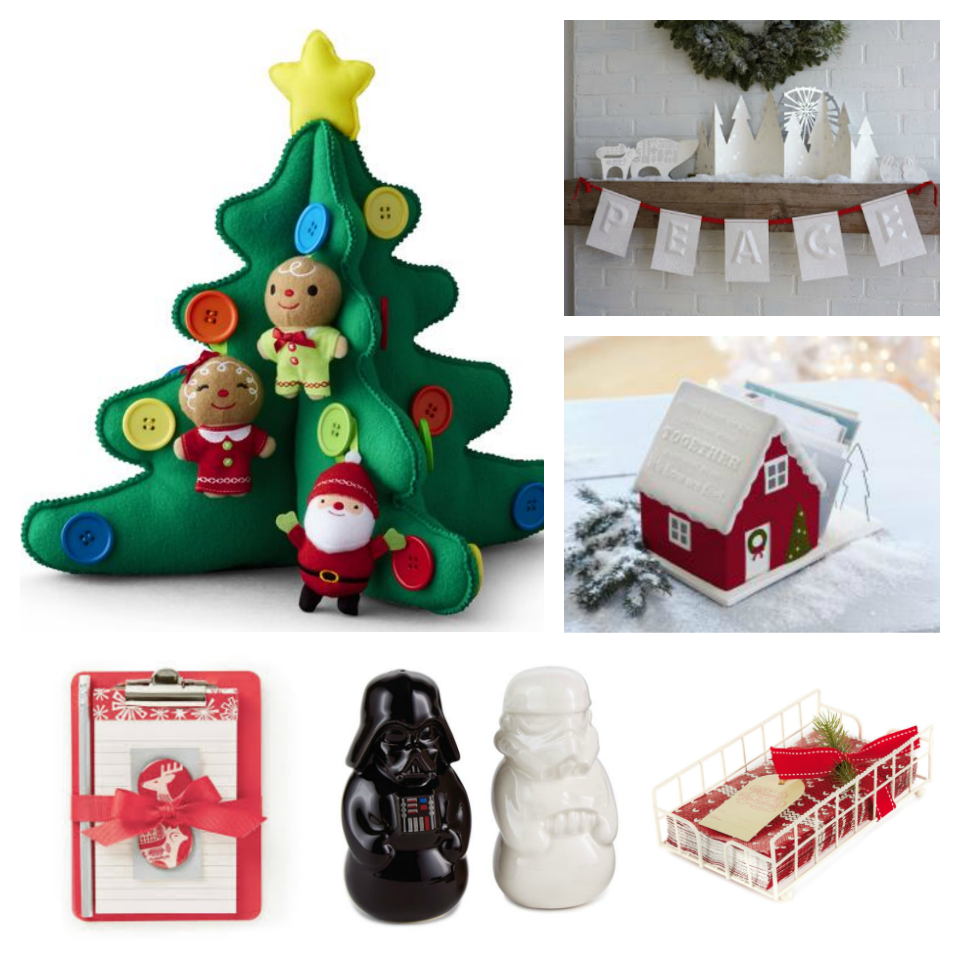 on each panel. It sold flat and fits easily in the box to be stored each year.
Looking for a new way to showcase the cards you receive during the holidays? Check out the stunning "Together Across the Miles Card Holder." This charming cottage is featured in festive colors and the cards can lean against the house or the wire evergreen trees.
These Dark Side Salt and Pepper shakers are the perfect addition to any table. A friend of mine was quick to grab these up from me for a his boys.
The adorable Keepsake Kids My First Tree, is super soft, and completely decorated with button lights and a bright yellow star. It's the perfect size, 38 cm high and 41 cm wide, for small hands and it will fit anywhere. You can decorate the tree for your child by hanging small ornaments like the itty bitty toys. The "Keepsake Kids My first tree" is the perfect way to introduce my daughter to the magic of the season.
The guest towel wire basket and 16 designed paper guest towels make a cute little hostess present or you can use it for holiday entertaining.
For the note taker in your life,  "Nordic Clipboard Bundle" contains a 60 sheet pad, clipboard, 3 magnets and a pencil. It is the perfect addition to any stocking! Stick it to your fridge and your husband won't have to bug you for a piece of paper.
Show Mom that she deserves a little me time with travel candles. Made by Crafters & Co, they come in 8 relaxing fragrances such as Mistletoe, Jasmine, and more!
For all of his 91 years, Joyce "J.C." Hall cared enough to send his very best. In 1915,  Joyce along with his brothers, created
Hallmark for the purpose of marketing and selling greeting cards.  In 1954, Americans sent 2 billion Christmas cards as a personal and heartfelt way of saying Merry Christmas or Happy Holidays.
Today, Hallmark is the largest greeting card company in the world. This year I'll be giving my family and friends nutcracker and Canadian-themed cards. The Nutcracker Boxed Christmas Cards come in a whimsical, unique container that doubles as storage and fun holiday decor. Each box contains 16 cards/envelopes.
Hallmark knows how to get us into the holidays spirit , offering many creative ideas for both decorating and gift giving.
Do you have any Hallmark traditions?
Website: Hallmark.ca