Winter flu season has yet to arrive and illness is already becoming a regular thing in our house. Preschool is a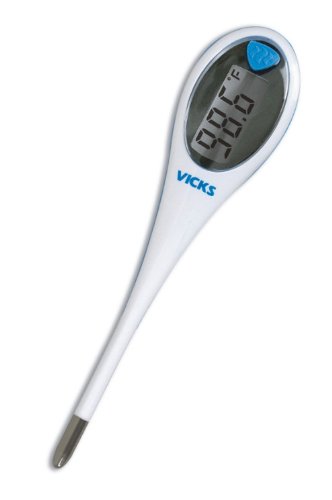 germ pool! All it takes is for one child to bring a virus to school for the spread to begin. My daughter started school last month and has already had strep-throat, and now has a viral infection.
An accurate thermometer is an essential first-aid tool for parents. There are a lot of different thermometers on the market, so which one do you choose? Hopefully these thermometer reviews will help you make  an informed buying decision.
Luckily, a very kind, sick two year old agreed to submit herself to my testing of thermometers (rectal thermometers included).
If you have ever tried to get an oral thermometer into a young child's mouth, you know how difficult it can be.
I use to use an ear thermometer, but much research has been done about the accuracy of ear thermometers. Earwax or a small, curved ear canal can interfere with the accuracy of an ear thermometer temperature.
As a mom, I prefer to use a rectal thermometer.
The Vicks digital thermometer has everything you need in a digital rectal thermometer. It has 30-second temperature readout and beeps when it has reached the maximum temperature reading. At an affordable price it has all of the necessary accessories seen in more expensive models such as memory recall, automatic shut-off, and light up display. And, you do not have to be concerned about using it incorrectly. The rectal thermometer is easy to wash and even has a lid to ensure that the probe remains clean and undamaged, ready for the next time you need to take your child's temperature.
( Note: Infants under two to three months of age should always use a rectal thermometer.)
Non-touch digital thermometers (also known as infrared thermometers) are one of the newer varieties of thermometers available.
If you truly cannot bring yourself to use a rectal thermometer, or your child is old enough to reliably use another style of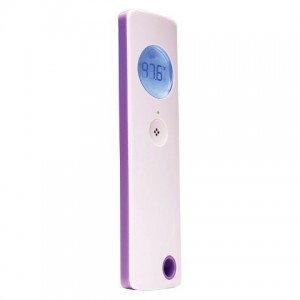 thermometer, or you don't wish to wake a sick sleeping child then there are other good options available.
ARC Devices is changing the way the world takes temperature. (arcdevices.com)
With the ARC InstaTemp non-touch digital thermometer I can quickly and easily scan my daughter's forehead with the press of a button. To use it you simply hold the thermometer 2 inches from your sleeping child's forehead, point and click until the indicator light turns green. The thermometer displays the reading almost instantly.
I was curious as to the thermometer's accuracy, so I checked my daughter's temperature with a rectal thermometer, and the ARC InstaTemp was accurate.
The LCD screen, with a back-light for night time usage, makes it easier to read the readings without turning on a light- waking your sick child.
As it is a no-contact thermometer it can be used for more than one family member without the need of using disinfectant.
And… The worst baby thermometers
Unfortunately; some baby thermometers are absolutely awful.
Stick on thermometers- You stick these onto your child's forehead to monitor their temperature. These are unreliable. See my review: Fever Temperature Indicators.
I found that Pacifier thermometers rarely work and are not one I recommend. They are also useless once your child outgrows the pacifier.
Mercury thermometers are no longer considered safe, especially for use in children. If you still have one left over from when you were a child, you will have to dispose of it at a household hazardous waste collection facility.
What kind of thermometer do you prefer?