As a father, I have been a huge fan of Activision Interactive games for many years now. Skylanders took over our home when my oldest daughter and son were young. As children, both my son and daughter were huge Spyro fans. They could play that game for hours and never get bored. I fondly remember playing countless hours of Spyro with my son- who is soon now about to be married. Every year brings a new line of toys from the Skylanders franchise for a new generation of kids to enjoy. Skylander SuperChargers will be almost everywhere you look these next few weeks, as we lead up to Christmas.
To kick-start the season, Activision Publishing, offers up a special holiday Skylanders SuperChargers character Missile-Tow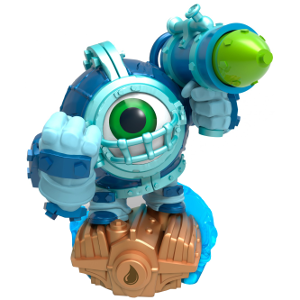 Dive-Clops. The fun-loving character is a heavily armored deep sea explorer with an eye out for evil who slows enemies with candy-coated missiles. Missile-Tow Dive-Clops is available in the United States and Canada, first at GameStop and EB Games, respectively. Additionally, new Eon's Elite characters and Sky Racing Action Pack make for great stocking stuffers and gifts under $40! Eon's Elite, including fan-favorite characters Slam Bam, Zook and Voodood, as well as a new set of heroes — Ghost Roaster, Boomer and Dino-Rang.
Get your copy of Skylanders SuperChargers for yourself or for your children this Christmas, and let them enjoy the magic and the adventure that only Activision Interactive Entertainment can bring.
The Skylanders SuperChargers Starter Pack, now available for consoles and compatible iOS devices (Apple TV, iPhone, iPad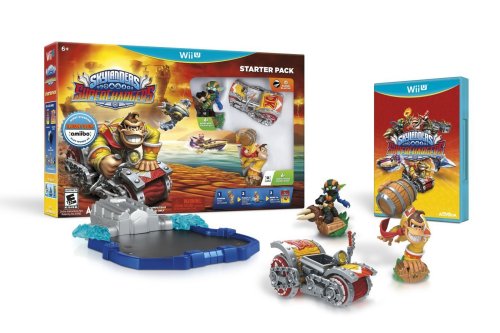 and iPod), is the perfect gift for the whole family! Skylanders SuperChargers has already been named on the Toys"R"Us 2015 Hot Holiday Toy List, the Amazon Holiday Toy List and Toy Insider's Hot 20 Holiday Toys List.
Skylanders SuperChargers expands upon the franchise's signature game-play to introduce vehicles-to-life, an entirely new way for fans to experience the magic of Skylands.
Skylanders SuperChargers takes kids on a wild ride as they drive the mountainous terrains, dive the deep sea environments and fly the big blue skies of Skylands like never before with amazingly detailed vehicles, many of which feature moving parts that will play in the real world and come to life in the game via the Portal of Power.
The game includes two of Nintendo's iconic characters re-imagined as Skylanders — Turbo Charge Donkey Kong and Hammer Slam Bowser — available exclusively in Skylanders SuperChargers Starter Packs for the Wii U system.
Players can also purchase Racing Action Packs that unlock additional content. A total of three Racing Action Packs, one for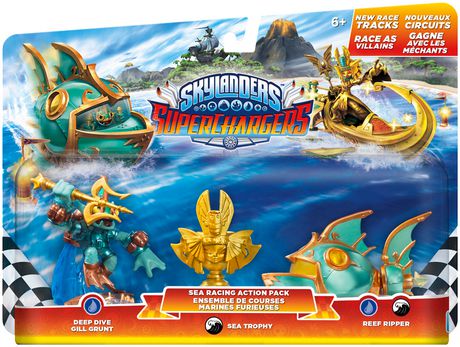 each terrain, will be available for $34.99 MSRP and each will include three special toys — a SuperCharger, vehicle and villain trophy which unlocks two exclusive racing tracks for the game.
Activision has seriously lowered the amount of new characters being released with Superchargers as compared to previous games in the series—only 20 brand new or retooled characters are on the way. Each character will also have a corresponding vehicle to collect, so 40 toys in all.
Skylanders SuperChargers is also available for the PlayStation 3 and PlayStation 4 computer entertainment systems, Xbox 360™ and Xbox One™ video game and entertainment systems from Microsoft.
The full Skylanders SuperChargers game is also available for Apple TV, iPad Air, iPad Air 2, iPad mini 2, iPad mini 3, iPad mini 4, iPad Pro, iPhone 5s, iPhone 6, iPhone 6 Plus, iPhone 6s, iPhone 6s Plus and iPod touch 6. Fans with iPhone 5/5C, iPad 4, iPad 3 and iPad mini can enjoy the full game, excluding online functionality. The full Skylanders Super Chargers game offers fans even more value with a new save feature using iCloud which provides seamless continuity between multiple Apple devices.
Players can simply log into their iCloud account, and the game will save its progress to iCloud automatically. Now, fans can enjoy Skylanders SuperChargers with ease and flexibility, starting the game in their bedrooms on the iPad or iPod touch, picking it up where they left off in the living room on the Apple TV and then taking it on the road in the backseat of mom's car on their iPhone. For the first time, Portal Masters can compete in four-person online multiplayer racing or two-person co-op adventure between devices through Apple's Game Center. Players on Apple TV can also engage with others online who are on iPad, iPhone or iPod touch.
Skylanders SuperChargers Racing for the Wii and 3DS is a complementary, dedicated racing combat game which differs from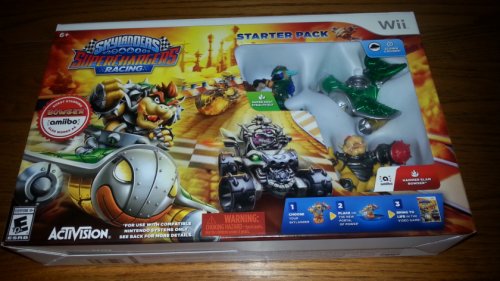 the gameplay on the PS4, PS3, Xbox One, X360 and Wii U.
Our daughter is currently borrowing her cousin Wii, so I got to experience this much different Skylanders game for myself first hand.
With both the Wii version and Nintendo 3DS version, Activision Interactive Entertainment takes a step back to only offer racing, which is in essence takes on a Mario Kart formula.
The Wii version doesn't have any of the storyline, I've come to enjoy from other Skylander games. There's no trapping enemies here, and while you can add an element based attack to your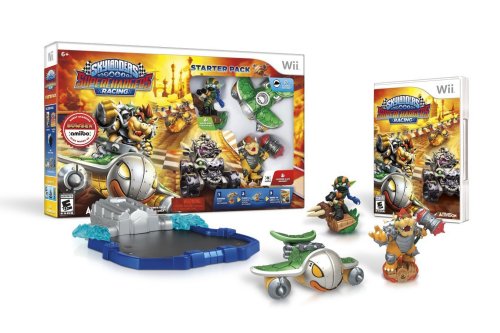 vehicle, it's definitely not the same Skylanders experience I have come accustomed too. I must admit while the game is fun, I prefer the more traditional Skylanders games. Younger players may however have a different experience.
The starter pack for the Wii includes:
Video Game
Portal of Power
2 Skylanders SuperChargers – Hammer Slam Bowser* and Super Shot Stealth Elf
1 Skylanders Vehicle – Clown Cruiser
Collection Poster
Additional characters and vehicles are available for purchase, so this game can be highly customized for the perfect racing experience. I would recommend having at least one of each vehicle type figure when starting out, as in addition to land racing choose to race sky and water vehicles.
I was especially stoked about the inclusion of Bowser, since I am a die-hard Mario fan here. With the Skylanders SuperChargers Racing for the Wii the level of detail on the toys remains impressive, and the vehicles are similarly well built. In terms of the figures: Bowser and his airship are a great addition to any amiibo or skylander collection. The graphics in Skylanders Superchargers Racing are clear, crisp and very vibrant.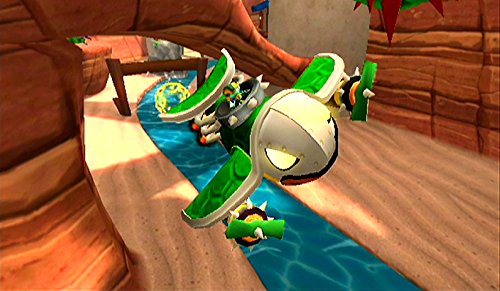 Overall, while Skylanders SuperChargers Racing for the Wii is a super-fun racing game that kids are bound to love, it may be a disappointment for those who were hoping to experience the Skylanders storyline, trap enemies, or defeat Kaos.
You can purchase Skylander's Supercharged Racing for the Wii on Amazon and wherever video games are sold.
If you're looking for story-line play, skip the Wii and 3DS versions and purchase a new game console, along with a new Skylander game to go with it.
For more information please visit https://www.skylanders.com/ or follow on Instagram @SkylanderstheGame, Twitter @SkylandersGame and Facebook.com/SkylandersGame.
About the Skylanders® Franchise
The award-winning, $3 billion Skylanders franchise has sold through more than 250 million toys1 since pioneering the toys-to-life category in 2011 with the debut of Skylanders® Spyro's Adventure. The game originated a play pattern that seamlessly bridged physical and virtual worlds across multiple platforms. In 2012, Skylanders® Giants further evolved the genre and added LightCore® characters to the collection of interaction figures. Skylanders® SWAP Force™, which launched in 2013, introduced an all new play pattern – swapability. In 2014, Skylanders® Trap Team reversed the magic of bringing toys to life by allowing players to pull characters out of the digital world into the physical world and became the number 1 kids' console game globally2. Skylanders SuperChargers launched on September 20, 2015 and expands upon the franchise's signature gameplay to introduce vehicles-to-life.
About Activision Publishing
Headquartered in Santa Monica, Calif., Activision Publishing, Inc. is a leading global producer and publisher of interactive entertainment. Activision maintains operations throughout the world and is a division of Activision Blizzard (NASDAQ: ATVI), an S&P 500 company. More information about Activision and its products can be found on the company's website, www.activision.com or by following @Activision.
Skylanders SuperChargers is thrilling, challenging and sure to bring hours of fun. I can see this new version being at the top of so many Christmas lists!