Whether you're going out with your girls or having a cozy night in with your significant other, like any special occasion, finding what to wear on Valentine's Day can be a challenge. And even more so if you are a plus size woman like myself. Lucky for you I've found the perfect outfits from Igigi-the award winning plus size brand. With these choices you will feel flirty, fun, and sexy no matter where Valentine's Day takes you. While, it certainly isn't integral that you wear red on this day of love, many of us do choose to wear the color. Sometimes being cliché is not the worst thing in the world and there's nothing hotter than the color red.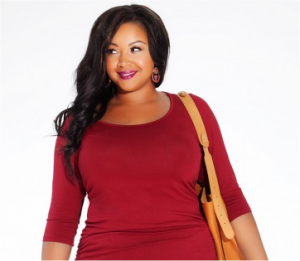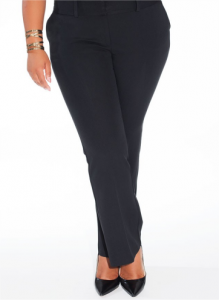 If you are off on a Valentine's lunch, the Mindy top in chilli red is a casual effortless look . Pair with a classic suit jacket and Igigi's wide-leg Melissa Pants for a super-flattering and comfortable fit.
Pull out all the stops for date night with your man— Valentine's Day calls for a sexy dress to capture his attention. If you want to turn his head, go for a surplice bodice. The Adelle dress in garnet lace is incredibly elegant and sexy.
The nipped-in waist and flirty skirt look especially flattering when warn with heels. I can guarantee that he will be singing "Lady in Red" before the night is over. Add a little attitude with a bold necklace. Igigi has a wide selection of accessories that would look great with this dress. Accessories are also perfect to accentuate your best parts and distract away from troubled areas.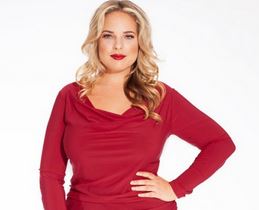 If you are going for a more casual look then the Leyla top in deep rouge is perfect. It features a flattering cowl neckline with ruching at shoulder seams.
The style looks great with whatever you pair it with. Try it with a pair of your favorite jeans for a relaxing casual look.
I added this top to my collection and have dressed it up by wearing it with black dress pants and dressed it down by wearing it with my casual jeans and favorite cardigan. I found it to be a flattering fit that draws attention away from my rounded stomach.
If you don't want to wear all red go for a wrap front dress like the Yasmine dress in onyx poise, which will draw the eye to your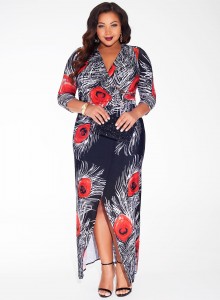 decollete and away from your stomach. It also creates a lovely waist.
Whatever you choose, pick a design which flatters your body shape.
Headquartered in San Francisco, CA, IGIGI by Yuliya Raquel was founded in 2000 with a mission to transform the world's view of beauty by providing full-figured women with fashion-forward, quality, and well-fitting clothes that would help express their beauty. Collections are designed in-house and produced locally through independent San Francisco Bay Area contractors. IGIGI by Yuliya Raquel has been featured in major fashion and life style magazines including In Style, Marie Claire, The Oprah Magazine, People StyleWatch, Ladies' Home Journal, Glamour, and Essence, and it has been a favorite among curvy celebrities like Kim Coles, KayCee Stroh, Jill Scott, Kelly Price, Ashley Fink, Martha Wash, and Gabourey Sidibe. IGIGI by Yuliya Raquel collections are available online at http://www.igigi.com and select boutiques worldwide. IGIGI by Yuliya Raquel was honored with the Best Plus Fashion Retailer of the Year award (Full Figured Fashion Week, June, 2010), and made Internet Retailer's Top Hot 100 list (December, 2010), and received About.com Critics' Choice Best Plus Designer Award (March, 2011).