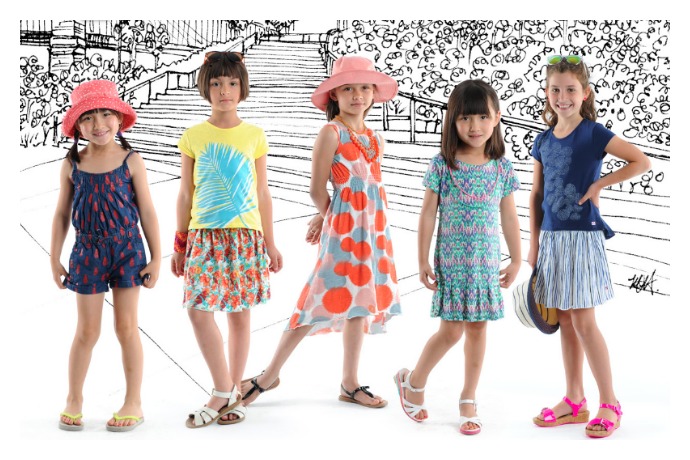 Are your kids closets ready for summer? From gelato tastings to playing on the beach, your kids will be outfitted for summer fun with the latest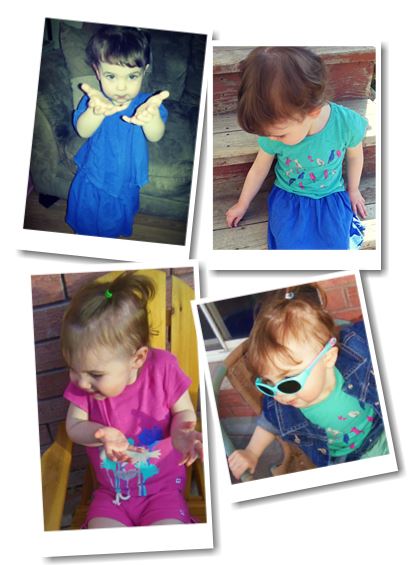 fashions from European kids clothing line Appaman. Their new summer collection for girls features bright pieces with bold and bright retro vibe, as well as darling stripes.
Girls can hit the beach with tap shorts and circle tees that are all about stylish comfort. Pair a swing top or circle tee with downtown pants for the perfect relax at home weekend look. Appaman's swing top is also perfect for mixing and matching. I have mixed and matched it with jean capris, and Appaman's liberty skirt.
A casual t-shirt dress with a cool drop waist style is perfect for play-dates or summer parties. Available in two designs stripe and ikat, the dress looks super cute when warn with bicycle shorts, pork pie hat and sandals. Even a circle tee and liberty skirt combo is a great summer option for multitasking kids.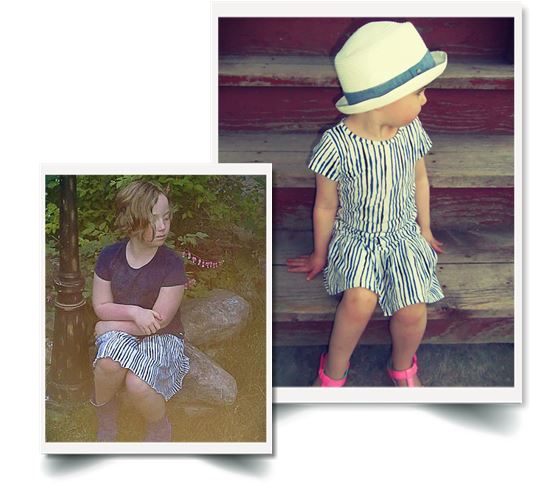 The liberty skirt is made from cotton and has a raw rolled edge and a hint of stretch. It features an elastic panel in the waist and pairs nicely with any t-shirt. Available in sizes 2-10, the skirt can be purchased in stripe, tropical and bottle blue.
Everyone seems to know this one: I see London, I see France I see _____'s underpants! Be sure to throw on a pair of biker shorts underneath the dress or skirt, so your daughter doesn't have to say no to spontaneous cartwheels at upcoming Canada Day fun filled events.
Deciding what to wear in family photos is almost as challenge. I found Appaman's clothes complement each other nicely and their new summer collection is perfect for summer photos.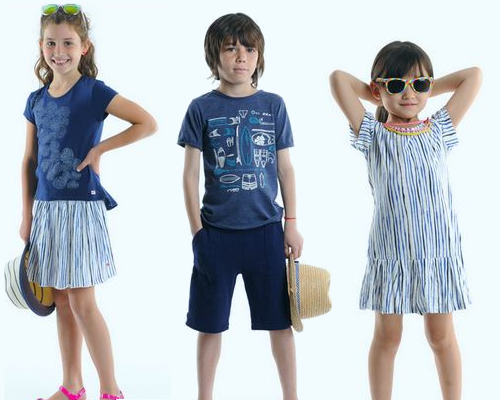 Tired of fighting the sunhat battle? Sun safety is simple and yet super stylish with a Audrey Fedora or Bucket Hat.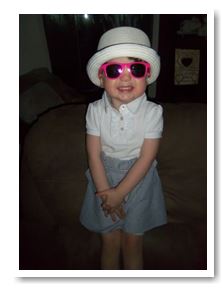 My daughter loves her pork pie hat from Appaman. Unlike the fedora, this type of hat has a flat top and a shorter brim. It looks great warn with a dress or shorts and a t-shirt. It has already received lots of use and summer has yet to arrive.
Appaman's everyday wear for boys is so fun and fresh, it's also worth a look. For boys, bring on the graphic tees with super cool images like colorful sneakers, stylish animals, bumper-cars and surfs up. Add some super comfy Brighton shorts with raw edges and zipper rear pockets for an edgy summer style. Finish the look off with a pair of Pilot style sunglasses and a fedora.
I found Appaman clothes to wear well – and wash up nicely. My daughter pieces have stood up to messy preschool play and have come out of the washing machine looking new.
Even Todays Woman reviewer Tanya cannot say enough good things about Appaman. The brand has become a staple in her daughter's wardrobe. She loves the stylish, yet age appropriate collection.
When Appamn is behind your kids' style, they will be fashionable, cool, comfortable and ready for a fun-packed summer day.
Established in Brooklyn in 2003, Appaman was named after the designer's BFF – a toy monkey he befriended as a child growing up in Norway. Appaman's bright and imaginative designs are available for boys and girls in baby, toddler, and kid sizes.
Appaman is exclusively distributed in Canada by Do-Gree Fashions Ltd.