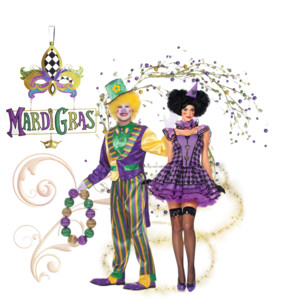 What is the big deal about Mardi Gras? When we normally think of holidays, we think of things like Christmas or Valentine's Day. Many of us don't think of Mardi Gras and yet Mardi Gras is a holiday in some parts of the United States and often serves as a festive occasion featuring large celebrations.
Personally, I have never celebrated Mardi Gras, but for those looking to travel to New Orleans, Mardi Gras is certainly the time  to enjoy the city, by delighting in delicious food, watching parades, participating in events and taking in the sites.
A brief history: Mardi Gras first originated in France and traveled to New Orleans in the late 17th century. Today, every year in the month of February, thousands of people flock to New Orleans for Mardi Gras. Also known as Fat Tuesday, Mardi Gras is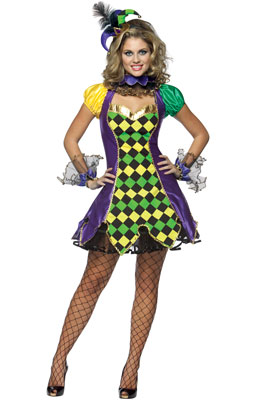 a series of carnival celebrations that end on the day before Ash Wednesday, the first day of Lent.
What to Wear: Mardi Gras Masquerade Costumes
If you want to get out on the street and revel in the celebrations in style, then you'll need a costume. The costumes, masks, hats, beads, and flair is what makes Mardi Gras so unique! If you have yet to experience the celebrations, then you may be stumped as to the right costume to where.
From the photos, I have viewed online of Mardi Gras celebrations, when it comes to what costume to where- there really is no right or wrong one. The sky is certainly the limit. For many people, Mardi Gras is a time to let loose and dress and act in ways you normally wouldn't. Join in the activities dressed up as clown, a jester, a flapper, a man (if you are a woman) or a woman (if you are a man.) If you are going to be parading down the street with the sole purpose of gaining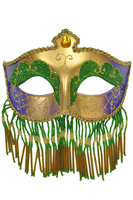 attention from the crowd, then you may as well go all out.
Whatever costume you chose, the mask is the highlight of the costume anyway. Mardi Gras masks date back to the 1800s. Masks once worn during Mardi Gras, allowing wearers to escape society and class restrictions. While wearing a mask, carnival goers were anonymous, allowing them to be free to be whomever they wanted to be, and to mingle with whatever class they desired to mingle with.
Today, Mardi Gras Masks can be seen warn amongst Mardi Gras festival goers. In fact, float riders are required to wear masks by law. Mardi Gras Masks vary in style. Venetian masquerade masks, are classic costume items. They are just right for evoking a mysterious look. An alternative might be a feathered Mardi Gras mask. While recently searching for cupid wings and a bow and arrow for a Valentine Day prompt I noticed that, Purecostumes.com- my Halloween go to costume website carries an extensive collection of masks for Mardi Gras. If you're looking for a mask, then they are worth a visit.
When selecting your mask, you will want to find one that blends with the overall colors of your outfit. The colors of Mardi Gras are green, gold and purple. Gold signifies power, green equals' faith and purple represents justice. Be sure to accessorize your costume with these colors.
Mardi Gras is a chance to let loose. It's possibly the largest party of the year, and most certainly the largest costume party!
Mardi Gras isn't only celebrated in New Orleans. It is an event that is celebrated throughout the world. The times that the festival is celebrated differ from country to country, but the celebration is the same.