Who doesn't love a delicious chocolate rabbit at Easter? Did you know that an overwhelming majority of Americans prefer to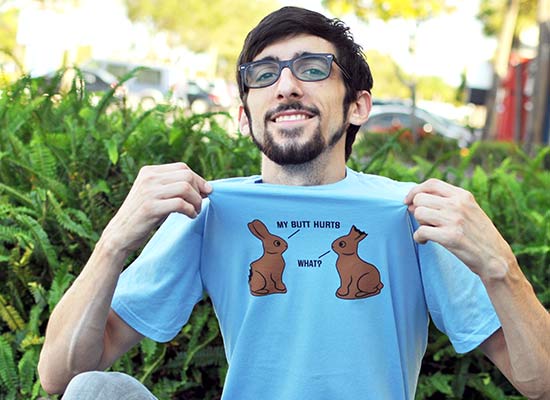 start with the ears when they eat chocolate bunnies — while a paltry five percent said bunnies should be eaten feet first, while 4% favored eating the tail first.
Which end of a chocolate bunny do you start nibbling first: head or tail? I normally start with the ears.
This reminds me of the classic joke- "My butt hurts. What?" If you have been on the internet for some time like I have, you have most likely come across the ever so popular "My butt hurts. What?" Easter graphic. That graphic always makes me quietly chuckle.
Recently I was browsing Snorgtees, when I came across the graphic on a t-shirt,  which is available in men's, women's and kids' sizes.  It would be perfect Easter attire; I just don't recommend wearing it to church. It could also double as a bedtime shirt.
All of Snorgtees are high quality American Apparel t-shirts.  My husband owns quite a few different t-shirts from Snorgtees and they haven't declined in quality after various washes. They still look like new, even the print.
Check out the full catalog at snorgtees.com for a wide selection of funny t-shirts.