Just before my daughter made the transition from crib to toddler bed, we entered her room to find that she had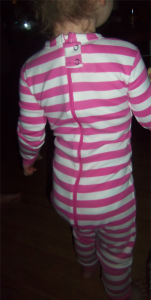 unzipped her pajamas and was standing stark naked in her crib.
I know that I am not alone in this situation. Many toddlers go through a stage where they take off their pajamas and their diapers at night. This would be a milestone of which most parents would be proud if dirty diapers were not involved.
The potential for a poo-finger-painting disaster left me searching for pajamas that my daughter would be unable to remove.
My findings returned "Little Sleeper Keeper," a delightful line of toddler proof pajamas created by Mike and Kris Steinberg of Crystal Lake. These patented soft, 100% cotton one-piece; pajamas have the zipper in the back, along with an additional closure flap and double snap that protects the zipper from fumbling little hands.
The escape proof non-stretch neckline of the pajamas also assures that your little one will be unable to remove their sleeper by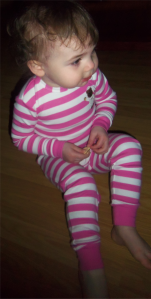 themselves. These unique back zip pajamas are currently available in three colors and three styles, including long sleeve, short sleeve and long sleeve with footies. Sizes range from 18-24 month up to child's 13/14. Little Sleeper Keeper are sensory friendly as they have no tags. The sleepers should fit snug as they are not flame resistant.
Overall, "Little Sleeper Keeper" offers a practical solution for night time undressing. My only fault is in sizing. I found that the pajamas run on the larger side, so one should keep this in mind when ordering. My daughter normally wears a size 2 in pajamas. I order her a 2 in the "Little Sleeper Keeper" and they ran big as you can see in my photo, despite the size chart said a size 2 fit 25 – 30 lbs. My daughter is just a tad over 30 lbs. The legs were also rather long, and my daughter is a tall girl.
Mike and Kris not only created sleepers, but they also created a bib that toddlers cannot take off using the same concept as the sleepers. The Zip Bibs feature a cute bear, are unisex and are primarily for babies & toddlers.
Website: littlekeepersleeper.com