Tomorrow is a Chance to Start Over by Hilary Grist is the latest addition to The Secret Mountain's catalog of books and the newest story added to my daughter's collection.
Tomorrow is a Chance to Start Over is a story about brother and sister, Ira and Isabelle, who live in a little red house by the sea. One night they find themselves struggling to fall asleep, so they decide to sail off in search of a quiet faraway land. On their dream filled journey, they are greeted by a robin that encourages them to drop their worries and fly.
Rather than illustrations, the book showcases photographs of clay characters, which were created by Grist herself, Grist's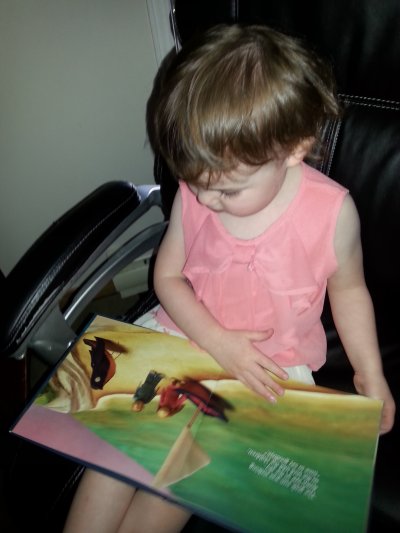 husband Mike Southworth, and friends, Adam Thomas and North Vancouver painter Dana Irving.
Though the story is geared towards those five and younger, the book will have an impact on mom and dad as well- due to its powerful message that tomorrow is a chance to start over.
This book comes with a CD, which features 10 songs plus a narration performed by Hilary Grist. Hilary Grist is a Vancouver-based singer-songwriter whose work has been featured on several TV shows including NBC's Grimm.
The smooth flow of the text and beautiful music, makes "Tomorrow is a Chance to Start Over" the perfect bedtime story- CD combination.
Music CD Track Listing:
Tomorrow is a Chance to Start Over (Narration) – Hilary Grist
Tomorrow is a Chance to Start Over – Hilary Grist
Fall in my Loving Arms – Hilary Grist
Swallow Me Up – Hilary Grist
Float Away – Hilary Grist
Le petit oiseau – Hilary Grist
Say Goodnight – Hilary Grist
City of Green and Blue – Hilary Grist
I'll Be There – Hilary Grist
Still – Hilary Grist
Cradle Song – Hilary Grist
With the exception of "Cradle Song," a reworking of Johannes Brahms' Lullaby, the rest of the songs are original lullabies.
Overall, I highly recommend Hilary Grist's 1st children's book, which features rhythm, character, and story- all of which are the heart and soul of a good picture book.
For more information, visit www.thesecretmountain.com.