Pacifiers are a common item used by parents to soothe a fussy baby. In fact, researchers have found that babies who suck on pacifiers during their first 6 months have lesser risks for Sudden Infant Death Syndrome (SIDS). Thus, pediatricians now recommend the use of pacifiers for babies.With so many pacifiers on the market though, which one do you choose? Recommended for babies from infancy all the way up to 36 months, RaZbaby's personalized pacifiers are designed to help support healthy oral development. The soft orthodontic silicone nipples of the pacifiers are "contour shield designed," so they're comfortable for baby to suck on and the nipples are BPA free.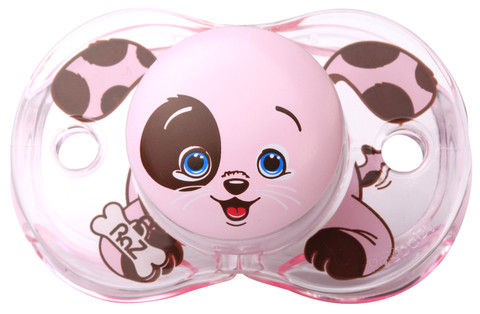 Keeping pacifiers clean
One of the biggest concerns with pacifiers is their cleanliness. Available in a variety of vibrant colours and creative animal designs, each pacifier features patented "Keep it Kleen" technology, which utilizes an innovative clasp to prevent the pacifier's nipple from touching the floor when the pacifier inevitably falls. The silicone nipple also stays completely covered when not in use, ensuring a cleaner, healthier pacifier and Razbaby shields are built in, so no more lost pacifier coves!
Now you can customize a RaZbaby pacifier with baby's name, making them a unique baby shower gift or new baby gift. I have always found that gifts take a special significance when they have a personalized touch.
Whether your baby attends daycare, or you have two children who still use a pacifier, the personalized touch is the perfect way to distinguish your babies' pacifier.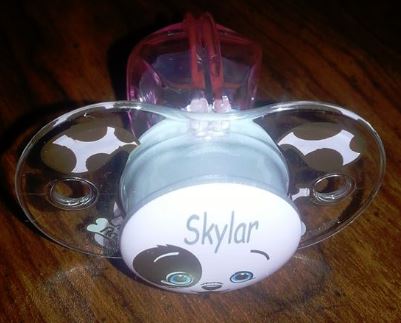 I ordered the puppy pacifier for my great niece. My sister-n-law has reported that the closure mechanism works well. There are no more dog hairs on the baby's pacifier, or no more running to wash the pacifier every time it slips out of her mouth. The color and design is also very cute, and both parents and grandma loved the personalized touch of Skylar's new pacifier.
Overall, I highly recommend you add these pacifiers to your baby registry.
Pacifiers are like socks. They mysteriously disappear and leave you scratching your head as to where on earth they went. I
highly recommend on ordering a few pacifiers. You can choose to have them personalized or not.
You can find the keep-it-kleen pacifier at pretty much any store you might expect to find baby products at, including well.ca and Amazon.com and Amazon.ca — or you can check out the online store locator at razbaby.com.
RaZbaby carries a variety of innovative baby products that would make great baby shower gifts. Why not order a few things to add to a ready made baby gift basket or make your own. Don't forget Easter isn't far away. The RaZ-Buddy – Chloe Bunny would make the perfect Baby's 1st Easter gift. The cute bunny is available in pink and white.