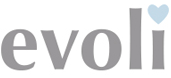 When it comes to my daughter's delicate sensitive skin I want the best thing for it. With seemingly endless baby- bath offerings on the market, choosing the right brand can give any conscientious parent a headache. On my search for baby bath products, Rachel Florio introduced me to Evoli, a Bangkok, Thailand based company that sells a line of delicately formulated baby skincare products that have been tested to be dermatologically mild and hypoallergenic,  not causing irritation.
As a mom, I put safety at the top of my criteria. I wanted an all over body wash for my daughter that was free of harmful chemicals, added perfumes, and unnecessary dyes. Evoli's all over body wash is pH balanced and free from fragrance, alcohol, essential oil, sodium laureth sulfate, and sodium lauryl sulphate,making it more suitable for sensitive skin and eczema.
For those with sensitivities, Evoli's gentle all over body wash is a must, as it has no scent. We found that not much foam was needed when using, allowing it to last longer, compared to other two in one body washes on the market. It also doesn't leave a a thin film of residue behind on your child's skin,  which normally causes skin to become dry. Instead you are left with baby soft clean skin.
Overall, we were very pleased. The only negative selling point for some parents may be the cost. Although cost is an important factor in the purchasing process,  when it comes to our children.  Safe products are worth paying a few extra dollars for.  Price runs $22.00 for a (100ml) to $32.00 for a (300ml) bottle.
Be sure to check out the Welcome Newborn Set from Evoli! This is probably one of the best gifts you could give a new mom.
Website: evolibrand.com