Finding the right tiara is a lot like finding the perfect dress.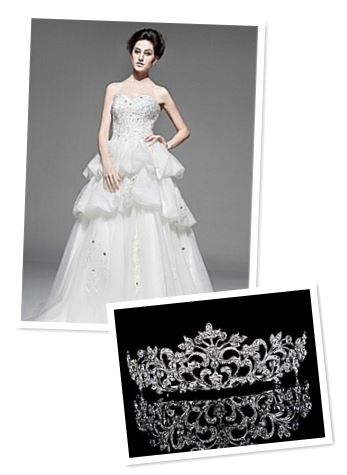 Wedding tiaras are very popular among today's brides. A bridal tiara is a beautiful and elegant bridal hair accessory that complements the wedding gown. One of the main advantages of choosing a tiara, as your hair accessory is the vast choice, of tiaras available. Tiaras come in many designs embedded with coloured rhinestones, pearls, crystals and rubies.
When choosing your tiara, be sure your tiara matches the accents of your wedding dress. If your gown has pearls look for a tiara with pearls, if your wedding gown has rhinestones then purchase a tiara adorn with opulent rhinestones etc. If your gown has a lot of details, make sure to purchase a simple and yet elegant tiara to balance it out.
Your wedding hairstyle is also an important factor to consider when purchasing a tiara. A tiara looks lovely with a classic up do hairstyle, but many brides also choose to wear a tiara with their hair warn down.
How to keep the tiara on
Some tiaras have small combs attached on each side, while others – are mounted on a single comb, allowing you to slip the
comb backward into your hair from the front.
I recently ordered a bridal tiara from www.lilybridal.co.nz. The bridal tiara is made of silver plated alloy and feature loops at the end, so that the tiara can easily be secured into the hair with bobby pins or an elastic can be added at the back to hold the tiara snugly to the head.
Setting and staying within a budget is important for all aspects of wedding planning, including tiaras. At topwedding.com , brides can expect to pay approximately $6.00 to $30.00 for a tiara, which is much more affordable compared to the $100 or more you might pay for a tiara at your local bridal store. Beautifully embellished with rhinestones and crystals, my tiara was only $17.99, and due to its authentic look you would never guess that it didn't cost more.
Many women prefer to wear a tiara to a veil – although wearing both is not uncommon either. If you are choosing to wear both,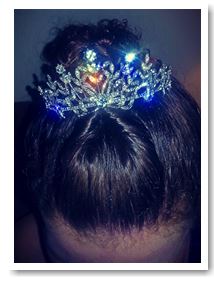 make sure that your veil detaches from the tiara, that way the wedding ceremony and pictures; you can detach the veil and wear the headpiece only.
Look beautiful on your special day. For a stunning collection of wedding headpieces, be sure to visit
Tiaras will also look beautiful in the hair of your bridesmaids and flower girls. And please keep in mind that tiaras are not just for weddings. Tiaras can also be used for proms, beauty pageants and of course sweet 16 parties.
Related articles