If you have a young girl or young boy for that matter, I am pretty certain you have heard all about the Rainbow Loom craze.
Rainbow Loom is so popular that even adults are trying this new hobby out. If you don't know about the Rainbow Loom, let me tell you about it the amazing Rainbow Loom Bracelet Kit.
Rainbow Looms are elastic rubber band bracelets that are created on a plastic grid with notches, called a loom. Rainbow Loom was first invented in 2011 by Cheong Choon Ng, a Malaysian of Chinese descent living in Novi, Michigan. This loom is approximately 2 x 8 inches. Using a crochet hook, hundreds of different patterns are created to make fun looking bracelets and more. You can even make a Rainbow Loom dress.
How to make your single rainbow loom band
First make sure the arrows are pointing up on your rainbow loom. Now place the first color you chose on the pegs like so.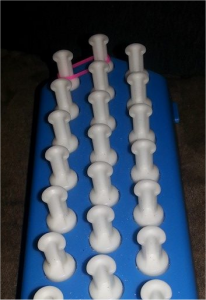 Now place the next rubber band like so. It doesn't have to be the same color.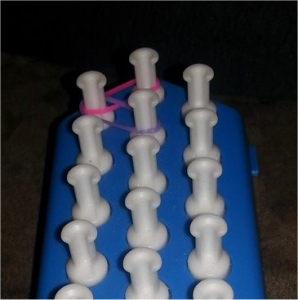 Continue alternating the first step and the second. You will start to see a zig zag pattern. Keep putting on bands in a zig zag all the way to the end of your loom.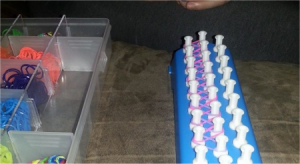 Now flip your Rain Bow loom maker with the arrow pointing down. Take your crochet hook and insert your hook under the band that is stretched between the first middle and second right pegs. Pull that band up and over, so it sits only on the second right peg. Continue looping the bands over as shown, always grabbing the lone band under the one you just looped.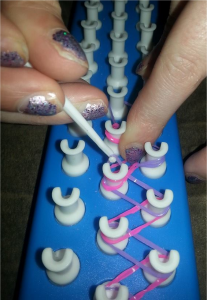 After the rubber bands are all attached, you then you use the hook tool to hook the rubber bands to each other and a c-clip to connect both ends of the bracelet.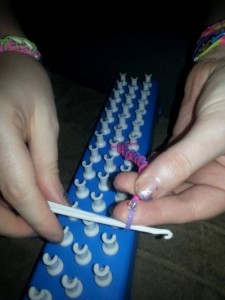 Now you have your bracelet. Once you get the hang of the basic patter, you can move on to more advanced designs.
There are plenty of Rainbow Loom tutorials online where you can find information on patterns and even Youtube videos showing you how to use the product. You can also check out the Rainbow Loom website for some links to other Rainbow Loom videos.
The nice thing is that Rainbow Loom is not just a craft for girls. Boys too are into loom-banding, making bracelets of their own and charms of their favorite characters.
Therapeutic Benefits of Rainbow Loom Bands
Although it may seem like just the latest kids' fad, it is actually a toy with amazing educational aspects. Some have called it an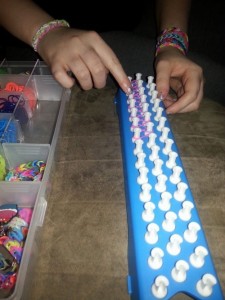 occupational therapists dream. In January of 2014, my 24 year old daughter was involved in a serious ATV accident. As a result she suffered a Traumatic Brain Injury. Her occupational therapist introduced her to Rainbow Loom as part of her therapy program.
For many survivors, the effects of brain injury may involve a range of perceptual problems. Rainbow Loom addresses these visual perceptual skills. Several of the patterns for bracelets involve rotating the peg board, and thinking what something will look like from the sides and underneath.
After a TBI it is common for people to have problems with attention, and concentration. A person with TBI may be unable to focus, and pay attention, which is often a challenge for my daughter. Rainbow Loom has been a great activity to help increase her ability to focus.
The Rainbow Loom also helps improve my daughter's coordination skills, as she has to place the rubber bands on the loom, then stabilize the loom with her hand, while the other hand holds the hook, then when completed, remove the bracelet from the loom with one hand, while holding the loom still with the other.
Rainbow Loom also helps improve finger dexterity, hand strength, problem-solving, coordination, and more. It is also great for helping improve my daughter's perseverance and confidence, boosting her self-esteem and creativity.
Peter Pauper Press Rainbow Studio Rubber Band Craft Kit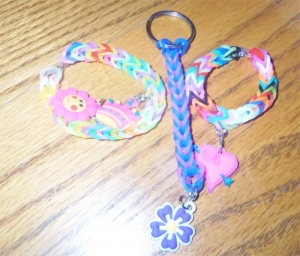 This is a really lovely kit from peterpauper.com to get you started on looming or to gift as a refill kit. The kit retails for $24.95, which is very affordable considering the kit includes: loom hook, and instructions, 3,600 bands in 20 bright colors, 100 easy-to-use S-clips for your finished creations and even an assortment of adorable little Rainbow Loom charms to put on the bracelets. Everything comes in a very convenient and easy-to-use box, which is great to keep things organized and neat.
I would love to hear about your thoughts of Rainbow Loom. Remember Easter is just around the corner. Add the Rainbow Loom and Rainbow Studio Rubber Band Craft Kit from Peter Pauper Press to their Easter basket this year.