Today we are living in such a disposable society; we have really lost touch with many things past generations have done to get by. Teaching our children to sew, even just a few stitches is vital. That is where My Studio Girl helps!  They have a variety of sewing kits to teach children to sew safely and create a fun finished product that they will keep and cherish for many years to come. With Christmas only a couple months away, My Studio Girl's Foodie Pillows would make the perfect gift for girls 8 and over.
Foodie Pillows review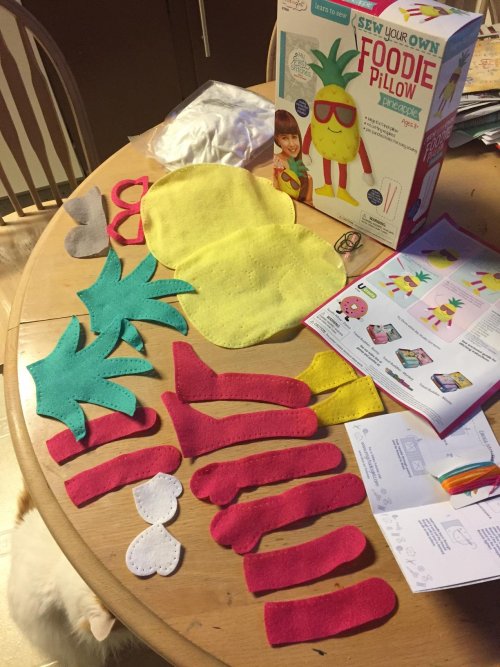 My daughter recently had the opportunity to try the 'sew your own foodie pillow' by 'My studio Girl'. Super cute and super fun. 'My studio Girl has three options available in the 'sew your own foodie pillow' line, you can choose from. They include a doughnut, a watermelon or a pineapple. For this review, we have sewn the pineapple. This super cool pineapple has arms, legs and jazzy sunglasses.
Included in the sewing kit is absolutely everything you need to finish your pillow. All of the felt-like fabric is precut, so no precise cutting is required. The fabric also has all of the holes to see pre-punched for ease of sewing. Also included is the coloured thread and blunt ended plastic needles to keep little fingers safe. Even the stuffing to fill your foodie pillow is included.
This craft is really quite simple and includes easy to follow instructions. Before beginning though, taking the time to familiarize yourself with the different types of stitches and how to finish your stitches with a knot. Included in the kit is a small booklet teaching the different stitches. There is also video tutorial available online at www.mystudiogirl.com. Admittedly, I learned a bit about the different stitches as a basic sewer myself.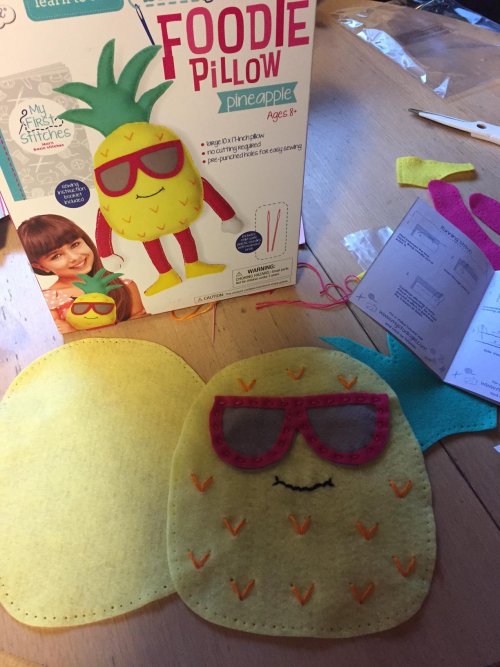 First,  lay out all the fabric and place all the pieces together.  Next, you begin sewing! Working from piece to piece you carefully sew through the prepunched holes. Starting with the finer details on the body of the pineapple to create the face and attach the sunglasses. Next, you sew the hands and feet on the corresponding arms and legs.
Then you fill the arms and legs with the stuffing and set aside. Then you see the pieces of the pineapple top, which I think looks like cool spiky hair, together and fill with stuffing. And now to sew all of your pieces onto to pineapple body and your creation is taking shape. Once you attach the arms, legs and top, fill the body portion with stuffing, but try not to over-stuff. Now all you need is the final stitches to close the body and complete with a knot to seal. And voila; A fun pineapple pillow for you to cherish and you made it all by yourself!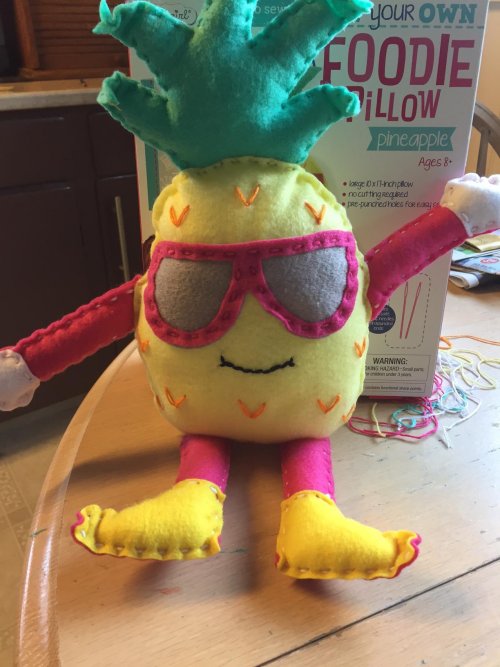 Our thoughts about the Foodie Pillows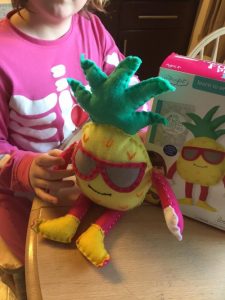 We had so much fun sewing and creating the fun little pineapple together. This craft was rather time consuming, but a learning experience and enjoyable every step of the way. I was rather impressed with all of the pieces being ready to sew and prepunched as to make the sewing much easier than using patterns from a regular sewing shop. The instructions were simple and easy to follow even for novice sewers like myself. This craft gives a great starting point for children to sew and easy enough to instill confidence for future sewing projects. Overall, we love the Foodie Pillows from 'My Studio Girl'.
My Studio Girl is all about expressing yourself and having fun! They believe there is nothing quite as cool as making something yourself and being able to show it. Purchase their Foodie Pillows today!

Website: areyougame.com