Chosen by Today's Parent as one of the top 90 toys for Christmas 2015, All-Natural Spa Soaps by SmartLab Toys teaches kids about the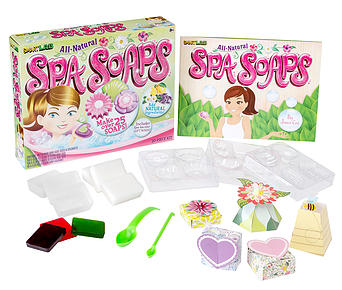 chemistry of soap making.
This kit includes the basics you'll need to get started: 5.28 ounces of clear glycerin soap base, 5.28 ounces of white glycerin soap base, and 1.59 ounces of glycerine soap pigment in three different colors. Each 5.28 oz glycerine cube makes three to five soaps depending on the size of the molds. The kit also includes a leaf spoon, a mix 'n' swirl spoon, three sets of molds, and five gift boxes.  The included gift boxes are a wonderful touch.
You will also need some supplies and ingredients from home: a microwave, a microwavable measuring cup, and whatever ingredients the soap recipe calls for, most of which can be found in a local health food stores.
The booklet is filled with soap recipes using common all-natural ingredient. Add  lavender to create scented soaps, oatmeal to make soothing soaps, and honey to make a beehive-shaped soap! Follow the recipes in the booklet or dream up custom soaps.
Soap Making Instructions
Each recipe is made using the same basic steps. Place a cube of soap base into your cup and microwave it for 20 seconds.
The task of melting the soap should be done by an adult, as the soap can get very hot. Gently stir making sure to avoid creating bubbles. Keep heating and stirring in 10-second intervals until the soap cube is fully melted. Then stir in your ingredients and color chips. Pour your mixture into the molds. Be very careful while doing this. Maybe have your child use a spoon. Let cool for about 45 minutes at room temperature, or place in the freezer to speed the process.
Press the back of the mold to release the finished soaps once they've fully hardened.  If they get stuck in the molds, just use a bit of warm water. Molds are just the right size to make a silver dollar sized soap. The boxes are an easy punch out paper, fold and go boxes. No scissors or tape needed.
If you're looking for a perfect craft to do with your kids, check out All-Natural Spa Soaps by SmartLab Toys
Website: smartlabtoys.com