No visit to Ottawa with children is complete without a trip to "Valleyview Little Animal Farm." On our recent trip to Ottawa, we took our 17-month-old daughter and my adult son to Valleyview Little Animal Farm. Located in Nepean, about 25 kilometers southwest of Ottawa, this hidden gem has much to offer.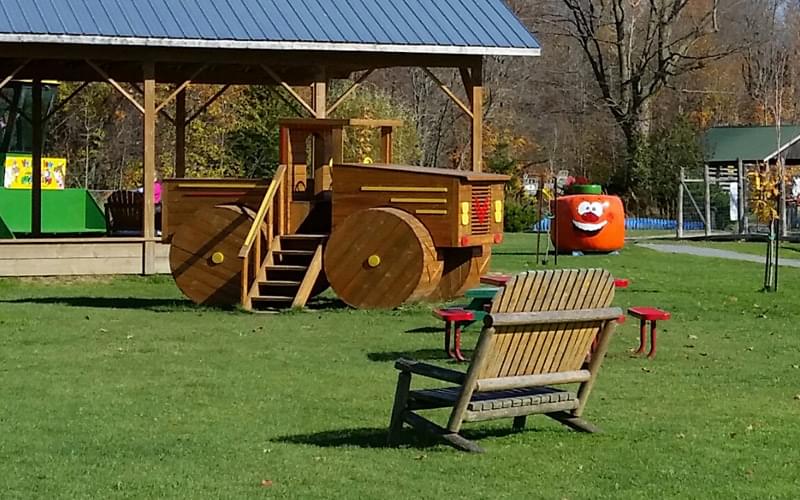 In addition to the animals and the friendly feel of the farm, is the fact that they have so many unique things for kids to explore. From a tracker your kids can play on to wooden Flintstones-type cars, there are lots of opportunities for play and photos.
Be sure to watch the singing chicken show inside the barn that is located just as you enter the gates. Inside the barn is the chicken show, a talking cow, lots of antiques,  a display of John Deer collectibles, washrooms, a cafe, and a gift shop.
As you exit the main barn make your way into the little animal's barn where you will find a pig, some birds, and lots of goats. For 25 cents you can purchase food to feed the goats, which is always lots of fun for both children and adults. My 20-year-old son even took a self-portrait with one of the goats, which took a liking to my son's hair. It must have been the shampoo my son uses.
Outside of the little animal barn is a hand washing station, which is a must if you touch the little animals. As you exit the petting barn and head down the path, you'll pass a cage with some birds in it including a peacock that loves to put on a show for onlookers.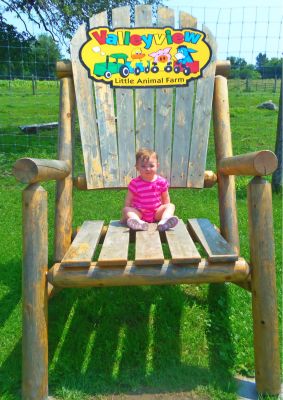 After visiting the animals in the barn it is time to take a Country Walk. As you make your way along toward the forest you will see many animals such as llamas, donkeys, deer, goats, and bulls.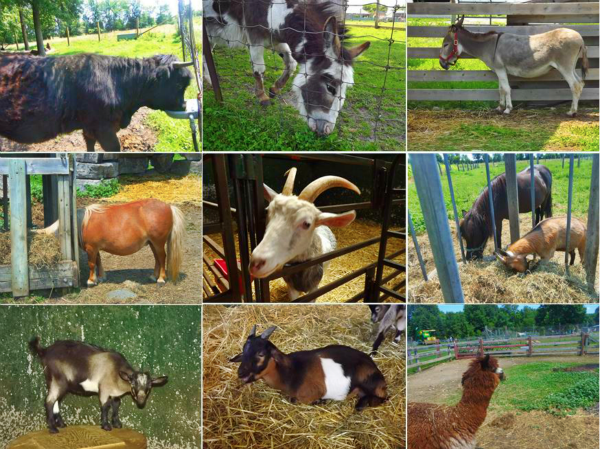 At the far end of the farm towards the forest is a huge playground. This playground has everything from a giant sand pile to playhouses, climbing structures, old-school wooden teeter-totters, to a huge picnic area. The playground tends to be one of the main attractions and to be honest, you could spend the afternoon there. Bring a lunch or purchase one at Valley View Farm's canteen and enjoy a picnic on the grass.
As you make your way back to the farm, journey up the other side and see a few more animals- such as the beautiful horses and venture into the several barn displays, which contain lots of old-fashioned farm items like tractors, hand tools, steam engines, and even horse and buggies. This area didn't capture our toddler's attention, but my husband the historian was most impressed.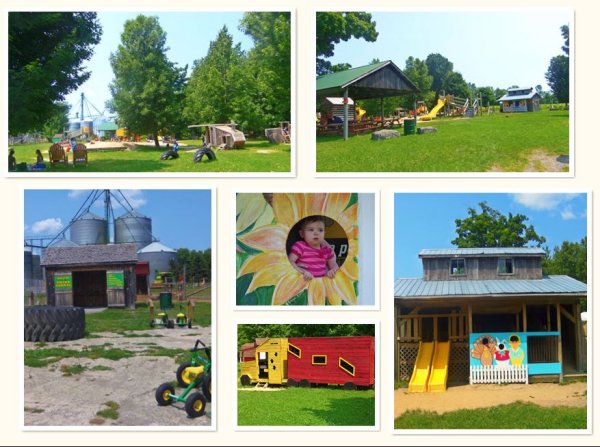 At the end of your trip purchase some souvenirs at Robyn's Nest Gift Shop and if you haven't already, spoil yourself in the delightful café or grab some ice cream at the little Ice cream shop. We found the prices in the cafe to be very reasonable.  Lunch for three cost us under $25.00.  Their menu consists of soups, salads, hotdogs, sandwiches, fries, and bake goods just to name a few.  The gift shop is also reasonably priced too and you can even bring the kids home a t-shirt from the farm as a token of your trip.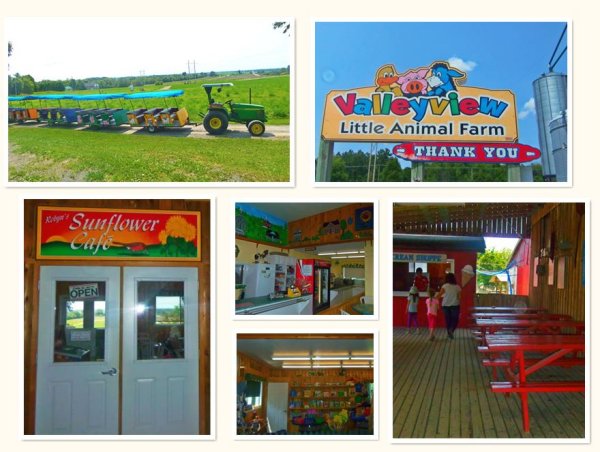 Before you leave the farm, hop aboard the Valleyview Express, which travels through crops of hay, corn, soya beans, and the Sunflower Forest plus a wide variety of pumpkins for fall harvest. We didn't take the train ride, but plan to on our next trip.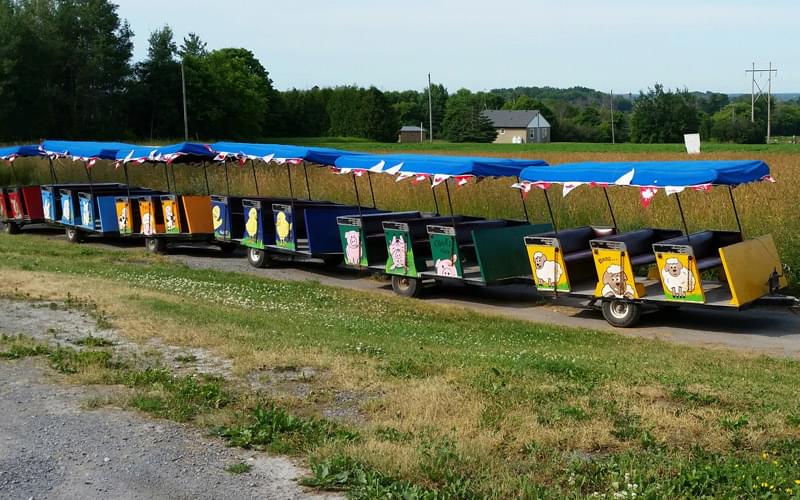 Overall, I really enjoy taking my daughter and son to Valley View Farm. At $8.50 per person, I find the cost of admission to be reasonable although I do think there should be reduced rates for children.
All in all, though, it's a fabulous way to spend the day in Ottawa! We plan to return next year with our daughter.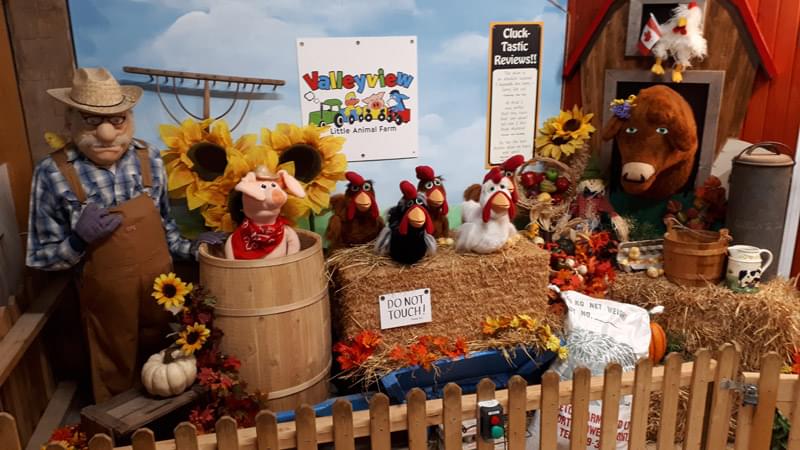 When looking for attractions to do with your children or grandkids this summer,  be sure to add Valleyview Little Animal Farm in Ottawa to your list. If you can't make it this summer, do not worry as the Farm is open until the fall!
Don't forget to check out one of the many other attractions mentioned here.
Website: vvlittleanimalfarm.com
Ottawa has much to see and do for any family traveling with young children. In the heart of downtown Ottawa along the Rideau Canal, Pirate Adventures is a unique and unforgettable experience. Your children will get to dress up like a pirate, complete with a vest, sash, and bandanna— some face paint, and of course a new pirate name! From there they will board a 50-foot pirate ship and head out in search of sunken treasure.
Move on over to the Canada Agriculture and Food Museum, where entry is free for kids under 3 years of age. Visit the animal barns and explore the captivating exhibitions. The learning center displays exciting exhibits that rotate throughout the year. The Canada Agriculture and Food Museum offers free admission between 4:00 and 5:00 p.m. daily. This was on our list of things to do but sadly did not make it.
An art museum can sometimes be a dull place for kids, but the National Gallery's Artissimo program livens things up.  At Artissimo there are scavenger hunts,  two self-guided tours to explore and endless crafts to be made. Artissimo is available daily between 11-4.
Saunders Farm offers a smorgasbord of activities stretched out over 100 acres of property. You can jump on massive trampoline pillows, mine for gemstones, explore mazes, slide down the slide at witch mountain, or get wet in the splash pad. Bring your own picnic lunch or purchase your lunch at "The Farmer's Table." Then for ice cream head on over to Annabelle's Ice Cream Hut. One look at the Sauders Farm website and it is easy to see that the one thing Saunders does well is cater to children of all stages and ages.
We were five minutes from visiting Saunders Farm when it started to rain. Sadly mother nature had other plans for our day, but we have added it to our bucket list to visit the farm on one of our many return trips to the capital city. Saunders Farm is actually located in Munster, which is a bit southwest of Ottawa. The Saunders family has become very well known for their fun haunting experience through the month of October, so that might be a good time to visit if you have older children.
Is there a place we should visit in Ottawa? Let us know in the comments.