Cast iron cookware has an allure that goes beyond its cooking capabilities. It possesses an heirloom quality that is passed down from generation to generation. This gorgeous FINEX 10″ cast iron griddle makes pancakes, burgers, steak, and so much more the perfect gift this holiday season for any cook. CNC-machined, hand-polished, and pre-seasoned with organic flax seed oil, the griddle provides easy nonstick cooking right from the box.  It doesn't matter if they're grilling indoors or outside, Finex Cast Iron griddle will deliver consistent results every time.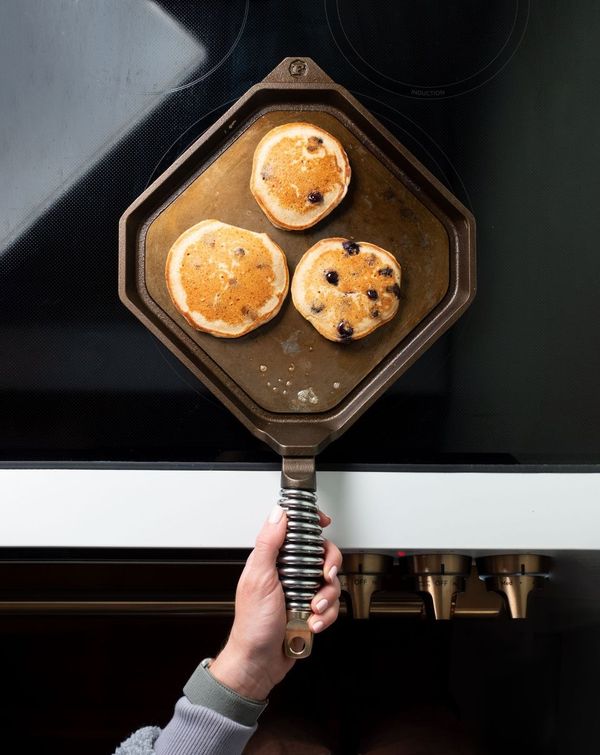 Finex's 10″ griddle is made in the USA and comes with the Good Forever guarantee. In other words, Finex will replace any Finex cast iron product that fails from honest use.
By retaining and distributing heat evenly, the cast iron base ensures that food is seared and cooked evenly in the oven, on the BBQ, or right above the coals. A shallow channel circles the edge of the cast iron griddle, deep enough to catch grease, but shallow enough to allow edge-to-edge cooking. Featuring rounded corners, the shape provides convenient pouring spouts. Furthermore, the sidewalls of the griddle are flat, making it easier to grab food with spatulas. The visually striking stainless steel spring handle and brass endcap offer a secure grip that stays cool longer and cools off quickly.
My husband tested the Finex 10" grilled pan and was very impressed. He is a big cast iron fan. Having cooked for years, both commercially and at home, my husband loves the Finex Cast Iron Grill. The cast iron grill is incredibly sturdy and well-built. In spite of its weight, it is extremely efficient and works perfectly. As well as grilling fish and hamburgers, he has used it to cook vegetables as well. It took him no time at all to make four hamburger patties at once.  While the Finex Cast Iron grill comes pre-seasoned and ready to use, we recommend maintaining it with good olive oil and storing it properly by keeping it dry and free of moisture. To dry it, rub it down with oil after cleaning with soapy water and place it in an oven on low.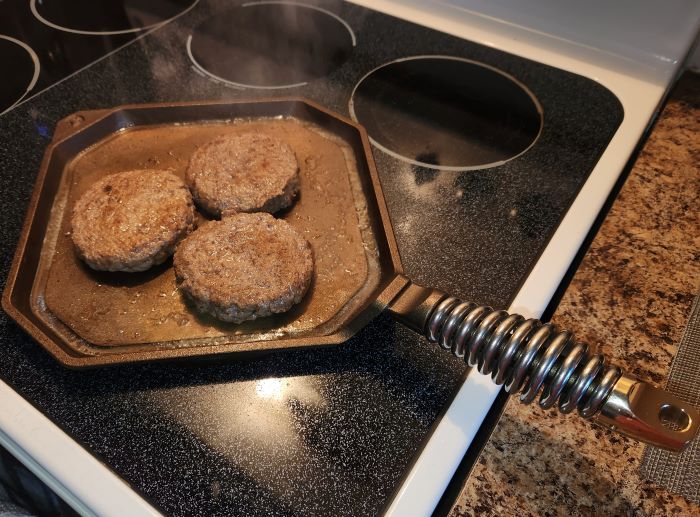 Unique design features of the new FINEX 10" Griddle ($200) include:
A clipped square shape that maximizes the 10" cooking surface (ample room for 4 burgers on a single burner)
Low ½" sidewalls with a shallow channel surrounding the cooking surface to contain excess cooking oil and food, allowing for easy spatula access.
Machined-smoothed and traditionally pre-seasoned cooking surface using 100% organic flaxseed oil for a durable, near-nonstick finish.
The visually striking stainless steel spring handle and brass endcap offer a secure grip that stays cool longer and cools off quickly.
Effective on any heat source –  gas, electric, induction, in the oven or BBQ, over open fire, or right in the coals.
Heavy gauge cast iron evenly distributes and retains heat.
Handmade in the USA and Guaranteed Good Forever.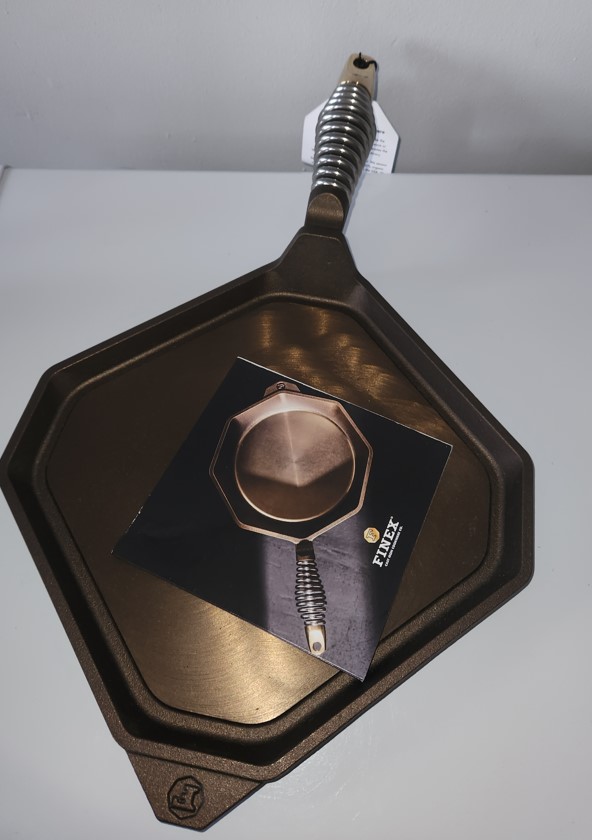 The FINEX cast iron grill pan is a gift they'll pass down for generations. Among Finex's cast-iron products are grill pans, griddles, Dutch ovens, etc.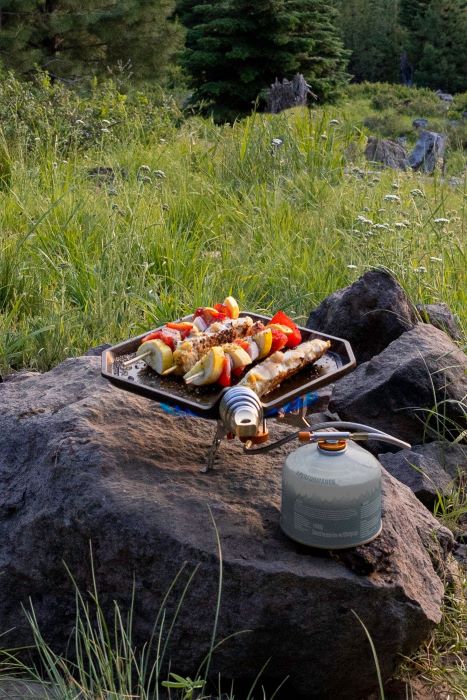 The FINEX 10" Griddle is now available at www.finexusa.com and select retailers nationwide.
About FINEX Cast Iron Cookware:
FINEX is for those who believe details make the difference. In the cookware we design, in our commitment to handcraft, in our cooking–in every creative endeavor– attention to detail elevates the everyday into something extraordinary.
Founded in 2012, FINEX Cast Iron Cookware Company is a Portland-based brand building cast iron cookware for those who believe the details make the difference, bringing modern American-made heirloom cast iron cookware. FINEX is instantly recognizable by its modern geometric designs, stone-polished cooking surfaces, and ergonomic spring handles that stay cool on hot burners. For more information and product details, visit http://finexusa.com, and follow along on Twitter, Facebook, and Instagram.