Macaroni and cheese have been a part of Canadian culture since 1937, when Kraft put it in a box for the first time. Nothing can top macaroni and cheese for comfort food. Regardless of age, pasta and melted cheese can make your day better when enjoyed steaming hot. I recently had Arby's White Cheddar Mac 'n Cheese with my 10-year-old daughter.
A creamy and smooth white cheddar sauce is served with elbow macaroni in Arby's White Cheddar Mac 'N Cheese. The aged white cheddar flavor of the al dente cooked noodles is immediately apparent on the first bite. In terms of flavor, Arby's mac and cheese is adequate.  The cheese sauce mainly consists of white cheddar, cream, and cream cheese, but hints of Romano are also visible. There was a good amount of thickness to the sauce, but it was not too thick.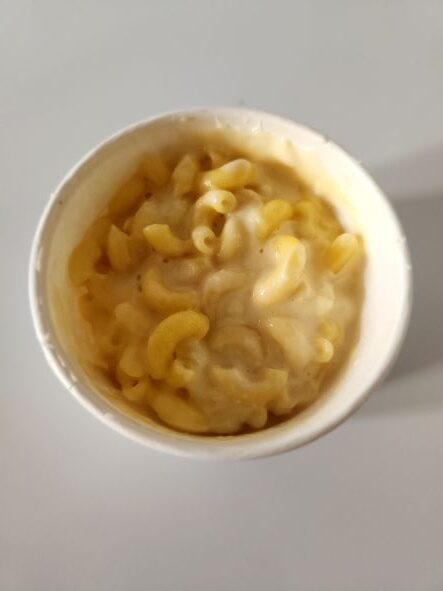 I paid $5.47 which isn't too bad for a 227 g container. Whether you want to pair it with an Arby's sandwich or not, the amount of mac and cheese given by Arby's is more than enough for a light lunch.
Despite my love for mac and cheese, I wasn't a huge fan. The reason for this may be that I don't like aged cheddar. Whenever I prepare mac & cheese at home, I also prefer to cook my noodles longer. It was nevertheless a hit with my ten-year-old and I would certainly buy it again for her.
Arby's White Cheddar Mac 'N Cheese Nutrition Facts
510 calories
260 calories from fat
29 grams of fat
17 grams of saturated fat
1120 milligrams of sodium
44 grams of carbs
13 grams of sugar
20 grams of protein
I experienced excellent service at my Arby's location as always from Lonnie and his staff. The White Cheddar Mac N' Cheese is available for a limited time at participating Arby's locations.
About Arby's
Founded in 1964, Arby's was the first nationally franchised, coast-to-coast sandwich chain and has been serving fresh meals since it opened its doors. Driven by its brand purpose of "Inspiring smiles through delicious experiences", Arby's restaurants offer the widest assortment of oven-roasted sliced roast beef, chicken, roast turkey, and Reuben sandwiches, signature Curly Fries, craveable milkshakes and, since 2018, delicious poutines exclusively available to its loyal Canadian customers. Headquartered in Atlanta, the brand operates a network of more than 3,400 locations in seven countries, including 56 in Canada. Visit  Arbys.ca for more information or socially connect with Arby's on Facebook.