A collection of new fall offerings has been introduced by Arby's Canada, including deep-fried pickles (Frickles), white chocolate macadamia nut and turtle double chocolate cookies, and the return of the raspberry shake.
"We're not just in the business of serving food, but rather delivering an innovative concept in the fast-food industry, providing guests with a unique experience that's something different, something better," says Vito Curalli, spokesperson for Arby's in Canada.
Fried Pickle Spears
Although fried pickle spears are a popular bar snack across the country, food chains like Arby's are taking on pickle lovers' favorite snacks. It was in the South that fried pickles were first invented. According to Arkansas-based food writer and historian Kat Robinson, the snack was invented by Duchess owner Bernell "Fatman" Austin – whose restaurant was located across from a pickle factory.
Let's be honest, sometimes you don't feel like eating an entire meal. It's just a matter of finding something you can eat quickly. Frickles are just that and at $4.00 for four deep-fried pickles, Arby's is literally almost giving these away. What a cheap eat.
Fried Pickle Spears at Arby's are cut into thin wedges and coated lightly with tangy dill breading. Having tried them I can tell you that these frickles are crunchy, flavorful, and SO tasty! There is nothing soggy about these deep-fried pickles. If you're a pickle fan, these are delicious. Frickles are served with a ranch parmesan dip. Your mouth is already starting to water!
It's technically true that I've eaten my vegetables now. I am grateful to Arby's for bringing Frickles into my life. It should be added to the menu as a permanent item. Try them today. You won't be disappointed.
Arby's Raspberry Shake
In addition to the return of Arby's Raspberry Shake, the fast-food chain launched a new large cookie in two decadent flavors: white chocolate macadamia nut and turtle double chocolate.
Arby's raspberry shake combines the chain's classic creamy vanilla shake with a sweet raspberry flavor. My favorite thing about Arby's Raspberry Shake is its sweetness which recalls childhood shakes. With a sweet, creamy, fruity flavor, the shake satisfies your ice cream craving without becoming too heavy.
Arby's Cookies
According to my ten-year-old, Arby's turtle double chocolate cookies are delicious fudgy stick-to-your-teeth rich-tasting chocolate cookies. Moist, chewy, and full of chocolate, these double chocolate turtle cookies are huge. Who said size doesn't matter? The giant cookie monster cookie satisfies even the biggest cookie craving.  My daughter specifies that you must order half a dozen or order just one.  They are a sweet ending to your meal. Be sure to order an Arby's Rasberry milkshake to go with your cookie.
Arby's white chocolate macadamia nut cookies are a decent-tasting cookie.  They are buttery, crispy golden, and chewy.  According to my local Arby's manager, they are a customer pleaser.  They are my personal favorite of the two.  If you're a fan of cookies then you may want to try both of these cookies out.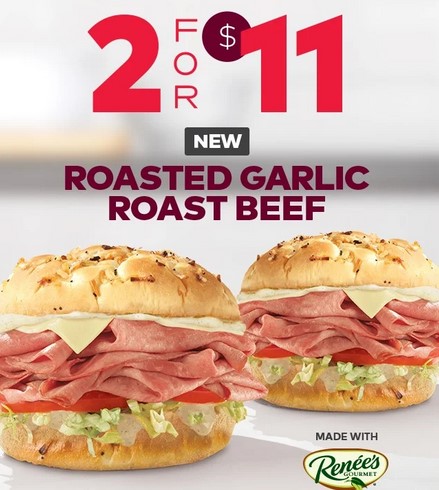 In celebration of the launch of the new sandwich, Arby's Canada is also offering two Roasted Garlic Roast Beef sandwiches for CAD$11 each. Featuring an onion bun, garlic aioli, Swiss cheese, shredded lettuce, and tomatoes, the Roasted Garlic Roast Beef sandwich is available now for a limited time.
Also, be sure to try the popular Bacon Ranch Wagyu Burger.
You can find the new menu items at participating Canadian locations for a limited time, while supplies last.
Now if you will excuse me, you will find me in the pumpkin patch with Linus waiting for the great pumpkin. I'll be the one eating frickles.
As always thank you to Lonnie and the staff at Arby's Belleville for the excellent customer service. We rang the bell.
About Arby's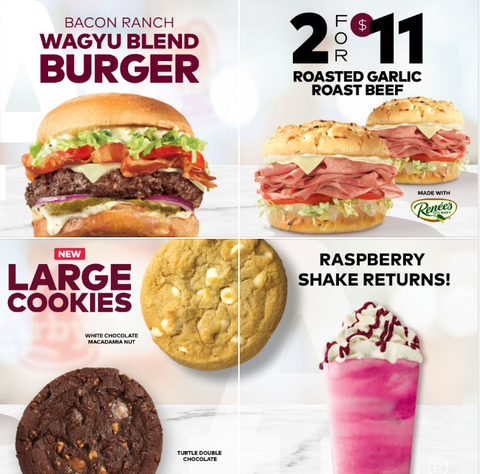 Founded in 1964, Arby's was the first nationally franchised, coast-to-coast sandwich chain and has been serving fresh meals since it opened its doors. Driven by its brand purpose of "Inspiring smiles through delicious experiences", Arby's restaurants offer the widest assortment of oven-roasted sliced roast beef, chicken, roast turkey, and Reuben sandwiches, signature Curly Fries, crave-able milkshakes and, since 2018, delicious poutines exclusively available to its loyal Canadian customers. Headquartered in Atlanta, the brand operates a network of more than 3,400 locations in seven countries, including 56 in Canada.