According to a 2022 Gallup Poll, the average American reports drinking 4 alcoholic beverages weekly. And nothing goes better with your favorite alcohol of choice, like a soda mixer. Soda cocktails are a fun way to lift your spirits.
With Summer finally, upon us, it's time to relax by the pool with friends and enjoy a delicious cocktail. Whether you're looking for tried-and-true cocktail recipes or are in the mood to try new types of cocktails, there are cocktail options to suit every taste.
Are you interested in discovering the best cocktail recipes of 2023? If so, keep reading below for more info.
Vodka Cherry Limeade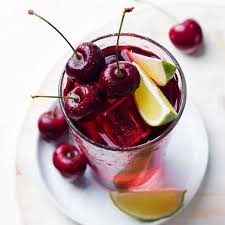 Vodka cherry limeade soda cocktails are a taste of Summer for sure. They're a twist on the cherry limeade you drank as a kid with a grown-up vibe.
These bright and boozy cocktail options only require 4 ingredients:
Vodka
Limeade or lemon-lime soda
Lime
Maraschino cherries
Mix the vodka and limeade soda and pour over ice. Garnish with a fresh lime wedge and some maraschino cherries. If you want, you can add a bit of the maraschino cherry juice to the drink to give it a little more sweetness and add to its pink coloring.
Strawberry Vodka Soda Cocktails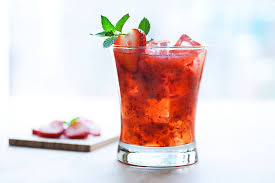 Summer is the season for fresh strawberries, which makes them ideal to use in these strawberry vodka soda cocktails. Use a blender to make a strawberry puree. You can mix it with vodka, or you can substitute gin or white rum.
Add in 7-UP or Sprite. You may also use club soda. Pour into glasses with ice cubes and garnish with a lemon slice, mint leaves, or more fresh strawberry wedges.
The Hurricane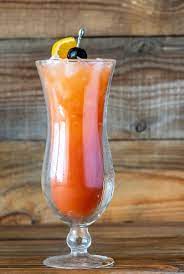 The Hurricane is one of history's favorite soda cocktails. The popular drinks date back to the 1940s during World War II in the French Quarter of New Orleans.
At the height of both Prohibition and the war, whiskey became a scarce commodity so bar owners would have to order mass quantities of rum just to obtain one case of whiskey. Thus, The Hurricane was born as a way to use up the surplus of rum.
To make your own Hurricane, mix lemon-lime soda with passion fruit liqueur, lime juice, light rum, and 151-proof rum in a highball glass. Mix with ice and garnish with maraschino cherries and an orange slice. You can have Mardi Gras in a glass anytime.
Summer Berry Sangria Cocktails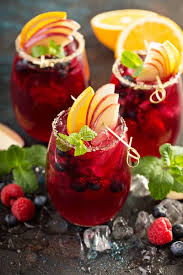 Summer Berry Sangria cocktails are flavorful soda cocktails that pack a punch. You'll need sliced lemons, oranges, and limes along with fresh or frozen mixed berries. You'll also need orange liqueur, merlot, and lemon-lime soda.
It is recommended you let all of the ingredients sit together in a large pitcher and chill in the refrigerator for 6-8 hours. Make a few pitchers to chill ahead of time for easy, ready-to-drink cocktail options. That way you will keep the drinks flowing throughout your whole party.
Blue Mermaid Cocktails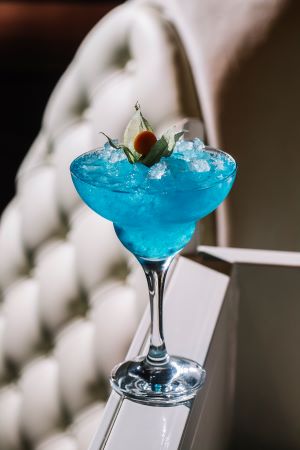 Blue Mermaid Cocktails are perfect for helping you channel your inner mermaid this Summer. These soda cocktails are also a great way to celebrate the release of Disney's new live-action The Little Mermaid movie.
To make these playful and fruity drinks part of your world, you'll need cream soda and Blue Curaçao. Mix 4 parts cream soda and 2 parts Blue Curaçao in a highball glass. Garnish with a wedge of pineapple and some maraschino cherries.
Strawberry Wine Moscato Spritzers
Continuing the trend of soda cocktails that incorporate fresh seasonal strawberries, Strawberry Wine Moscato Spritzers are fast and easy cocktails options that are certain to please.
It combines a sweet and crisp Moscato wine with 7-UP soda. And if you're looking to cut down on calories, you can use Diet 7-UP as a substitute. Cut up some strawberries to put into the drink itself as well as to garnish the rim of the glass.
Shark Bite! Cocktails
Shark Bite! Cocktails are clever soda cocktails that are fantastic for Summer themed parties. They contain Blue Curaçao, Malibu Rum, pineapple juice, grenadine syrup, and Sprite soda.
The Shark Bite! Gets its name from the blue waterlike appearance of the Blue Curaçao with the red blood coloring of the grenadine at the bottom. You can also add cherries and pineapple as a garnish.
Summer Breeze Cherry Cocktail
Summer is a season when fresh cherries are also available in most regions until September. Their perfect tart sweetness is what makes the best Summer soda cocktails. If you don't have fresh cherries, however, frozen cherries will also work.
All you need is about 5 muddled (mashed) cherries, some Jameson or your preferred whiskey brand, and your favorite brand of ginger ale. Add the ingredients together and enjoy the crisp and tart flavors mingling together with the robustness of the whiskey.
Rum and Coke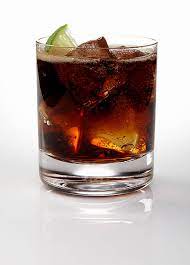 Rum and Coke soda cocktails are a classic staple of cocktail recipes. These popular drinks contain two simple ingredients, rum, and coke. Simply mix two parts Coke with one part of your favorite rum.
Mailbu and Cola is a variation of the standard rum and coke recipe that uses Malibu Original Rum and Cola. Mix these two elements over ice and then enjoy the smooth and sweet interplay of flavors. You can garnish with a lime for a bit of extra zest.
Summer Slam Cocktail
When you're entertaining in the backyard on those warm Summer nights, you need something that is quick and enjoyable with minimal effort. Enter the Summer Slam cocktail. Summer Slam soda cocktails are going to become your go-to for light and refreshing cocktail options.
You only need Cherry Coke, lemonade, and a splash of vodka to whip up these tasty cocktail options. Serve it over ice, and add a skewer of maraschino cherries for a garnish. It's a minimal-effort Summer cocktail with maximum flavor.
Discover More Fun and Informative Topics on Our Website Today
Cocktail recipes are a great way to entertain guests and unwind this Summer. With so many fast, fun, and tasty soda cocktails to choose from, you're certain to find the one that appeals to your personality and your palate. You can also play around with different cocktail options, and maybe you'll stumble upon a custom cocktail recipe of your very own.
If you enjoyed this article, there's plenty more in store on our website, like Health, Beauty, Fitness, Travel, and more. Find the topics that speak to you right here.