Warm weather is coming and it's time to get together! If you're ready to celebrate the season of summer's bounty, a themed party can be a wonderfully fun way to connect with friends you haven't seen for a while. You don't need to put together anything fancy or expensive to have a fun time with those you love. We have some unique summer dining ideas for parties with friends and family.
Put a Griddle on the Buffet
Get a couple of packs of tortillas and put a griddle at the end of your buffet. Set up your Mexican favorites, including
taco meat
beans
rice
cheese
veggies
Wrap it up in a fresh tortilla. Toss it in on the hot griddle to create a custom wrap just for you and your loved ones. While this may not work for a large gathering, using a crockpot to keep taco meat hot can be a great way to keep things yummy, safe and simple. If you're looking for a fun way to change up a family dinner and have some picky eaters, a DIY wrap will keep everyone happy.
Focus on Light and Cool Foods in Hot Weather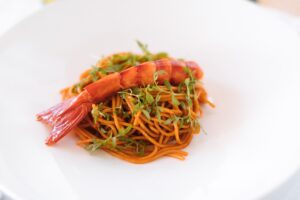 If you're planning a 4th of July gathering, keep things cool with fruit skewers, a salad buffet and sushi. Order a to go collection of sushi, maki or hand rolls to keep things simple and cool for you as well! According to Under Wraps Sushi, handroll artists based in Utah, sushi can be a great addition at family parties. Family members can enjoy these cool treats with their hands, making for a laid back, interactive dining experience.
This may also be the time to dig into some culinary history. How long has it been since you had a Jell-O salad? Now is the time to dig back into this cuisine. Another fun food to add to a summer meal is an old-fashioned 3 bean salad with a vinegar dressing. Summer foods you don't have to monitor; that is, those with no eggs and no mayo, can make your hot weather meals much simpler.
Serve a Bowl Buffet
Treat your family and friends to a bowl buffet on a weekend morning. Start with small bowls and build a parfait of vanilla yogurt, fresh fruit and a bit of granola. This may fill up some; the next bowl can be a bit bigger and feature a sausage gravy over rice, potatoes or a crunchy cereal.
Another yummy bowl creation will feed your favourite vegetarians and can feature a hearty bean stew over
rice, white or brown
crunched-up corn chips
farro or cous cous
Adding cheese and sour cream to this bowl can boost the protein content.
Of course, you'll need fresh bowls and spoons for dessert. For a brunch, try a lemon sherbet with different ice cream and pancake syrups, from pineapple to strawberry to blueberry.
Set Up a Smorgas-Grill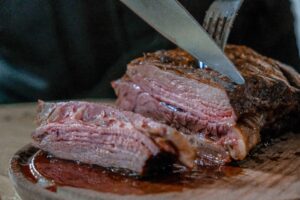 Fry up a few burgers and grill up a few hot dogs to serve the masses. For many folks, the treat of a burger off the grill will suffice. Make sure you also offer a veggie burger option.
Budgets are tight; not everyone can provide a steak or a slab of salmon, but a burger bar can be a fun way to feed a lot of folks and avoid blowing your budget. Ask guests to bring a salad as a side. If you have friends who always show up right on time or early, assign them chips and dip. Chronic latecomers are in charge of dessert.
Consider a Mediterranean Meal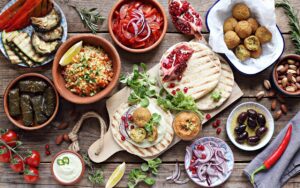 One of the best things about Mediterranean foods is that they travel well. This cuisine is also incredibly yummy on small plates. Make wraps that feature hummus, chopped veggies and falafel, which can be served warm. Make up a fruit salad or fruit skewers on small flags of different nations.
Stuffed grape leaves, pita and baba ghanoush and a yummy fattoush salad will round out the meal beautifully. For dessert, serve almond cookies or try your hand at baklava! Finally, consider serving this with a crisp white wine, preferably with bubbles.
If the past few years have taught us anything, the chance to gather and share food and friendship is a tremendous gift. You don't need to have a huge fancy gathering to share the joy with your loved ones. A themed potluck can be a wonderful way to bring folks together and eat well.