Hard-working women deserve the best they can get, especially regarding work shoes. Keeping your feet safe should be your primary concern and what better way to do that than by wearing high-quality safety work shoes?
Maybe your current work shoes aren't performing the way they used to, or you want a new pair to switch between them as you feel. Whatever the case, your best bet is getting quality work shoes from renowned brands that prove their worth year after year. That's why we compiled a list of the best work shoes for women in 2022.
What Are the Best Work Shoes for Women?
What are the best work shoes for women? The answer isn't simple because every shoe serves a particular purpose and is best for a particular job. Although many share similar features, they are also different. Some are waterproof, some heat-resistant, while others are lightweight or feature safety toes.
That means the best work shoe for a warehouse worker may not be the best for someone who works in healthcare. That said, the best work shoe for you will be the one that offers all the features you need. So, go ahead and find yours!
Thorogood Women's Soft Streets Chukka Work Shoes
These Berry Compliant plain-toe chukka work shoes are postal-certified, meaning they feature ultra-cushioned footbeds, flexible construction, and ultra-light materials, keeping you on your feet as long as you need to be. Their slip-resistant outsoles add traction and control regardless of the surface.
Thorogood's exclusive Soft Streets dual-density polyurethane outsole offers you exceptional comfort and flexibility. This shoe's removable, single-density Comfort 125 polyurethane insole features a contour heel cup for ultimate comfort and support. This full-grain leather chukka shoe is electrical hazard rated and won't stop going until you do.
Wolverine Women's Bolt Vent Durashocks Work Shoes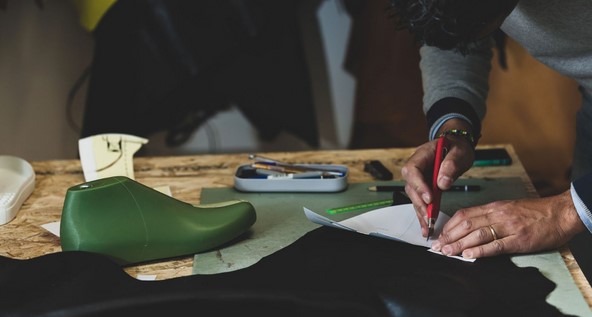 These are the first safety toe athletic shoes with Wolverine DuraShocks and Wolverine DuraSpring cushioning, making them some of the most comfortable safety toe shoes. DuraShocks technology absorbs shock and returns energy, offering comfort all day long, while DuraSpring cushioning offers long-lasting, dynamic cushioning.
The Wolverine Bolt's outsole is slip-resistant, featuring extended pads to boost contact with the surface. The pads also include an angled pattern, channeling away contaminants and liquids. They sure provide the comfort you deserve while working.
Timberland PRO Women's Reaxion Work Shoes
Timberland PRO's women's Reaxion shoes are made for safety, durability, and comfort all day long. They feature ripstop nylon uppers and anti-fatigue Aerocore technologies for the maximum support and comfort you need on your job. Composite safety toe will protect your feet from impact without conducting heat, cold, and electricity.
Moreover, their rubber outsoles are slip-, oil-, abrasion-, and heat-resistant, protecting you on various levels while providing exceptional traction. Not just that, these work shoes are also electrical hazard rated, so that's another thing you don't have to worry about when wearing them.
In addition, they are antimicrobial-treated, preventing and controlling unpleasant odors. You won't activate most security systems with these boots as they are metal-free. It's clear why Timberland PRO is one of the most popular footwear brands.
KEEN Utility Women's Sparta ESD Work Shoes
KEEN Utility Sparta ESD work shoes feature excellent cushion and slip-resistance, perfect for light industrial work. Aluminum safety toes meet ASTM standards for impact and compression, keeping your toes safe from falling objects. These safety shoes also meet ASTM standards for static dissipative hazard, allowing static build-up to discharge safely through your shoes to the floor.
Their textile upper with a reinforced toe minimizes the weight of this safety shoe, boosting mobility. KEEN.ReGEN midsoles cushion while resisting compression with each step you make. Their outsoles are both slip- and oil-resistant, preventing falls and absorption of oil and other chemicals you may come across.
In addition, their breathable interior lining with removable comfort insole makes them super-comfortable and ideal for working long hours. Get the work shoes your feet will thank you for.
Carolina Women's S-117 ESD Romeo Work Shoes
This safety shoe comes from another famous quality work footwear brand. Carolina's Romeo durable work shoe has a leather upper and features an aluminum safety toe, keeping your feet safe from falling objects.
You can rest assured your feet will breathe thanks to the mesh lining. These shoes feature a removable EVA footbed offering exceptional cushioning, which helps ensure every step is gently absorbed. That also means they have high heat and cold resistance while being durable.
Carolina Romeo's rubber outsoles are slip-resistant, offering traction while also being electrostatic dissipative. That means they will absorb loose electrons, sending charges into the floor. We would expect nothing less from Carolina.
Georgia Women's Giant Revamp Work Shoes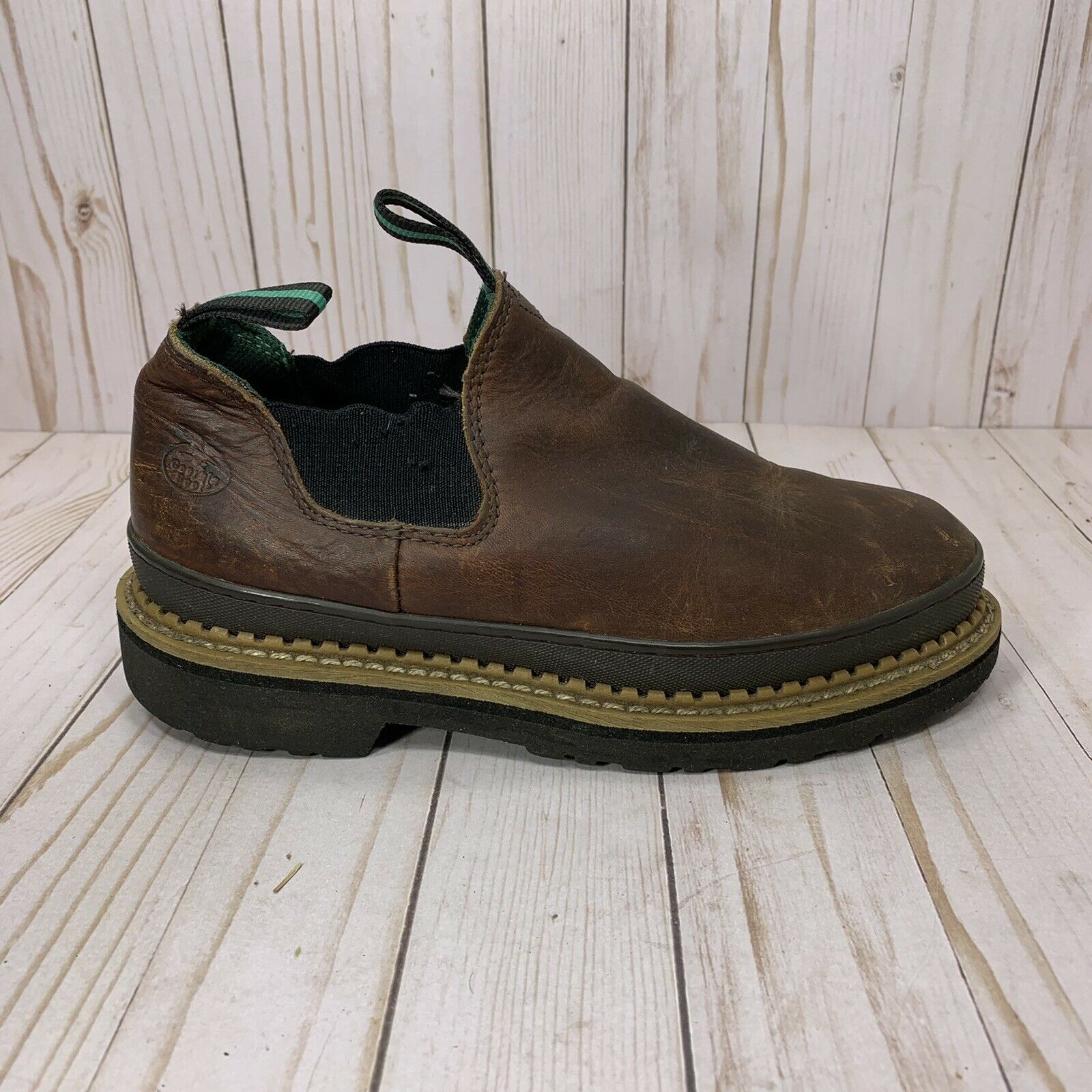 Georgia Giant Revamp work shoe has the classic Romeo silhouette with AMPed up comfort. This safety shoe is built with the trusted Goodyear welt construction, making it exceptionally durable.
The upper consists of full-grain leather and has twin gore panels for a tailored fit. Their nylon pull loops enable trouble-free pull-on of this casual slip-on shoe. The interior is lined in soft mesh material, featuring a removable AMP LT memory foam for added comfort and protection.
Moreover, the polyurethane outsole is slip- and oil-resistant, preventing you from slipping and falling and absorbing oil and other liquids. It also includes a steel shank for increased stability.
Whether you're looking for a work or an everyday Romeo shoe, these won't disappoint you as they are made for long-lasting comfort and durability.
Timberland PRO Women's Powertrain Sport Work Shoes
The sporty style gives these women's Timberland PRO Powertrain safety shoes a modern look. Alloy safety toes, electrical hazard protection, anti-fatigue technology, and breathable mesh lining work in conjunction to provide maximum protection and comfort.
Alloy safety toes offer unparalleled protection without sacrificing mobility, while anti-fatigue technology built into the outsole provides shock absorption and energy return to deliver all-day comfort and support. The Powertrain features a mesh lining with antimicrobial treatment for breathability and odor control.
What's more, these shoes are heat-, slip-, oil-, and abrasion-resistant thanks to the dual-density polyurethane outsoles. In addition, they are water-resistant due to Raptek's non-solvent microfiber lining, offering excellent wicking and fast-drying properties and keeping your feet dry in wet conditions. What more could you need from a work shoe?
Get a Perfect Pair of Work Shoes for You
After reading this article, it's clear all work shoes are different and will serve different purposes thanks to the materials, type of construction, and safety features they offer.
It's vital to know the safety measures of your workplace to choose a perfect pair of women's work shoes for you. Keep in mind that quality is always better than quantity, and for your and the sake of your wallet, choose the shoes that will last and protect you well. That way, you'll avoid the potential dangers and save money in the long run.