Author: Tsavo Digital
Finding the best vape pens to buy in 2022 can be work if you're not sure what to look for. But with the recommendations in this guide, you need not overwhelm yourself with too many technical details.
The rise in the number of vapers worldwide has led to a corresponding decrease in cigarette smoking over the last few years. The effects of smoking are not lost on anyone, and with medical experts estimating vaping to be 95% safer than smoking regular cigarettes, that can only be a good thing.
When it comes to vaping devices, however, there is a massive array of products available that cater to different user needs (and budgets).
Vape pens are one of four available categories of e-cigarettes under which all vape devices fall; the others being cig-a-likes, pod devices and mods (aka sub-ohms). Vape pens are the most dominant of the lot, and while that's a positive thing in terms of options, it also means finding one that ticks all the boxes for you can be daunting.
That's why we took it upon ourselves to do the legwork on your behalf by scouring the market for the best vape pens to buy in 2022.
Vape Pens to Look Out for this Year
It's worth highlighting that our list is not primarily made up of vaporisers released in 2022. We've mixed it up with some top picks from previous years that are worth your consideration. If experience is anything to go by, age counts for little when it comes to vape hardware.
Here then, are some of the best vape pens we identified.
Innokin Endura T18-X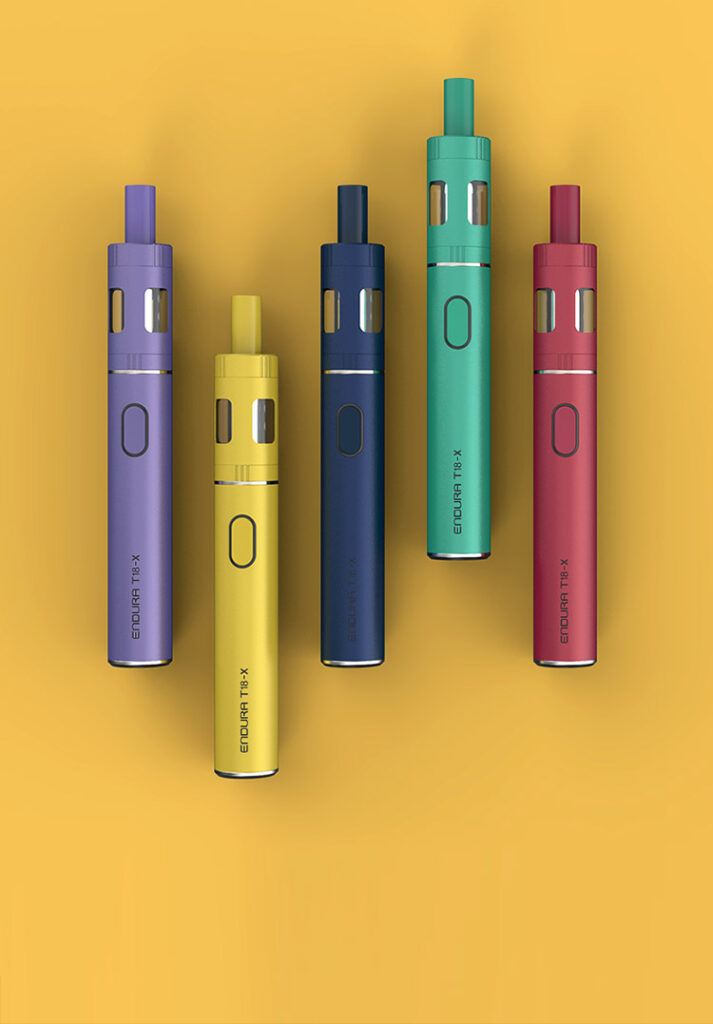 The Innokin Endura T18-X is the latest in a line of Endura T18 kits from Innokin that are considered some of the best vape pens ever to be made. Simple, with impressive design specs all-round and promising unmatched comfort, this range of vape pens comprises kits perfect for beginner vapers and an option that most experienced vapers appreciate.
The Endura T18-X is no different. With a 1000mAh rechargeable battery, this MTL-style vape is an excellent pick for anyone looking for a simple and reliable device that delivers an exceptional vape experience without a lengthy setup or confusing menus to deal with.
Capable of seeing you through an entire day without recharging, the Innokin Endura T18-X pairs best with 50/50 e-liquids (the widest variety of e-liquids available. Depending on the coil you install, the chipset on this kit automatically sets the wattage for you.
Aspire PockeX AIO
The Aspire PockeX AIO is what's known as an all-in-one device – a closed system with an integrated tank that costs cheaper and has lower operating costs compared to other vape setups.
The Aspire PockeX AIO is sleek, easy to use and is crammed with a massive 1500mAh battery to last a full day of sub-ohming. Yet, it's compact enough to easily fit into your pocket or purse.
Designed for pairing with two coil resistances (0.6 Ohms and 1.2 Ohms), the PockeX AIO is a perfect MTL device that also doubles up as a sub-ohm. It's a perfect everyday device that vapers looking to take forays into the wonderful world of sub-ohming can start out with.
SMOK Stick N18
SMOK has made a name for itself as one of the best vape manufacturers out there, with an array of SMOK kits that run the gamut – from pod kits, to mods, to vape pens.
If you're on the market for one of the best vape pens to buy in 2022, you can't go wrong with the SMOK Stick N18.
Boasting a 1300mAh battery, this is another impressive-looking AIO device that can be used for both regular vaping and sub-ohming (paired with a 1.4 Ohm and 0.6 Ohm coil respectively) depending on the avenue you'd like to pursue.
It has five different levels of power output that range between 9-30 watts, making this variable wattage device an extremely versatile kit.
FreemaX Twister Kit 30W
FreemaX may not be a household name like some of the brands on this list, but make no mistake, the manufacturer has shaken up the industry with a slew of innovative e-cigs that ace it in both form and function.
And so it is with the FreemaX Twister 30W Kit.
This is an impressive-looking kit that gets the job done without overwhelming you with all the bells and whistles. Packed with an integrated 1400mAh battery, the FreemaX Twister 30W has something for both MTL and DL vapers – that is, you can use it for both regular vaping and sub-ohming, depending on which coil you have on.
It's ideal for beginners especially considering its leak-proof mechanism, multiple airflow adjustment options, and no-frills design – not to mention a perfectly-working wattage dial. That gives you a kit you can easily experiment with as you get a feel of vaping if you're making the transition from smoking.