One of the easiest ways to make a big fashion statement is to wear an eye-grabbing accessory such as a belt. Statements belts have made a big comeback in the past couple of years. Take for example the chain belt. Recently, it was most popular in the early 2000's and here we are once again in 2021 and the chain belt is back and just as stylish as ever. Another fashion trend that we've ditched in the past but has stuck around since it came back a few years ago is the fanny pack, which today has been revamped and renamed as the belt bag. For this year's most stylish belts, here is a roundup of what to look for this year.
Belt bag
As mentioned, the belt bag made its way back to the list of trendiest accessories running for the last couple of years. Designers such as Louis Vuitton have been sold out in their signature LV print Bum Bag for at least a year. Supreme is another brand that has been taking over Instagram with their clientele showing off their belt bags in their signature red and black colors. The best way to make a fashion statement with these once-upon-a-time fanny packs in today's fashion world is to wear them over the shoulder.
Unique designs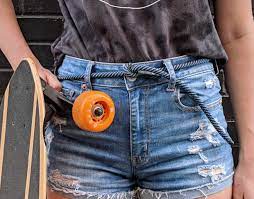 The more unique the belt, the more heads it will turn — which makes it the perfect definition of a fashion statement. Out-of-the-box designs such as the rope belt by Lizard Tail Belts has a very unique take on the every day belt. This belt looks just like a rope with a Knotless Tech Buckle design that will have people wanting to take a closer look. This concept is the same reason why Off-White's industrial belt has become one of the most trendiest belts of our time. It added it's own creative twist on the belt buckle itself combined with Off-White's signature color and logo.
Designer belts
A few years ago Gucci came out with a belt that caught everybody's eye. They took a basic black belt and turned an ordinary buckle into their signature logo so that the double GG's would be the statement. It is still a staple in every closet because of it's iconic design. Since then, designer belts with their logos have become the hype. From YSL to Christian Dior, designer belts with the embroidered logo pattern all over the belt itself or on the belt buckle, will be the trend for this year and it's anticipated that it will remain the trend for at least the next couple of years. So if you're wondering whether you should splurge or not, the answer is yes. This trend wont' be going anywhere, at least for the the next couple of years.
Braided belts
Do you remember your mom's braided belt? The reason the braid belt is still in style today after several decades is because not much changes with this belt design. From season to season, the braid doesn't change with the exception of the latest trending color or the width. Other than that, you can purchase a braided belt and rest assured that it will never go out of style. Currently, designers such as Bottega Veneta has a popular braid belt in black that looks especially sophisticated again a pair of black slacks or denim.
2021 is going to be a very interesting year for fashion. Since the pandemic, the popularity of lounge wear has taken over so it will be fascinating to see what trends take over as we start to see the light at the end of the tunnel. One thing is for sure, belts will be one of the hottest accessories we'll see the most of.