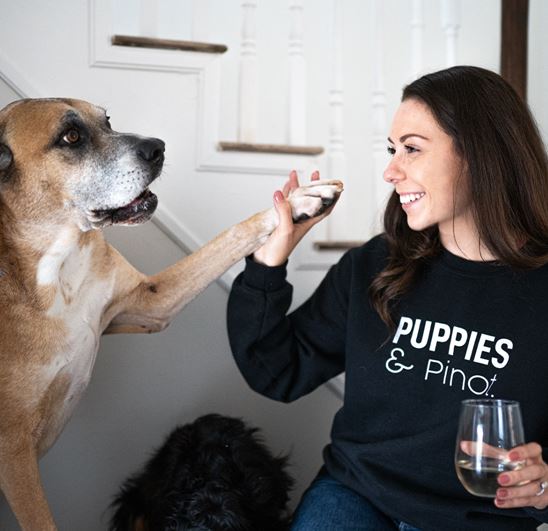 Being a dog mom is certainly a rewarding experience, along with a lot of hard work! If you're looking for a unique gift idea for the best dog mom or dad you know, rest assured you have come to the right place. Allow me to introduce you to Sam. She is the designer, owner, and power behind So Fetch Apparel. She started So Fetch in 2019. Sam was at a stage in her life where she was wasn't ready to have children, but loved being a fur mom to her furbaby Harley.  Sam owned a "DOG MOM" sweater that she absolutely loved, but the sweater was of the worst quality. With a background in graphic design and a drive for creating something of her own So Fetch Apparel was born. Of course lots of fun brainstorming and inspiration was given by her furbaby, Harley.
Located in Midland, Ontario So Fetch Apparel's mission is to provide comfy, sassy, apparel that shows the world how much we love our furbabies. They have the perfect sweater for loud and proud dog moms everywhere.
Every dog mom needs a dog  sweatshirt to proudly wear while hanging with her fur child.
Made of high-quality cotton blend fabric, the sweater my friend Barb is wearing is made of super soft, comfortable, skin-friendly and breathable.
For my friend Barb the sweatshirt was a generous fit with nice long enough sleeves. This is a treat for her because often clothes are made too short for her long arms. The 50/50 poly cotton blend washed up like a dream in the machine and dried easily in the dryer. It still looks terrific after several washes. And the saying on her shirt is so cute.  It is available in various colours and sizes from Small to XL.  And because it's so soft and comfy, she'll reach for this sweat over and over again!
Do you know a canine mama who works endlessly to provide only the best life for her furry child and deserves all the recognition and praise? Celebrate all she does with a sweater from So Fetch Apparel.
From simple, stylish sweaters like my friend Barb is sporting to dog apparel tees, to a classic cap, So Fetch Apparel has something for every kind of dog mom.
A stylish beanie will keep her warm during those cold weather dog walks.
Don't worry! Dog dad we have not forgotten you. Simple, stylish dog apparel for dad is sure to get some smiles from fellow pet parents.
With pet ownership on the rise, there's a good chance that your  neighbor, co-worker, friend, or relative that you need a gift for, also happens to be a dog parent. Instead of giving them a box of cookies or chocolates, why not get something much more thoughtful and meaningful this year with apparel from So Fetch! I hope this post for dog parents has inspired you to get into the holiday spirit.