Celebrating a birthday with your coworkers is slightly different than celebrating with close friends or even family. For some, you might have a close relationship with your coworkers – maybe even friendship! For others, you might be cordial, get lunch together during the weekdays or simply coexist in cubicles next to each other. If you find yourself in one of those latter categories, you might be wondering just how you can celebrate your colleague's birthday without making things weird. It's important that you recognize their birthday, but you shouldn't go overboard unless the two of you are very close. Here's how to celebrate a colleague's  birthday in the workplace!
Step One: Determine Your Relationship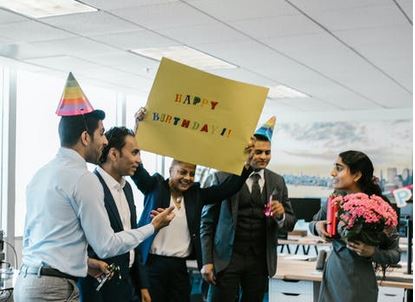 The relationship you have with your colleague will determine how you celebrate their birthday. For those colleagues you partner with frequently but never see outside of work, a personalized coffee mug with a set of new pens is the perfect avenue. For the colleague you get lunch with every day, buying their food at your daily lunch outing is the best option. Determining your relationship with your coworker will guide you in choosing the right activity for their birthday.
Step Two: Decide Your Budget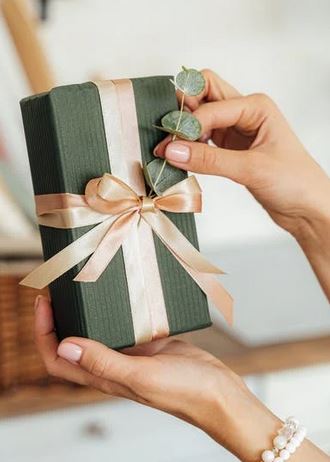 A budget is important in every aspect of life. Without setting a budget for your colleague, it opens the door for issues in the future. For example, if you blow your budget on one coworker and get them a set of wireless headphones and then just give another coworker a signed card, it'll appear as though you care less about the other coworker. To avoid this, celebrate your colleagues in similar ways that don't deviate too much from your typical relationship with them and set the same budget for each coworker. Whether it's $5 or $55, keeping things consistent will also help you stay on track each month for everyone's birthdays.
Step Three: Give a Gift or an Experience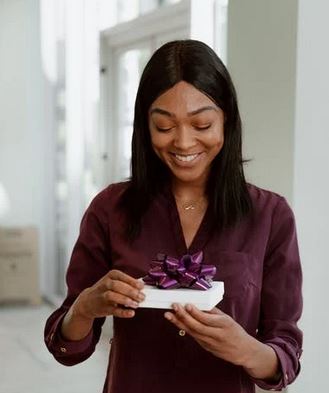 Will you give a gift to your colleague or give them an experience? Whether you take them out for lunch or get them one of the best personalized gifts for coworkers, you'll need to decide what you're going to do well in advance of their birthday.
An experience can be anything – going to their favorite restaurant for lunch, hosting a birthday celebration at the office or even going out for a hike or other activity the weekend following their birthday. Either way, an experience should be something a bit more than leaving a gift at their desk.
Unsure what to do? How about both? Take your colleague out for lunch and give them a small gift, such as a card with a gift card inside. That way, you've covered both bases, especially if you're close with your colleague.
Step Four: Get Other Colleagues Involved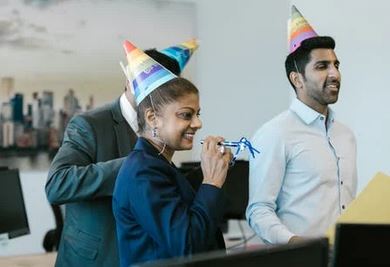 If you're not close with any of your colleagues, consider setting up a group effort instead of an individual one. That way, no one feels left out – or forgets anyone else's birthday! Set up a calendar at work that has everyone's birthdays listed on it so people know what's coming. Get a card for each recipient on their birthday and circulate it throughout the office. If you want to go further, you all can pitch in for a gift, such as a personalized coffee tumbler, or even host a small office-wide birthday celebration in the break room.
If hosting a party, assign each coworker a task, such as hanging streamers or blowing up balloons. Delegating these tasks ensures that everyone can stay productive during the work day. On one of their 15-minute breaks, they can do their task and then go back to work until the party starts! If you're keeping the party a surprise, have one staff member take the birthday person out for lunch or on a work trip to keep them occupied and out of the office until the party is supposed to start.
Step Five: Decide on Food and Drink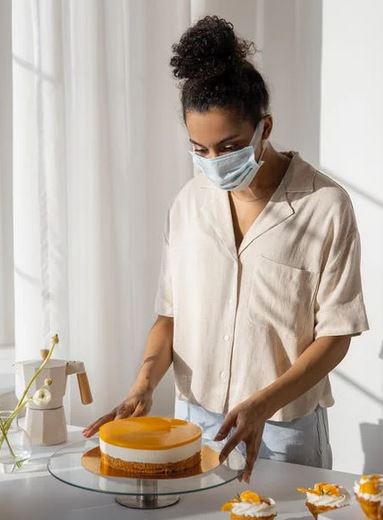 If you're celebrating your colleague with a little more than a simple gift on their desk, you'll want to decide on food and drink. Are you taking them out for food? If so, decide on whether you're going to a local fast food restaurant or a sit-down meal. What type of food? Try to take them to their favorite restaurant, or check with their spouse or close friends to make sure they also don't have plans to take them to the same place that evening. Will you both take early days from the office and enjoy a glass of wine or beer? If you're hosting a party at the office, decide whether or not you're having a potluck or catered snacks. Make sure you take note of everyone's dietary restrictions and have options for them available.
Step Six: Make It Fun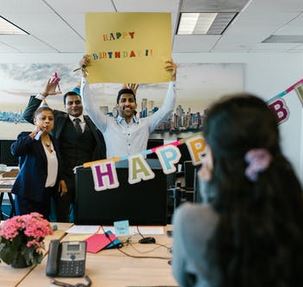 Whatever you do, be sure to make it fun! Sometimes, we get so lost in the monotony of work that we forget to do fun things with our coworkers. Celebrating birthdays in the workplace can help to make the workday go much faster and feel more exciting. Choosing a fun activity to do with your coworker for their birthday will have a great effect on all the other employees, too.
Step Seven: Plan Ahead for the Next One
Since you'll be celebrating each colleague's birthday in the office, once you've finished planning one birthday celebration and gift, then you'll want to plan ahead for the next one. Put together an idea list, start purchasing party items if needed and decide whether you're going to celebrate their birthday as an office on their actual birthday or the Friday before/after. Getting your plans in place early will ensure that you have a plan of action in case any surprises are thrown at you along the way (for example, if the colleague is taking the week off before their birthday for vacation, you can make plans for when they return).