This past year, there has been a big increase in the number of people cooking. In a recent survey, 50% of Americans said that they are keen to learn and improve their cooking, and 13% of people said that they were really passionate about food. One of the main reasons for cooking at home is not only affordability, but also being able to eat food that is wholesome, healthy, and made with good quality ingredients. If you love to cook, there are some great, new trends that can really inspire you and help you to make delicious food.
Induction hobs
If you have a young family, then induction hobs are one of the safest cooking options. The hob stays completely cold, only heating the bottom of the pan when it is placed on the hob. There is far less risk of burning yourself. They are incredibly economical, and cook with a beautifully even heat that is easily controlled. Having a portable induction hob in your kitchen is also a good option if you don't want to replace your current hob set up. The best portable induction cooktop heats up quickly using electromagnetic fields rather than electricity. You can just place it on the work surface, or store it away if you are not using it.
Japanese barbecue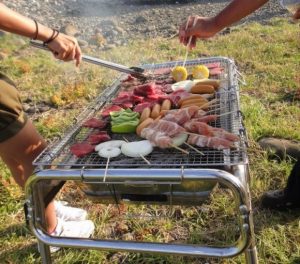 Do you love barbecue but live in an apartment? Don't worry, there is a great solution – the Japanese indoor barbecue. Charcoal Yakitori grills are a lovely, sociable way to cook with family and friends. The grill can be placed on your dining room table so that everyone can sit around it and cook their own food. Yakitori grills are safe for indoor use, and don't produce excess smoke and fumes. You just need to prepare meat, fish and vegetables, marinated on skewers and ready to cook for your dinner.
Home fermentation
Fermentation is a way of preserving foods that has been done for thousands of years. The glucose molecules are broken down anaerobically. Fermentation isn't just part of the process for making beer and wine. It is also used to make yoghurt and to preserve fruits and vegetables. Foods that are commonly fermented include sauerkraut, cheese, kombucha, kimchi, miso, tempeh and kefir. The process of fermenting is very simple: firstly slice, shred or chop your vegetables. Place your ingredients in a sealable jar like a mason or Kilner jar. Then prepare a salt brine, and pour this over your vegetables. You can then move your jar to cold storage, and leave it for several weeks to ferment.
Make your own cheese
Making your own cheese in small batches is a great thing to try with children, and can encourage them to try new cheeses. Cheese making kits are inexpensive, and include all of the ingredients that you need, including rennet, which coagulates the milk. The only other thing you need is a stove or hotplate. Once you have understood the process, the world is your cheese oyster! You can make mozzarella, burrata, halloumi, cheddar, paneer, cottage cheese, and even mascarpone that is perfect for desserts.
Even more alternative milks
According to Forbes, an incredible 25% of Americans now drink alternative milk, rather than opting for traditional dairy products. This has meant that manufacturers have now widened their horizons when it comes to the type of milks that they are producing. The non-dairy milks are tasty, great for cooking as well as drinking, and they are also better for the environment. Almond and soy milks have been on our shelves for a long time, but now there are some other alternatives that are becoming more readily available. Hemp milk (made from water and shelled hemp seeds) is a great source of Vitamin D, calcium and omega-3 fatty acids. Pea milk (made from the pea protein in yellow peas) is another good choice, and comes unsweetened, or flavored with vanilla and chocolate. It is also fortified with vitamins, so it is good to drink every day.
For the keen home cook, there are so many new trends to take inspiration from. You can enjoy some healthy and nutritious meals using fresh, delicious ingredients, and stay on trend at the same time.