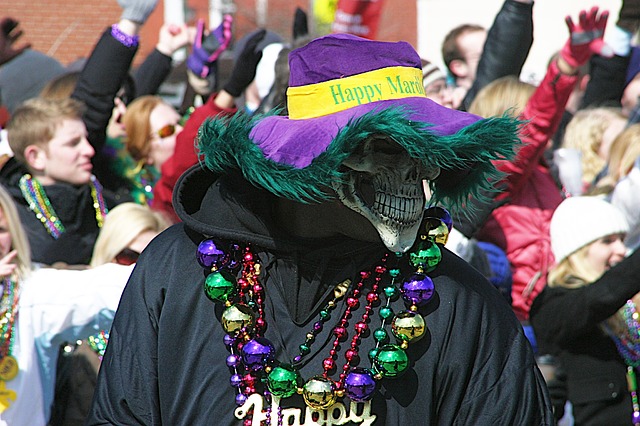 New Orleans is known for many things. Jazz music. Food. Voodoo. But perhaps more than anything else, it's known for one of the world's biggest parties- Mardi Gras. Every year, millions of people travel to the Big Easy to enjoy this cultural celebration.
Here's your beginner's guide to Mardi Gras in New Orleans!
Mardi Gras has its origins in Europe and the Catholic Church. Translated literally, Mardi Gras means Fat Tuesday. It's also sometimes known as Shrove Tuesday.
Mardi Gras marks the last day before the beginning of Lent. Traditionally, Lent was a period of fasting and abstinence to prepare people for the celebration of Easter forty days later. As a result, Mardi Gras represented the last day for people to party and have a good time before abandoning their vices – at least temporarily.
Because it's linked to Easter, the actual date of Mardi Gras changes every year. What doesn't change is the noise, the color, and the age-old traditions of this unique festival. Although Mardi Gras didn't originate in New Orleans, it has found perhaps its greatest expression here.
If you've never been to Mardi Gras, you're in for an experience like no other. But to get the most out of the day, there's a few things you should know about the festival.
Mardi Gras Quick Facts
Mardi Gras season officially begins in January, and parades and other celebrations take place in the 2 weeks leading up to Mardi Gras.
Book a hotel room early. 90% of New Orleans hotel rooms are occupied a month before Mardi Gras.
Mardi Gras has been celebrated in New Orleans since at least 1730.
Because the streets are too narrow, parades don't pass through the French quarter. St. Charles Avenue or the business district of the best places to see the parades.
Mardi Gras contributes approximately $300 million to the economy of New Orleans, and represents a return of $8.50 for every dollar the city spends on hosting the celebration.
Mardi Gras parades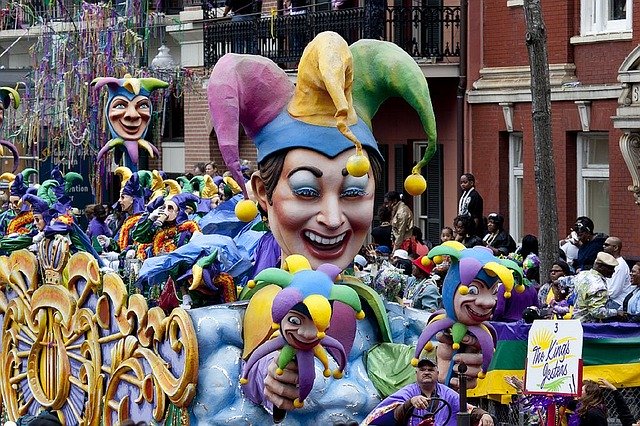 The float parades are one of the defining spectacles of Mardi Gras in New Orleans. These floats can be a year or more in the making, and represent an enormous investment of time and money on the part of those who make them.
The parades are organized by social groups known as krewes. The oldest krewes, such as Rex and Proteus, have been in existence since the 19th century. The krewes follow established routes and schedules for their parades so that visitors know where to find them.
More recently, "super krewes" have formed to hold some of the largest events that make up Mardi Gras. Each krewe names its own king and does its best to outdo the others. The traditional conclusion of Mardi Gras day itself is a "meeting of the courts" between the krewes of Rex and Comus.
To ride a float, you must be a member of the krewe. By law, you also have to be wearing a Mardi Gras mask. Flow riders toss 'throws' into the crowd. Plastic beads are perhaps the most common, but you may also get doubloons, which are fake gold coins made especially for the event.
Probably the most sought-after throws are the beautiful hand-painted coconuts made by the Zulu Krewe. Safety concerns have prohibited these being thrown from the floats, but they can be handed out. Whatever parade you go to see, make sure to bring a bag to keep all the throws you get.
If you're going to see a parade, it's smart to travel as light as possible. The streets are guaranteed to be very crowded, and you'll be spending a lot of time on your feet. Drop any unnecessary bags at a luggage storage service in New Orleans so that you can concentrate on collecting throws.
Attending Mardi Gras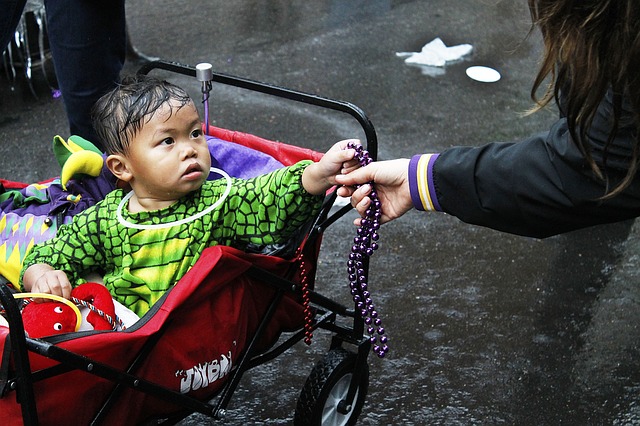 Mardi Gras itself represents the final day of a long period of celebrations. And when Mardi Gras ends at precisely midnight, the festivities are most definitely over.
As a result, if you want to experience as much of this fascinating tradition as possible, it's better to arrive in New Orleans a little before Mardi Gras itself. The weekend before the big day sees parades by some of the major krewes and gives you a chance to see what the event is all about.
The best way to experience Mardi Gras is on foot. However, the city does set up grandstands where you can set watch the parades go by. These are great for those with limited mobility to be part of the action.
Mardi Gras itself is free to attend. Contrary to what some people think, it's also child friendly. However, do be aware that some parade floats might be a little more explicit than others. Also be aware that the French Quarter at night can sometimes be a little seedy, and may not be the best place for little ones. However, they will enjoy the parades and the general carnival atmosphere that Mardi Gras brings.
The French Quarter
Even though the parade floats are too big to pass through the French quarter itself, the district remains New Orleans' party hub. As a result, after watching the parades, it's still very much the place to be.
Bourbon Street and Pirate's Alley are just two of the places where you can keep the party going all night. During the day, don't forget to check out Café Du Monde and the French Market for a taste of New Orleans' rich French heritage.
There's never a bad time to visit New Orleans. But Mardi Gras is such an unforgettable experience that it makes a trip to NOLA even more tempting. So start planning your Mardi Gras trip and prepare for the adventure of a lifetime.
We hope that you have enjoyed our guide to Mardi Gras in New Orleans.
References:
https://www.mardigrasneworleans.com/planning/faq
https://www.gadventures.com/blog/mardi-gras-101-travel/
https://www.neworleans.com/articles/post/new-mardi-gras-study-shows-new-orleans-realizes-continued-strong-economic-impact-and-increasing-returns-over-direct-services-costs/