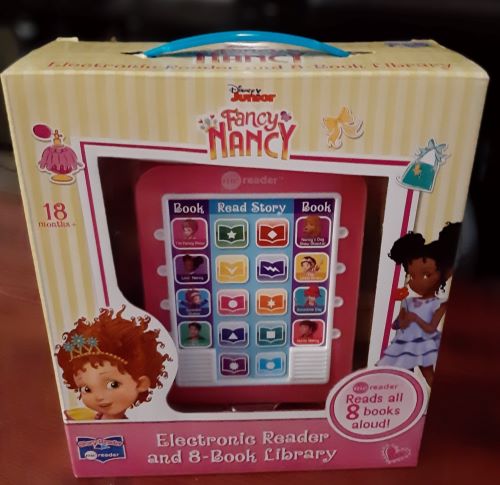 Now young fans of Fancy Nancy can have an adorable adventure with Fancy Nancy and her amazing friends! The Pi Kids Disney Junior Fancy Nancy electronic me reader set comes with eight illustrated books and a me reader module. It all comes packed inside a cute carry-along box perfect for little readers.  Your child simply presses the book ID button followed by the colour coded page buttons to hear text read aloud on the stand-alone electronic pad which looks just like an eReader.
Each book in the Fancy Nancy Library has 20 content pages each making this a wonderful set of first readers for children beginning to read.  The books are actually helping my daughter with phonics and sight word recognition.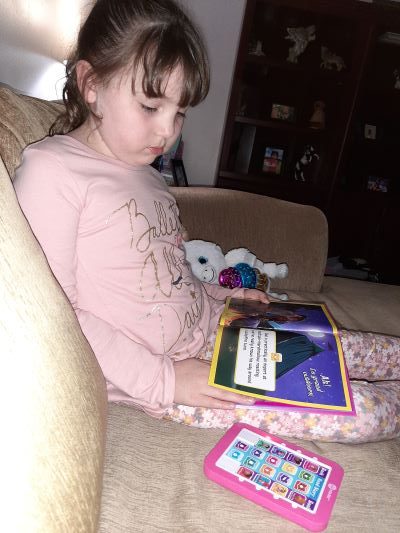 The me reader works perfectly. The sound is crisp and clear and my daughter could easily follow along in the book. The reader is only compatible with the books in the set, She quickly learned how the reader works and loves to spend time reading one book after another. Fancy Nancy Books are currently her favorite books along with Robert Munsch.
Beginner readers will love taking that first step from being read to, to reading the Fancy Nancy books on their own. Each page in the books is just about two sentences long with a symbol on top to match with the exact button on theme reader.
The Fancy Nancy electronic me reader is a must have addition to any library children's library. While the books are recommended for ages 3 to 6, children struggling with reading will also befit greatly from the books.
Contents:
Includes eight board books and one Me Reader module (nine pieces total)

8.06

"

W x

9.38

"

H x

3

"

D
Written by

editors of Phoenix International Publications

Publisher: Phoenix International Publications

160

pages
If your child isn't a fan of Fancy Nancy no worries as Phoenix International Publications has many Me Reader sets to choose from.
About Phoenix International Publications
At Phoenix International Publications, we are committed to crafting engaging, educational, and entertaining books for young readers. We create a wide range of original and licensed sound books, picture books, board books, apps, and activity and song books, all of which encourage a lifelong love of storytime. Comprised of imprints PI Kids and Sequoia Children's Books and toy division PI Fun Worx, Phoenix is based out of Chicago, Illinois with offices worldwide. Recently named a worldwide leading licensee by License Global magazine, Phoenix International Publications has been a division of Phoenix Publishing & Media Group (PPMG), Inc since 2014.