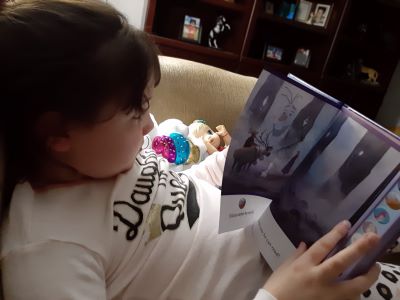 For children aged three to six comes a fun and yet educational book from Phoenix International Publications, Inc.  Fans of Frozen will love this interactive Frozen 2-themed book.  With the Disney Frozen 2 ready-to-read book kids simply press 10 buttons to hear each page of the story read aloud. Connecting printed and spoken words will help build your child's vocabulary, and pressing the Play-a-Sound buttons will work on their matching and comparing and motor skills. The narrative's voice is crisp and clear allowing children to read along. Short phrases and sentences are used throughout the book to assist children in developing their reading skills. Illustrations are colorful and bright, which are sure to engage young readers.
Potential buyers should be aware that "Disney Frozen 2 – I'm Ready to Read with Olaf and Friends" is a rather short book, consisting of lots of repetition. The book is in no way based on the movie and it does not contain a huge storyline. It is the first reader to be used to assist children in reading.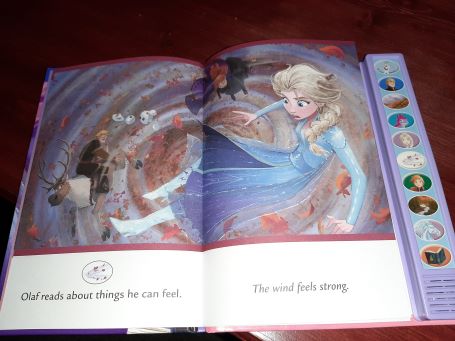 I am Ready to Read books from Phoenix International Publications, Inc. helps build a firm foundation for language and literacy development. They can also be used to support older children who are having difficulty developing foundational reading skills. Miss P is struggling with reading, however, she is starting to recognize sight words and we are working on her phonics skills. I find Phoenix International Publications, Inc.'s first readers ideal.
Phoenix International Publications, Inc.
At Phoenix International Publications, Inc., we are committed to crafting engaging, educational, and entertaining books for young readers to encourage a lifelong love of storytime.
Together with licensing partners Disney, Nickelodeon, Sesame Workshop, and Eric Carle, among others, and our own collection of family-favorite original authors and illustrators, we've worked to interlace beloved characters with charming illustrations, activities, sounds, and songs for over three decades. Our stories, and eye for digital advancement, provide a unique interactive reading experience that will delight any child and inspire a lifelong love of reading for the whole family.