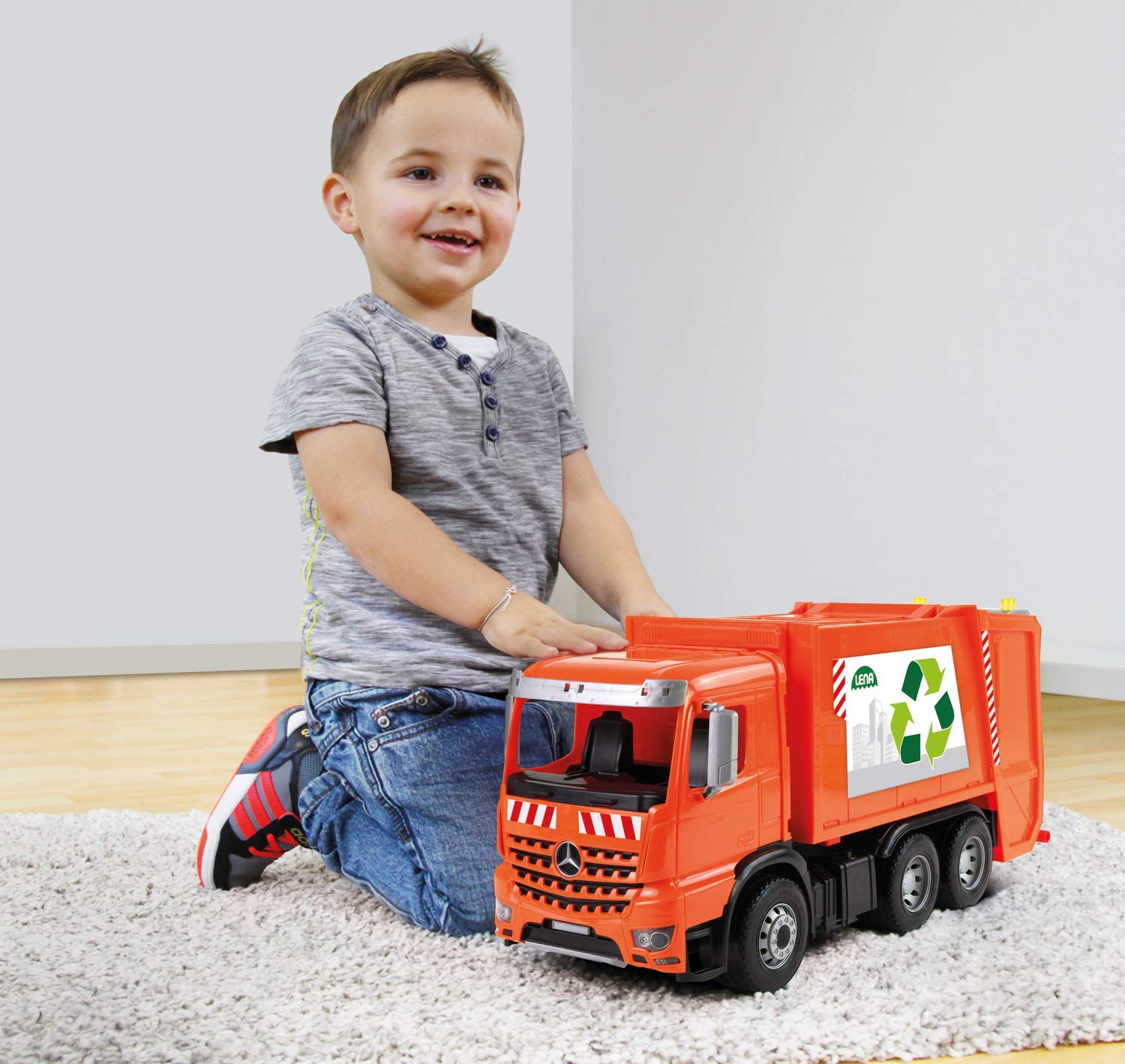 Imagine the hours of fun that can be had Christmas morning with a Lena truck. Lena trucks inspire kids to replicate real-life actions. Teach your toddler about the importance of recycling and waste management with the Lena Toy Garbage Truck. German toy company Lena is know for their realistic toy construction trucks. This large toy garbage truck is no acceptation to that rule.
With all the attention to detail that goes into this toy garbage truck it's easy for kids to pretend they are operating a real garbage truck. The 1:15 large-scale truck is a comfortable size for little ones to push forward or backward. Suitable for indoor and outdoor play, this fun toy vehicle has bright colors, and chunky wheels that will move over rough terrains.
Utilize the lift mechanism to unload materials from small and large garbage cans (included) into the truck body, and off to the dump they go! The back loading toy garbage truck's back doors fully swings open just like a real garbage truck. To offload your garbage unlock the bottom of the hatch and swing the trailer back, so that the trash can easily offload. The toy is larger than most models. In fact the truck it is large enough for a toddler to ride on.
Constructed with high-quality prime PE resin the Leo Garbage Truck is durable and will withstand hours of rough play. UV protection prevents the colors from fading and plastic from becoming brittle.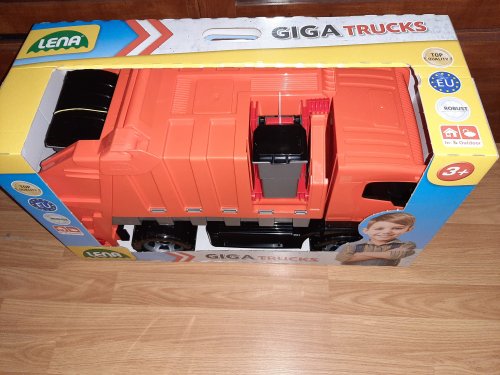 The Lena Toy Garbage Truck is not only fun to play with, but it also stimulates imagination, while encouraging hand-eye coordination, fine and gross motor skills and communication. Unlike other construction trucks, Lena does not promote the use of electronic features in their toy trucks. Therefore,children fully operate a Lena truck by their imagination.
Lena toy garbage trucks for boys and girls are ideal for children age 3+.
Overall we are really impressed by Lena. We highly recommend the Lena Mercedes AROCS Toy Garbage Truck to anyone looking for the best toy truck for toddlers. We know one little boy who is going to love his Garbage Truck when he opens it Christmas morning.
You can find the Lena Mercedes AROCS Toy Garbage Truck and other Lena toy trucks at KSM Toys: shop.ksmtoys.com