Why not tap into your own childhood this holiday season with the gift of a classic toy. One toy that has never lost its fascination with toddlers is the spinning top. It is one of the worlds oldest toys. Even with the proliferation of electronic educational toys, the spinning top toy still remains a favorite. Bolz, a cherished German toy company, is the world's leading creator of the spinning top.
Bolz farm metal humming spinning top
The farm metal humming spinning top is sure to remind parents and grandparents of their own childhood. I recall having one of these humming spinning tops when I was a little girl in the early 70's. Just push on the handle and watch it spin! Children will be attracted to the bright colors. Not only will the baby spinning top with farm animals brings smiles to baby, but Bolz spinning top also promote dexterity, fine-motor skills and hand-eye coordination.
Bolz Train Spinning Top Toy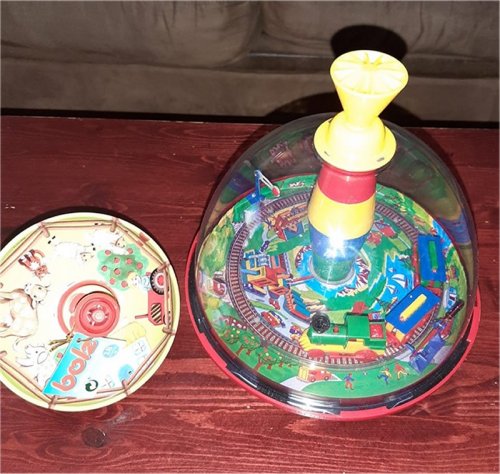 With beautiful colours and amazing attention to detail, Bolz Train Spinning Top is a wonderful addition to any child's playroom and the perfect keepsake gift.
Pump the handle to spin the top and watch the train go round and round. At is passes by the crossing sign rises and the boom barrier lowers. Your child will be able to listen to the locomotive as it makes it way around the track. I find the train sound to be quite realistic.
Made from high-quality tin and plastic, the spinning top toy, with moving train is durable and built to last. This is a nice change from today's high-tech toys, although electronics have enhanced the classic toy for sound, and the toy now operates on two AA batteries.
I find Bolz train Spinning Top to be thee perfect size for tiny hands. This spinning top train features a rubber stand to keep the spinning top stable when spinning, which makes it easier for toddlers to use.
Bring a new generation the same joy you had as a child, with any of Bolz spinning tops.
Did you ever play with spinning top toys as a child?
Shop: shop.ksmtoys.com