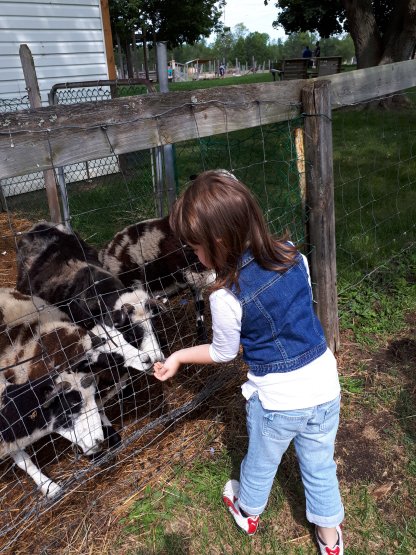 One of my daughter's favorite places to visit in Ontario is Promise Land Family Fun Farm.  In fact Promise Land Farm is on my daughter's bucket list of places to visit this upcoming spring/ summer season. Lucky for us, it is a 10 min drive from our house.

Don and Cheryl Dowswell, owners of Promise Land Family Fun Farm, have been running the family petting farm for six years now. Over the years they have continue to grow and expand their business. 
The grounds of the farm are fully enclosed with an open concept, which gives kids the ability to move freely between the animals, and playgrounds. This is something that I really like.

Children and animals are able to interact through the fences for feeding and petting, with the acceptation of an area that is double fenced. Promise Land Farm has a wide variety of animals and birds including miniature donkeys, ponies, alpacas, llamas, goats and peacocks. When we visited last summer, the petting farm had lots of baby goats, which were my daughter's favorite.
The farm sells 3 different sizes of animal feed portions, which allows kids to feed the animals.
There are informative signs on the outside of each pen that includes a picture and some facts about each animal.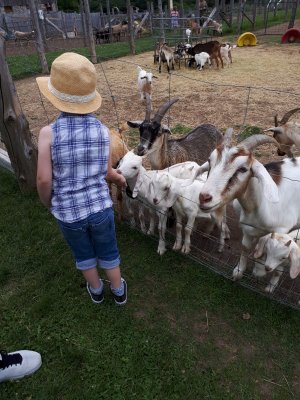 Each of the animals have their own name and story of how they came to be on the farm.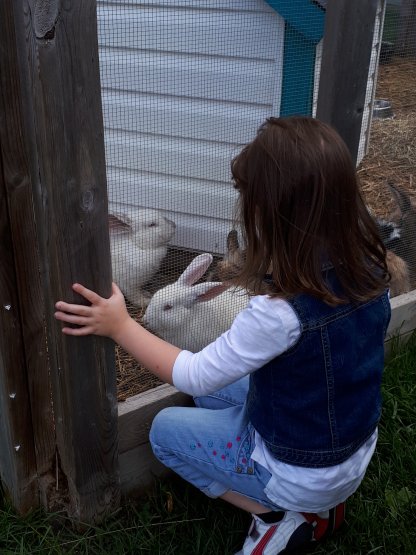 Play and Party Centre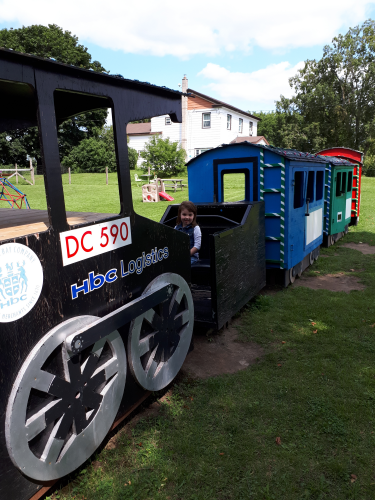 Promise Land Farm has two different play areas that include climbers, slides, a 56 foot train climber, a bus and lots of area for sitting. There is also a large picnic area to cater to birthday parties or school trips. They offer 3 birthday party packages that you can check out on their website.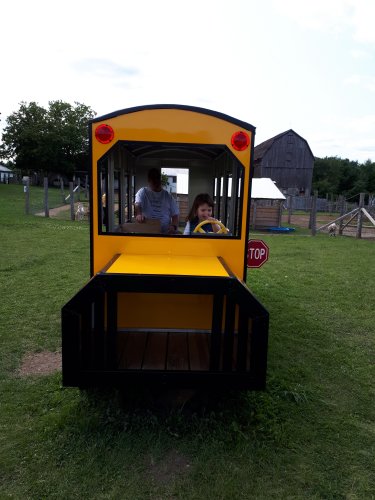 Eating Area
In 2015, Promise Land Family Fun Farm opened Nan's Place, a food truck at the front of the farm, so families can grab a bite to eat after their visit. You can purchase hotdogs, hamburgers, fries, poutine, snack food, beverages, ice cream and so much more. Food prices are very reasonable and include taxes.
Admission:
A very reasonable $7.00 gets you admission to the petting zoo. Children 24 months and under receive free admission. The farm accepts both debit and cash payments.
Final thoughts:
Overall,  Promise Land Family Fun Farm is a must place to visit!  Both Cheryl and Don were very knowledgeable, experienced, and able to answer any questions my husband and I had about the farm during our visit last summer.
Don & Cheryl will reopen Promise Land Family Fun Farm for the 2018 season with a big Easter egg hunt March 31st. The fun farm is located in Quinte West at 640 Hamilton Rd.
Thursday – Sunday 10:00 am – 4:00 pm
Website: http://www.plfarm.ca
Promise Land Fun Farm Giveaway
Congrats to our giveaway winner- Ashley Espinoza
We have partnered with Promise Land Fun Farm and are giving away a family pass for 4 to the farm. The pass can be used anytime accept Easter Sunday. Giveaway is open to residents of Ontario 18 years and over.  One person per household may enter. Giveaway ends March 12 at 8:00 pm EST time.
To enter please leave a comment below letting us know what you think of Promise Land Fun Farm and if you have ever visited. This is mandatory!
For extra entries:
Tweet daily: Win a  family pass from @todayswomanco  to Promise land family fun farm. https://www.todays-woman.net/2018/travel-2/promise-land-family-fun-farm/  (leave a link to your tweet in comments)
 Share the giveaway on Facebook. Your post must be public. Leave the link to your share in the comments.
Follow us on Twitter. Let us know by comment what name you follow us under.
Like Promise Land Family Fun Farm on Facebook https://www.facebook.com/PromiseLandFarm/ ( leave a  comment letting us know what name you liked under)
Like us on Facebook (https://www.facebook.com/TodaysWomanCo/) Leave a comment here with what your Facebook name is.