In the early 80's friendship bracelets were all the rage. The 90's brought you slap bracelets and let us not forget the rainbow loom craze. Every few years, a new bracelet craze peaks into the lives of young adolescents. Fast forward to 2018 and we once again see the return of friendship bracelets.  Perhaps they never really left us. Weather you are learning to make friendship bracelets from A Klutz book, a YouTube video or on a friendship bracelet maker such as the KumiKreator Friendship Bracelet Maker, friendship bracelets are timeless. A friendship bracelet maker makes the ultimate Christmas gift.
KumiKreator Friendship Bracelet Maker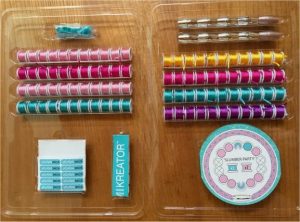 Kumihimo (組み紐) is a Japanese form of braid-making. It is the traditional Japanese technique of braiding Traditionally, kumihimo is done with weighted threads on a Japanese braiding stand made of wood with a round top. Today, drawing inspiration from Kumihimo, your child can make friendship bracelets with a new cool jewelry making kit, from SpinMaster.
Recommended for children eight and up, the KumiKreator Friendship Bracelet Maker allows your child(ren) to create up to 10 bracelets. The comes with the bracelet making machine, 88 spools of string in five bright colors, clasp stickers, clasps, and a design booklet to help get kids started. Choose from a design in the book or create your own custom bracelet.
What's in the Box
The KumiKreator (the arm comes separate but you simply just click it into place)
88 Colourful Spools
10 Clasps and 20 End Caps
Measuring Guide
26 Clasp Stickers
Booklet with bracelet designs
Instructions
How to make the bracelets
To start, choose your choice of string colors, load each of the spools into the machine in the order specified in the design booklet. Click the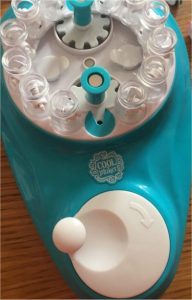 spools into place.Then you thread the threads up into the arm. Turn the handle. Once complete you use a sticker to tie up the top end. Remove the bracelet from the KumiKreator,  cut off the excess threads, add on the end caps and clasps. Your bracelet is now done!
Although the KumiKreator does come with instructions, I highly recommend that you watch the how to videos to assist you.
You can use the machine again and again though you may want to purchase some additional fashion packs to insure your child doesn't run out of thread.
The Cool Maker KumiKreator from Spinmaster is available from most toy stores and also available via Amazon.

Spin Master (www.spinmaster.com)
Shop Amazon