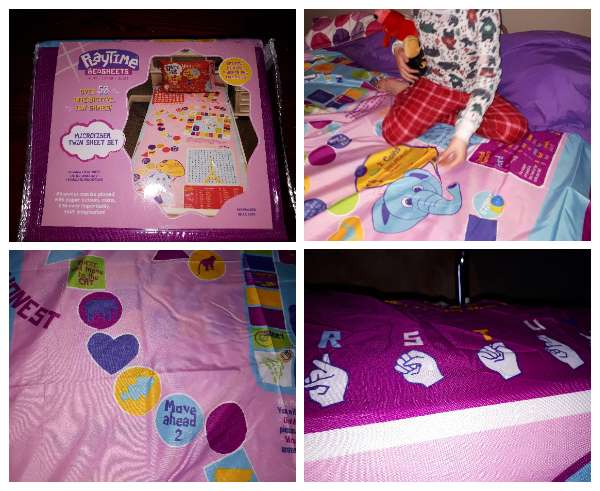 There's an amazing number of bedding options on the market now, when it comes to children's bedding.  If you are looking to add both color and fun to your child's bedroom, Playtime Edventures has the perfect children's bedding sheets that will do just that.  Your kids will look forward to time-out in their room or bed time with Playtime Bed Sheets.
Each set of sheets feature bright colors and more than 50 fun interactive games on it. Recommended for children age three and up, activities on the sheets range from traditional games, such as checkers, word find's, chess and Tic-Tac-Toe, to original custom games and activities. And the imagination pillow case promotes kids to create their own stories!
The one thing I like about the sheets is that they will grow with my daughter.  When Gatlin, was designing the sheets he didn't leave anything out and thought of children of all ages. Your child may not know it, but they are learning STEM (science, technology, engineering and math) as
they play.
Playtime Edventures range of sheets have designs for both boys and girls. The bed sheets come with one twin sized fitted sheet and one flat sheet – as well as a pillow case. The sheets are made of 50% cotton and 50% polyester. They are extra soft and wrinkle resistant.
Kevin Gatlin, Playtime Edventures, Founder and Inventor came up for the idea for the sheets when he was visiting a friend's child who was sick in the hospital.
When I noticed how they were trying to play games on the bed, it occurred to me how much easier it would be if the sheets actually had games printed on them – allowing them to play learn and sleep without even leaving their bed," said Kevin Gatlin.
Accustomed to seeing his wife, Diedra, playing games with their son Blair on his bed, Kevin took the idea and ran with it. It was from there the interactive children's bedding was born.
Shriners Hospitals for Children — Greenville recently became the latest of five hospitals to utilize the colorful bed sheets.
"They can actually color and draw on the sheet," said Jennifer Griffin, Director of Nursing, Greenville Shriners Hospital. "They are a wonderful distraction for kids waiting to have surgery, as well as those who are recovering. It's particularly a great idea for our kids –who are having orthopedic surgery, so they aren't always able to be mobile."
The company also partners with Classroom Central, Beds for Kids and the Salvation Army Women's Shelter, donating a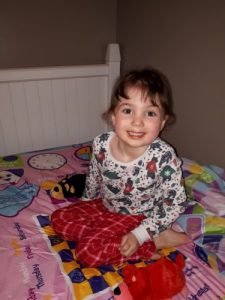 portion of the proceeds from Playtime bed sheets sales to each organization.

Parents can print out printable game pieces for the children's bedding at playtimeedventures.com. Each set of printable game pieces by Playtime Edventures is designed to be played with the Playtime bed sheets. To get the most from your printable game pieces, the company recommends getting them laminated.
Paige thinks her new bed sheets are pretty awesome and ask that I  leave them on her bed forever. I explained to her that they would individually need to be washed and she agree to allow me to wash them as long as I put them back on her bed after they are washed.
Paige took time out from junior kindergarten, playing and ballet to let Kevin Gatlin know what she thinks of Playtime bed sheets and of course she wanted visitors to Today's Woman know how awesome these sheets are. We hope you enjoy this short video.
Playtime Bed Sheets-Playtime Edventures Video
I would also like to point out that Playtime Edventures LLC  has excellent customer service. I sent Kevin an email to ask him a question about the sheets. Within mins of sending me email, Kevin called me as he was on the road and wanted to repy personally to my inquiry. This is a company that goes the extra mile to insure custom satisfaction.
Playtime Edventures LLC also produce kids sleeping bags that would be perfect for Summer camp and sleepovers. Pay them a visit today!
About Playtime Edventures
Founded in 2013 Playtime Edventures LLC creates interactive kids bed sheets and slumber Bags. Each set is designed in close collaboration with teachers and professionals.
Website: https://www.playtimeedventures.com/
Purchase Playtime bed sheets via Amazon.com.