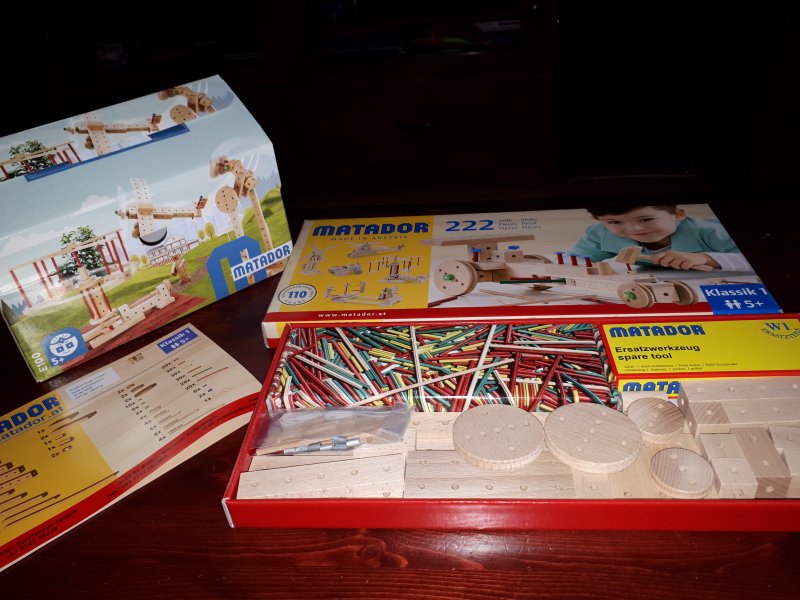 When one thinks of toys they are flooded with a million choices. KSM Toys plays homage to the classic wooden toy of the past. Matador wooden construction sets have literally stood the test of time and for some of us bring back fond memories of our early childhood. Panted in 1904 by Austrian engineer Johann Korbuly, came a wooden toy construction set made of blocks that you connect with wooden pins. In the 1930's Matador toys was seen as the ideal educational tool in schools across Europe. Fast forward to Christmas 2018 and Matador wooden construction sets are the perfect gift for a childhood unplugged.
Matador is available for two age groups; Matador Ki (Ages 3 to 5 ) and Matador Classic (Ages 5 Years +). The parts are made of untreated wood from copper beech trees, grown in Austria in environmentally sustainable forests.
Matador wooden construction sets readily foster creative design and intuitive play. From an educational perspective, these kits help children
develop their cognitive and fine motor skills. The kit combines three basic elements of play. With Matador, movement, motor skills and higher order thinking, provides open-ended learning.
Each Matador construction set includes a catalog of building ideas giving you a place to start. Of course, your child can implement their own ideas, because with Matador toys there are no limits to your child's creativity.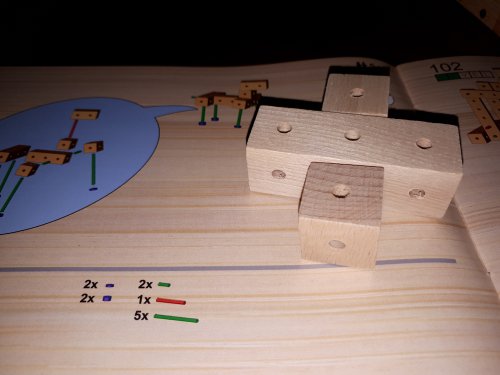 Matador wooden construction sets meet international safety standards and only use paints that are non-toxic and free of unwanted chemicals. The wood quality of the construction set is superb considering the wear and tear it goes through with building and dissembling ones creations.
Our 222 piece set includes an assortment of tools and instruction manual with assembly guidance for 66 different models!
Our Thoughts
As a parent, I love that Matador wooden construction sets engage a child's visuo-spatial style. Miss P was super excited to see her new construction toy and we started building with it right away. Though in the beginning she needed a bit of guidance, she is now building things independently. At first we started off with a simple structure and then moved on building more complicated ones together. She has now ditched the suggestion guide and is using her own imagination to build. I love that Matador encourages her imagination and helps bring her ideas to life.
Miss P's 28 year old sister Megan who has a traumatic brain injury even gave it a try. As an occupational tool, Matador toys are great for working on visual perceptual skill development and fine motor skills.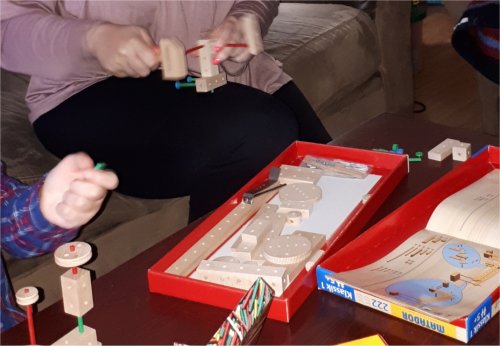 This upcoming Christmas season give your child a gift they can enjoy playing with now, while also providing skills needs later in life. Each Matador wooden construction kit is slightly different, so be sure to check out the full selection of Matador wooden construction sets to find the best set for your child.
If you're looking for educational and creative toys for your children this holiday season, pay https://ksmtoys.com a visit. Also available via Amazon-ETGtoys.
KSM Toys Matador Wooden

Construction Set Giveaway