Easter is merely three weeks away. I want to share with you some of the new Easter Books for kids from RainCoast Books that we have added to my daughter's Easter book collection. It's not surprising that the Easter holiday has inspired some great children's books over the years. We hope you'll enjoy our suggestions and maybe add one or all of these Easter Books to your kids selection of books. Also, nothing makes a less sugary gift than a new Easter book.
The Bunny who found Easter- Classic Easter books
Originally published in 1959, Charlotte Zolotow's "The Bunny Who Found Easter" has delighted generations of young readers. In Zolotow's delightful book, a rabbit wakes from a long sleep, feeling lonely and in search of other bunnies. He asks a nearby sleepy old owl where he might encounter other bunnies. The owl assures him that there are always rabbits at Easter.
Curious the little bunny asks where is Easter, but the owl has already dozed off to sleep. The bunny promptly sets out to look for a place called Easter. Throughout his travels and with each passing seasons he comes upon trout, a field of daisies and a bee, falling autumn leaves and red apples, snow, sparrows, squirrels and deer. Sadly, there are no other rabbits like himself to be found. As each season passes, the bunny feels more and more lonely. The lonely rabbit curls up inside a hollow tree to sleep.
When the bunny wakes up, spring has arrived once again! He begins hopping about, ready to resume his search for Easter. Suddenly he spots little rabbit paw prints on the ground. He follows the paw prints until he observes another brown bunny with bright-eyes and long ears, just like himself. Excited he hops back through the forest with his newfound friend showing her all the places he had seen on his search for Easter. At last they come upon the old oak tree where he had first found himself alone. Now happy and with a companion the two rabbits soon have tiny little bunnies of their own. When the old owl spots the bunny's family, he says " "Aha! Didn't I tell you? At Eastertime there are always rabbits."
The book ends with the following phrase:
The bunny felt his little bunnies around him and the earth blooming beyond them, and all things growing. And he understood at last that Easter was not a place after all, but a time when everything lovely begins once again.
The story so beautifully reminds us that Spring brings forth new life, which brings us new promise, new life. The book flows beautifully along with each part fitting into the next. I can not believe in my 40 plus years this was my first time being introduced to Charlotte Zolotow beautifully told story.
The newly illustrated book features Helen Craig illustrations. Craig has illustrated more than sixty books for children. In " The Bunny Who Found Easter, "her beautiful pastel illustrations are done in ink, colored pencil and watercolor.
Tiny the Canada Easter Bunny
Tiny the Canada Easter Bunny is one of more than 60 regional versions of "Tiny the Easter Bunny" written by children's author Eric James. This fun and playful story follows an elephant named Tiny as he attempts delivering Easter eggs for his rabbit friend Fluff throughout Canada.
Dressed in a rabbit suit, Tiny sets out to deliver Easter eggs. On his trip through Quebec, he meets up with a mouse name Marvin who joins him on his Easter journey. Marvin thinks Tiny is the real Easter Bunny until he realizes that Tiny is very good at his job. Realizing that Tiny is an Elephant, Marvin suggests that Tiny use the talents he has to get the job done instead of being something that he is not. In the end Tiny saves Easter by being himself. The book is written with a strong rhythm pattern and rhythm that I find the verse to be to some degree sing songy.
Illustrator Sara Sanchez uses a soft pastel palette for her humorous cartoons that accompany the story well. Overall, children will delight in not just the story, but the fun illustrations. It is unquestionably a charming book.
Precious Moments- The Joy of Easter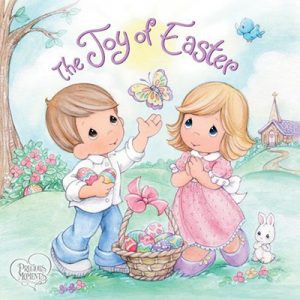 Easter is the ideal time to share God's love with our child through "Precious Moments- The Joy of Easter."Endearing Precious Moments illustrations, along with author Jamie Calloway-Hanauer's story delivers the message that God's loving Grace is everywhere. The book follows two children along throughout Easter day from the morning Easter Egg hunt to play time, church service and then Easter dinner. In "Precious Moments- The Joy of Easter."Grandpa tells his granddaughter how Jesus died and lived again. I find the book has a fluid, rhythmic pace from one page to the next. The story is a brilliant way for families to explain the real meaning of Easter to adolescent children.
Easter Books for Toddlers
Happy Easter Country Bunny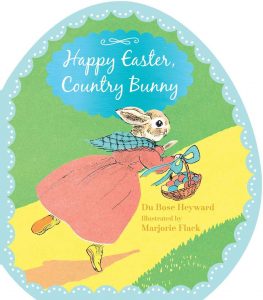 Originally published in 1939, Happy Easter Country Bunny was authored by Du Bose Heyward, and illustrated by Marjorie Flack.The copyright was renewed in 1967 by Jennifer Hayward and Hilma Larson Barnum. Happy Easter Country Bunny is the story of Mother Cottontail's first year as an Easter bunny. Before she sets out to deliver Easter eggs she teaches her 21 children how to cook, clean, sew and tend to the garden. Mother Cottontail returns with a big basket of Easter eggs for them. She is gratified to discover the house is in order and all twenty-one children are sound asleep in their little beds. Parents and grandparents will be pleased to share this classic Easter book with a new generation of children to enjoy. This egg-shaped board book is a must have. Even my five year old appreciated the story.
Bedtime Bunnies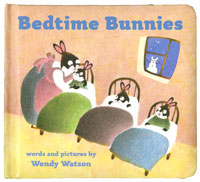 In Bedtime Bunnies by Wendy Watson the text is kept simple with various action words accompanying each of Watson's cute illustrations.  Children are taken through each routine as the five little bunnies get ready to go to bed. This book is also great for first time readers.
Raincoast Books is an award-winning Canadian book distributor based in Vancouver, British Columbia.
Website:http://www.raincoast.com