While you're out shopping for the ibuprofen to get you through another Christmas dinner with loud uncle Joe don't forget to make a stop at the beauty counter and pick up a gift for yourself or an extra gift for Aunt Judy. After all she has to put up with Joe 365 days of the year. Shoppers Drug Mart's exclusive makeup brand Quo Cosmetics is a leader in the Canadian beauty industry.  Their products are designed to help Canadian women enhance their own natural beauty. To keep the line fresh and current, Quo introduces a new colour statement each season, featuring shades that will only be available for that limited time period. Quo continues to evolve each season. From travel- friendly favorites to pretty shadow palettes, Shoppers Drug Mart 2018 Quo Holiday Collection will make the beauty lovers on your list glow straight through until the new year.
Here are some of my favorites from the 2018 Quo Holiday Collection:
Create the perfect  New Year's Eve makeup look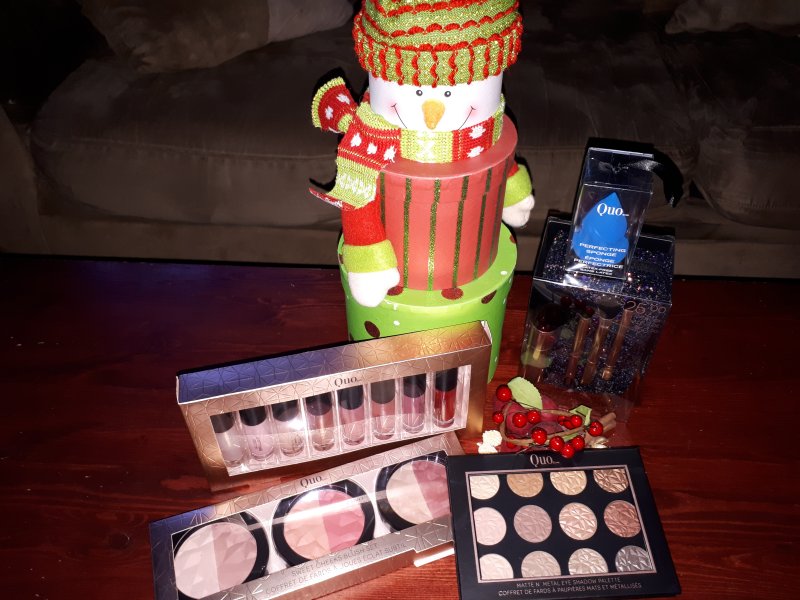 With an assortment of  shades the Quo Matte 'N Metal Eyeshadow Palette will help her go from her desk to the dance floor in a few simple strokes. The palette includes 12 matte and metallic shades.
These easy-to-blend and vibrant blush duos will give her cheeks an instant pop of colour! The Sweet Cheeks Blush set contains 3 beautiful blush duos. Each blush duo is in individual component for easy gifting or on-the-go use.
Pucker up baby!  A long-standing tradition for New Year's Eve is to share a kiss with someone special when the clock strikes midnight. Help her achieve the perfect kissable lips with Quo Pucker Up Lip Gloss Set. The set includes 8 deluxe mini lip glosses. The set comes in elegant pinks and chic reds so there's a shade for every outfit.
The right brushes make all the difference when it comes to creating the perfect holiday look. The Quo Cosmic Brush Set includes 4 metallic handled brushes with a bag big enough to store the brushes along with other makeup she wants to take with her on the go.
Makeup sponges: you can never have too many of them. The Quo Blending Blockbuster set includes 12 of Quo's bestselling makeup blending sponges, which make the perfect no-fail gift for any makeup enthusiast. Single blending sponges can also be purchased separate and make the perfect stocking filler.
Be sure to check out the full QUO 2018 Holiday Collection. It is sure to make any beauty diva's heart swoon.
For more information, visit www.shoppersdrugmart.ca.