When your family member, close friend or good colleague achieves something significant, congratulations are in order. Any accomplishment no matter how small or large is the result of hard work. That is why your recipient will be genuinely pleased to receive your heartfelt congratulations on their latest achievement. It will inspire this individual to maintain the progress if you show how proud and glad you are to know that they are on the path to success. There are many ways to congratulate someone on a job well done. Below we give some suggestions on ways to say congratulations.

Famous Accomplishment Quotes

There is no minor achievement, there is hard work and perseverance that help to achieve success. If someone you know succeeds in any field, starting from career to personal life, you can make this moment special by sending him or her an inspiring accomplishment quote. The quotes collected here will express your appreciation for the accomplishment as well as increase motivation to succeed.
"Always believe in yourself and always stretch yourself beyond your limits. Your life is worth a lot more than you think because you are capable of accomplishing more than you know. You have more potential than you think, but you will never know your full potential unless you keep challenging yourself and pushing beyond your own self-imposed limits." – Roy T. Bennett
"To accomplish great things, we must dream as well as act." – Anatole France
"Do the best you can in every task, no matter how unimportant it may seem at the time. No one learns more about a problem than the person at the bottom." – Sandra Day O'Connor
"To be successful, one has to be one of three bees – the queen bee, the hardest working bee, or the bee that does not fit in." – Suzy Kassem
"Things work out best for those who make the best of how things work out." – John Wooden
Warm Congrats Quotes and Messages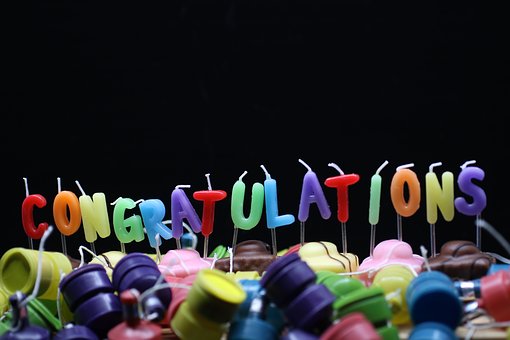 Everyone wants to receive pleasant words that recognize his or her achievement. When someone in your life has made sufficient progress, display your genuine feelings and congratulate him or her.
We've gathered a stunning collection of the warmest congratulations quotes and messages.
"I wish you a hearty Congratulations on this pleasant occasion. May your life always shower you with such happy and successful moments. Well done. Congratulations."
"The aim of the life lies in pushing your limitation always; you have successfully made this thing possible your achievement is the result of your efforts. Give your best in the future and I wish you achieve every success in your life. A big congratulation for you."
"May this success lead to a greater achievement in the years to come. Congratulations for present and upcoming successes."
"Congratulations! There's your reward for all the hard work you put in! Enjoy every bit of it!"
Congratulate Someone with Congratulations Gifts
It's always nice to hear words of admiration from friends and family when you have something to celebrate. Along with your words, why not congratulate someone with a small gift that shows how proud you are. If you are looking for for the perfect congratulations gifts for friends and family, Hallmark has a wide selection to choose from, to help you find just the right gifts.
You will always remember the special events of 2018 with this Hallmark-exclusive Willow Tree figurine. Dated figurines are a tangible way to acknowledge a graduation, new job, promotion or achievement of personal goals.
We all need a little reminder that the best things in life are shared moments during the journey.  The wide open fields  on the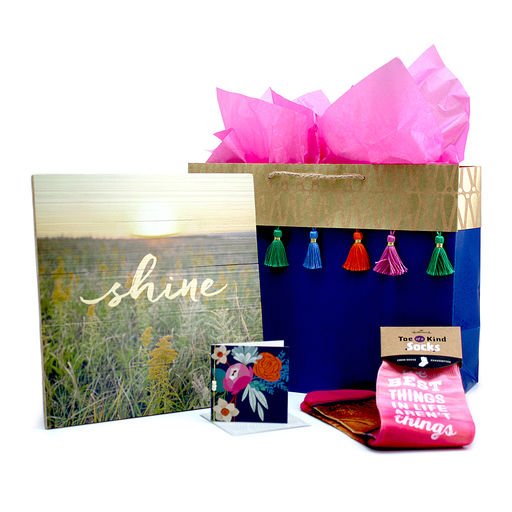 weathered wood sign illustrates freedom and opportunity for growth. The socks are a nice reminder and fit most adult feet.
Remind her how proud you are of her. Handcrafted by Katie Loxton London, this nickel free bracelet with a rose gold heart charm is packaged on a heavy white card stock printed with the message, "This rose gold heart is just to say I'm proud of you in every way."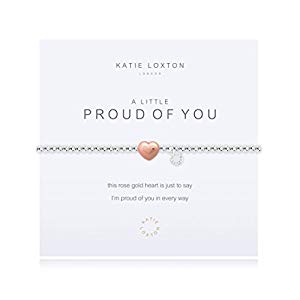 Whatever gift you decide to congratulate someone with, be sure to choose a gift that lets the person know you want to celebrate with them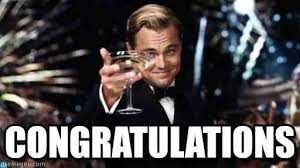 and don't forget to send it with a quote, collection of fun congratulation memes or a card of congratulations.