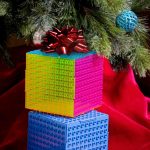 If you are looking for a Christmas gift for children 3 and over then we have just the thing. Award-winning Strictly Briks are a welcoming gift for children and are a great way to get them motivated to design, invent, and create. They have several building kits available just in time for the Holiday season! Strictly Briks are compatible with all major brands of large bricks, including  LEGO, DUPLO and Mega Bloks brand sets.  Now is the perfect time to incorporate Strictly Briks into your children's play routine!

Strictly Briks

10″ x 10″ Brick Tower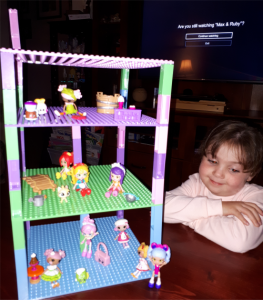 The 10′ brick tower is a good place to start if you are new to Strictly Briks like we were. The set comes in 4 pack and 6 pack. We own the 4 pack in pastel colors. The set contains 40 stackers. Each baseplate can be stacked vertically using the included stackers. You can also use bricks that you already own to stack up the plates and make a tower, office or parking garage.
The stacks take a lot of force to put together and younger kids may have some difficulty.  I also found that when building a tower that it was not very sturdy and easy came apart if too much weight was applied during play.
That being said it took my daughter and I a little over 5 minutes to put a tower together for her Shopkins and that was with a few technical difficulties. We also built a parking garage. We find  the brick tower to be a fun way add magic to Miss P's dramatic play scenarios.
The Cube & Pyramid Strictly Briks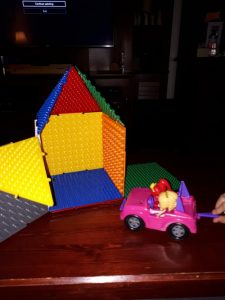 Recommended for children five to 12 "The Cube & Pyramid Strictly Briks" allows your kids to build in all directions without limitations by creating 3 dimensional scenes!  The Cube includes six hinged double sides plates that connect to allow you to design all sorts of creations! Each plate has one side for standard briks and the other side for large briks.
Though recommended for children age 5 and up the cube and pyramid wasn't easy for Miss P who is on the lower end of the age spectrum to put together on her own. She required lots of assistance from mom and dad. We chose to build a small car garage, but with add on packages from Strictly Briks one could really allow their creativity soar.
Open-Ended Play, Guaranteed!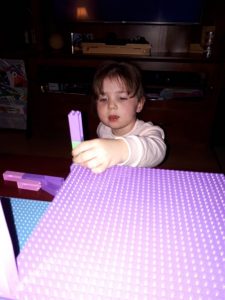 Open-ended building possibilities are endless with Strictly Briks. This alone makes it a great gift for parents interested in STEM skill development toys. With the Cube and Pyramid set, my daughter and I were able to experiment with different designs and learn why some designs work and others didn't. Everything that comes from Strictly Briks is made to allow your children to be as creative as possible while continuously learning when building.
If you are looking for a unique gift for a child this holiday season then Strictly Briks is it. There are so many sets available to purchase, that Strictly Briks will allow advanced builders to take their skills to the next level. The building sets really grow with your child. Younger kids can start out with simple designs, and move on to more complex ones as they grow.
Use Silicone Straps to create swings, slides, mosaics, and finishing touches to your child's creation!
Strictly Briks are available online at strictlybriks.com and Amazon.com. They also sell on Amazon international marketplaces in Canada, Mexico, the United Kingdom, Germany, France, Spain, and Italy.
ABOUT STRICTLY BRIKS®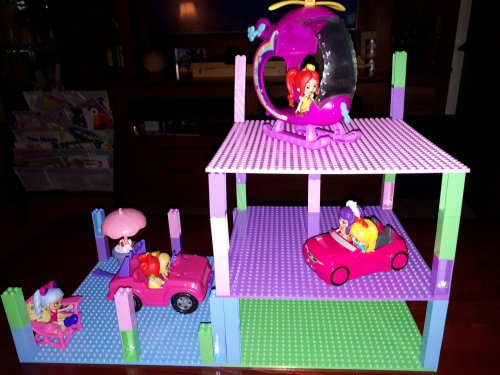 Creativity has its base® with award-winning Strictly Briks, a hit since 2015. With a mission to provide an affordable platform and structure for kids to build, every product encourages combining with toys already available from action figures and cars to stuffed animals. This is play in a new way.
Kids' creativity shines by building upon stackable baseplates that grows to whatever one imagines at the moment. At the same time youngsters amass STEM knowledge from engineering to architecture as they play! Follow them on social media channels Facebook, Pinterest, Instagram, YouTube and Twitter. To browse or order directly, visit their website at strictlybriks.com.
Thank you President Lisa Orman of KidStuff Public Relations for introducing us to Strictly Briks.
What would you create with Strictly Briks? Be the first to know about new products and weekly deals. Sign up for their newsletter here: https://strictlybriks.com/newsletter-signup
Strictly Briks are also available to purchase on both Amazon.ca & Amazon.com.
Strictly Briks Building Set Giveaway
We have partnered with Strictly Briks and are giving away one package of 8″ Multi-Color Circle Stackables. These twelve baseplates are 26 pegs in diameter and include 100 curved 2×2 Stackers™.