As we count down to Christmas ZURU Toys has a wonderful array of fun and award-winning innovative toys that are sure to be at the top of children's Christmas wish lists this year! The newest in collective play, Hamsters in a House is a line of mini collectible hamsters and play-sets from Zuru for children age 4 and up. There are 11 hamsters in total for kids to collect in the Food Frenzy theme, which is all about food.  We own the Hamsters in a House Ham's Burger Diner set, which is from Series 2.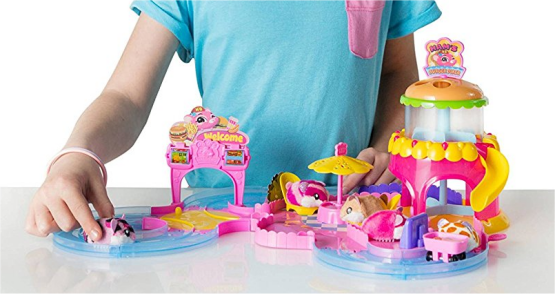 Hamsters in a House Food Frenzy Ham's Burger Diner
The Hamsters in a House Ham's Burger Diner set comes with one hamster, two chairs, one burger diner, one cross track, six curved tracks, two straight tracks, three food accessories, one food trolley and a table.
Ham is a fuzzy pink and white hamster with sparkly ears.  He scurries around the tracks and through the diner with a flip of the switch on his bottom.
Place the food accessories in the top of the burger diner and turn it to release the food down into the little trolley. The side has a little lever you press that releases the trolley, so that Ham can push it around.
Ham and additional hamsters (sold separate) can sit in the chairs at the table while they enjoy their meal. The table turns and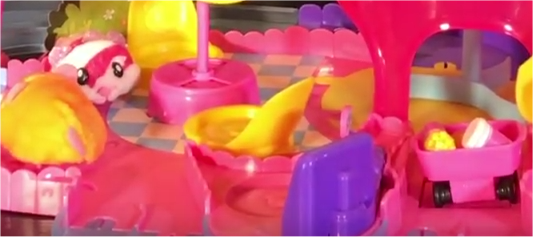 reveals the food which is another fun feature.
Hamsters in a House Ham's Burger Diner can be added to other Hamsters in a House play-sets, sold separately. Expand your hamster world by connecting the play-sets together. If your child already has a Hamsters in a House collection, these small sets are a great addition to their collection.
This is the only Hamsters in a House play set my daughter owns and absolutely loves it. She'll be receiving Hamsters in a House Little Hamster House Play Set for Christmas or her birthday. I look forward to expanding her line.
About ZURU Toys
ZURU is a disruptive and award-winning company that designs, develops, manufactures and markets innovative toys. Inspired by kids and imaginative play, ZURU is one of the fastest growing toy companies and is known for their agility, creativity and new-age manufacturing techniques. The company employs more than 400 staff, has 10 offices and supplies most major retailers in 120+ countries. ZURU has delighted millions of families all over the world through partnerships with entertainment properties, including Nickelodeon, Disney, Universal Studios and DreamWorks as well as successfully building their own global brands such as Bunch O Balloons™, X-Shot™, Robo Alive™, Micro Boats™ and Hamsters in a House™. Let's reimagine play, everyday!
Visit them at www.zuru.com