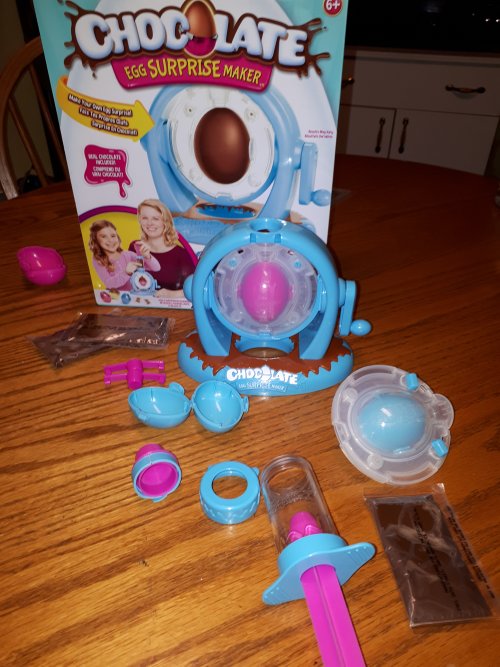 The Chocolate Egg Surprise Maker from JAKKS Pacific is hitting stores just in time for the 2017 Christmas shopping season. The Chocolate Egg Surprise Maker comes with almost everything kids need to make four surprise chocolate eggs. Included in the kit is 4 egg capsules, 2 egg molds, dispenser, 4 packages of chocolate and 6 foils. Refill kits are also available and sold separate. Each refill pack makes 6 chocolate surprise eggs. Includes: 6 Capsules, 8 Foils and 6 Chocolate Measuring bags. Egg Capsules are reusable.
While the Chocolate Egg Surprise Maker comes with four bags of chocolate, enough for one egg, you can use your own chocolate simply by melting chocolate chips. The instructions recommends that you place a bag of chocolate into 49°C water to melt. We highly recommend you melt the chocolate using a double boiler.
The bags of melted chocolate are then poured into the dispenser (syringe). This would be far too difficult for my five year old, so we had to do that part. You MUST make sure that you seal the egg capsule properly. My daughter didn't and we ended up with a chocolate egg that had some chocolate attached to our toy.
Once the chocolate appears at the overflow holes you know the mold is full. Alas, this isn't before the chocolate leaks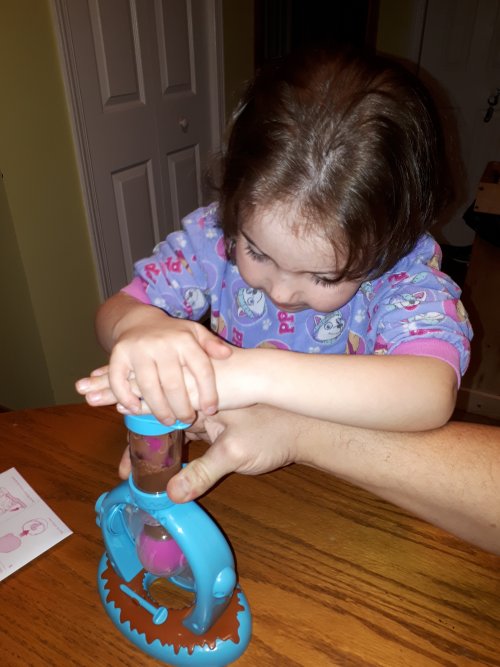 everywhere, and you have a huge mess. And then if your child is anything like my child, they are trying to eat the chocolate that is now leaking out of the dispenser. I highly recommended placing a Messmatz on the table.
Also the instructions do not state you will need all four packages of chocolate. I hope you are reading this review, as I am telling you that you will need all four packages of chocolate. You'll also want to melt them all at once. The chocolate that comes in the kit hardens pretty quickly to the egg.
Once filled, give the mold a bit of a spin. This is where you pray all the chocolate has covered your egg. It took us 3 attempts and $10.00 worth of extra chocolate as the dispenser kept clogging. Tip: Do not send your husband to the store for chocolate.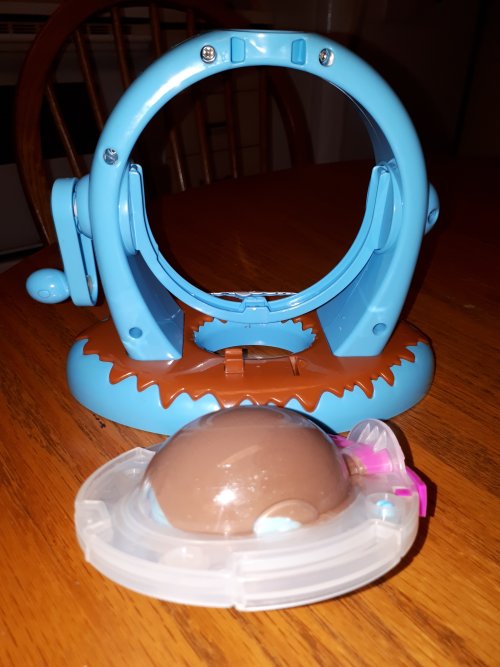 Once your egg is covered, remove the egg mold and place it in the freezer for 10 minutes or until the chocolate hardens.  During those 10 min, play a quick game or do a craft as you listen to your child ask if it is done yet! That's if they are not too busy asking you to eat the rest of the chocolate from the bag.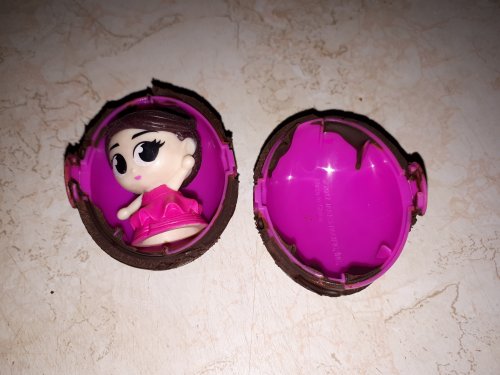 To reveal the surprise, open the plastic egg by squeezing the knobs. This breaks the plastic egg into its two halves. Keep it mind that this does not create a hallow egg. Your child will now eat the chocolate that is attached to the two half's of a plastic egg.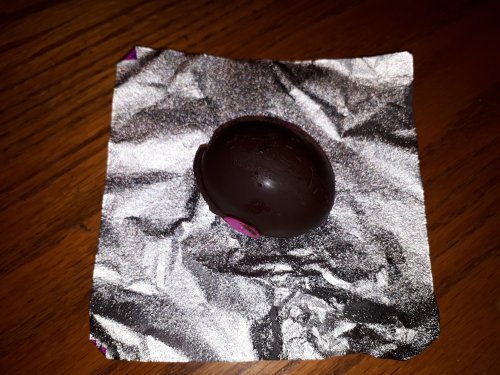 The instructions do say that adult supervision is required. However, mom and dad did pretty much all of the egg making here, accept for pushing the plunger and spinning the egg, eating the chocolate and playing with the included toy. (Toys sold separate.)
Despite, mom and dad doing almost all the work, my daughter did love the concept of seeing how chocolate is melted down, and how you can make your own Kinder Surprise style egg at home.  She also woke up at 5 am the next morning wanting a chocolate egg for breakfast.
I do think the manufacturer recommended age of six is a bit young. I think it would be better suited for children nine and up.
The Chocolate Egg Surprise Maker would be a great idea for kids to make DIY egg gifts at home; that is if you can talk your child(ren) into sharing their chocolate.
About JAKKS Pacific, Inc.
JAKKS Pacific, Inc. (NASDAQ: JAKK) is a leading designer, manufacturer and marketer of toys and consumer products sold throughout the world, with its headquarters in Santa Monica, California. JAKKS Pacific's popular proprietary brands include BIG-FIGS™, XPV®, Max Tow™ and Friends, Disguise®, Moose Mountain®, Funnoodle®, Maui® and Kids Only!®; a wide range of entertainment-inspired products featuring premier licensed properties; and C'est Moi™, a youth skincare and make-up brand. Through JAKKS Cares, the Company's commitment to philanthropy, JAKKS is helping to make a positive impact on the lives of children. Visit them at www.jakks.com