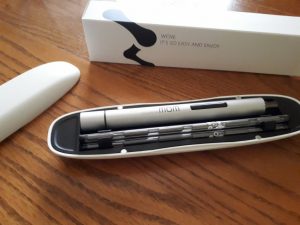 Electric screwdrivers are very important tools that DIY enthusiasts should never be without. If you have a DIY enthusiast you are shopping for this holiday season that may I recommend the WOWSTICK 1fs Electric Screwdriver from brando.com? It comes with a stylish magnetic case that's about the size of a eye glass protective case making it very compact and easy to store anywhere.
The packaging includes a Wowstick 1fs electric screwdriver, an extension rod and 18 standard bits, perfect for crafts, computers or even home appliances. It also features an extension rod. The screwdriver bits are of magnetic type, which makes them easier to use. Each of the 18 bits can be swapped out in the quick change chuck. The quick change chuck is compatible with any other bits that are micro 4mm. The slim magnetic carry case keeps the 18 screw heads in place so that they don't go missing or get left behind anywhere.
Priced at 62.00 US, it is compact, portable and features an aluminum body with a pen-like design. I find the Slim aluminum alloy housing is easy and comfortable to grip.
The nice thing about the WOWSTICK 1fs Electric Screwdriver is that it can be used even in hard to reach places where there's not much room for your hand. The WOWSTICK 1fs Electric Screwdriver features a LED "shadowless" light that helps you see what you're doing. With a screwless interface, the WOWSTICK 1fs Electric Screwdriver can go up to 150rpm speed. The electric screwdriver is powered by 2 x AAA batteries (NOT included). It would have been nice had it had a chargeable battery, which is the only downfall. Other than that in my opinion the WOWSTICK 1fs Electric Screwdriver is a good little electric screwdriver.
You can purchase the WOWSTICK 1fs Electric Screwdriver at shop.brando.com.