Groundhog Day is only two weeks away and I am already anticipating the outcome. Will there be 6 more weeks of winter or will we have an early spring? Every year around this time my husband and I get ancy to do some spring cleaning. I'm sure my husband is going to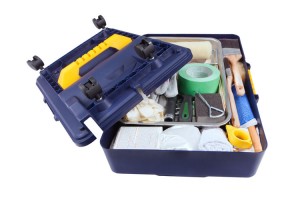 dread this spring's honey-do list. Inevitably, on my husband's list is some repainting. The Roll & Stow makes painting and spring cleaning simple.
Our living-room is one room in our home that is in desperate need of repainting. As we make the transformation from nursery to fun toddler room, I am wanting my husband to repaint our daughter's room a nice shade of purple. While I am on the subject of repainting, I am growing tired of the neon green in our bathroom. I love the candle yellow in our kitchen, but at some point that is going to need to be repainted to.
As you go about you Spring Cleaning and get your home in order for spring, you'll probably think about a fresh paint job in some of your rooms. After-all, what better way is there to renew and refresh your home after a long winter than with some interior house painting? Painting a room can easily freshen it up and give it a new look instantly, but many homeowners dread interior painting. First there is the hassle of moving the furniture, pictures, drapes, and the mini-blinds.
Then there is the moving of trays of paint around a room, which if you have ever painted then you know what a harrowing experience that can be. Even with drop sheets and careful planning, lifting full paint trays or paint cans in rooms with carpets and hardwood floors can cause huge messes when spills occur.
If that wasn't enough, one cannot always complete a painting project in a single three or four hour time period. Many times repainting a room takes a few days to complete. During interruptions or breaks on the job, a lot of time is lost wrapping brushes and rollers, and returning paint to the container, so that the tools and paint do not dry out.
The new Canadian made Roll & Stow solves two of our three issues. While it may not save one the hassle of moving the
furniture, pictures, drapes, and the mini-blinds, it does eliminates the need to pick up trays or other containers of paint. The Roll & Stow safely holds various sizes and models of paint trays and paint and stain cans. Just roll the Roll & Stow to the new work location; it effortlessly rolls on carpets, drop cloths and hard surfaces.
The innovative top of the Roll & Stow is one of my favorite features. The locking lid system a allows paint tools and supplies to be stored all in one compact unit, which can be carried from job to job.
When ready to paint, you take off the lid, flip it over, and place the painting tray inside. Since the lid also features four wheels, you can easily move your paint tray from place to place as you paint.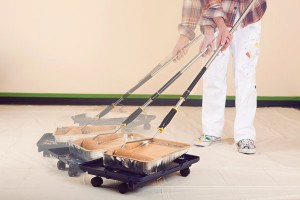 The rolling base is also great for mopping the floor or working on the car.
Even better, featuring a specially shaped engineered base, Roll & Stow easily transforms into a handy anti-drying storage unit with a secure lid that keeps paint, rollers and paint brushes from drying out—for up to one full week. When it's time to resume painting, simply remove the lid.
The Roll & Stow comes fully assembled and can carry up to 40 lbs (18 kg) of supplies and tools. In addition, up to 150 lbs (68 kg) of containers and objects can be transported using the base with its sturdy wheels.
While the Roll & Stow is perfect for painting, it can also be used for plastering, laying tiles, washing your car, mopping your floors and staining your deck.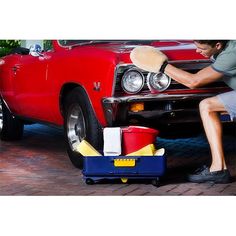 Did I mention that staining our deck is on my husband's honey-do list? Lucky for him he has a Roll & Stow.
Overall, the Roll & Stow is so versatile that you could use it to store just about anything. I know there are 152 days until Father's Day, but wouldn't this make a great gift? Maybe your husband has a birthday coming up or you could always purchase it for him with your honey-do list attached.
Roll & Stow is available at Home Hardware stores across Canada, as well as BMR and La Maison du Peintre with a retail price of approximately $39.99. For more information on Roll & Stow, please visit www.rollandstow.com.