This Christmas, give the gift of a smile. An Oral Irrigato is not the sort of thing that your average person is likely to shop for, so this is the time to give something unusual, but yet very useful. Adding an Oral Irrigator to ones daily brushing and flossing routine will help them keep their mouth clean and their gums healthy.
Clinical studies shown Oral Irrigators are 51 % more effective than traditional dental floss and perfect for reducing plaque, gingivitis, and gum disease. Used correctly the oral irrigator delivers water into the gum pocket, removing food particles, bacteria, and toxins.
The Oral Irrigator by Poseidon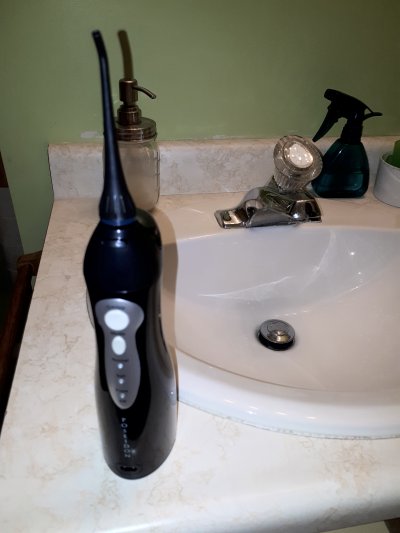 The Oral Irrigator by Poseidon from Toilettree Products is a great solution when one wants the convenience of cordless water flossing.
It has a portable, waterproof design, offering three different pressure modes- normal, soft and pulse, therefore choosing the right water pressure is simple.
Normal mode is for those who don't have any particular sensitivities. Soft is for sensitive gums. Pulse mode is great for massaging gums and improving blood circulation.
It sports an impressive 1,400 pulses per minute. To save battery life there is an auto shut off that activates after it completes a two-minute cycle.
The water reservoir is built into the handle. The tank is easy to fill, though the tank is smaller than others. I do find myself filling it after a couple of uses.
Nonetheless, it does carry sufficient water for a decent flossing session. I suggest that you empty the water in the reservoir after every use.
The model comes with two tips and two individuals can use it. Battery life depends on how often you use it. It does feature a built in 2 minute auto shut-off timer to preserve maximum battery life.
Overall, the Oral Irrigator by Poseidon is a powerful little unit. It is ideal for those like myself with not much counter top space and perfect for travel.
Give the gift of a smile this Christmas.Give the Oral Irrigator by Poseidon.
Shop: toilettreeproducts.com
Oral Gifts
A travel dental hygiene kit would also make a fantastic gift. You can gift it with the Oral Irrigator by Poseidon, or put a dental kit in their stocking.
For gift-giving, an alternative to the conventional toothbrush is the electric toothbrush. This holiday season why not give the Professional Sonic Toothbrush with Inductive Charger by Poseidon. With 31,000 pulses per minute, they will be smiling.
Perhaps one of your family members have neglected going to the dentist, due to finances. Why not give the gift of a smile this holiday with a dental plan. Many gifts go unused, but this is a gift that is sure to be appreciated.
Do you have any Oral care product suggestions? We would love to hear them. Do you use an Oral Irrigator?
We have partnered with Toilettree Products and are giving away one Oral Irrigator in black or white. Good luck to all entries.