Are you looking for the perfect gift for the pre-teen girl or teenager on your holiday shopping list? Most teenage girls love nail art. Not only is nail art a great way to express ones individuality, it is one of the fastest growing sectors of the beauty industry. Klutz Books has a number of nail art kits with crystal-clear instructions, custom tools and materials, that will get girls on their way to creating beautiful nail designs. We own two of the nail art kits and absolutely love them!
Klutz Nail Style Studio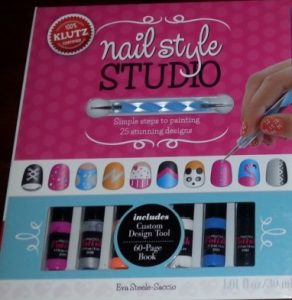 Nail Style Studio from Klutz is a step-by-step tool kit that lets tween girls 10 and up create 25 super cute, teen and tween-approved looks including polka-dot chevrons, big-eyed owls, a tropical beach, delectable cupcakes, a city skyline and more.
The set includes: a 60 page idea book, a dotting tool, about 250 pieces of stick-on nail-art stencils, and 6 little bottles of practice polish.
First, the book talks about some nail basics: how to do a simple manicure and then how to paint the nails. It also shows how to use the dotting tool properly and how to utilize the stencils. Really, it's an excellent book for beginners!
My daughter is obsessed with nail art and even though she is in her mid 20's, nail style studio was still the perfect gift for her for so many reasons.
One of the things she loves about the book is that for someone like her who does not go to a Spa on a regular basics, she would not know the basics on how to do a Manicure properly or self care (nails.) The pages in the book walk her through the basics.The book instructs you on how to clean, trim, file and buff your nails. It also instructs you through the prep for the design and how to paint your nails and follow the basic instructions.
A list of what you will need:
Nail file, Nail Buffer and Nail polish remover
Cotton Balls
a bowl of warm water
Lotion
Olive Oil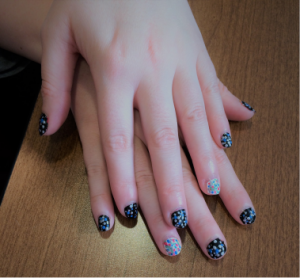 My daughter painted all her nails, one color using a design in the book called fancy florets. On her accent nail, know as your ring finger or index finger, she decided to do cute confetti.
All that you need is a solid coat, three colours or more for dots, and the dotter. The dotting tool has two ends: a blunt point and a tiny dotting tool.
The blunt point is perfect for cleaning up around the nails and cuticles. It is also for making really small dots or lines. To clean the dotter device, use warm water on a cotton ball before switching to another color.
The book comes with practice nail polish. It's washable, you can wipe it off with a moisten wipe or you can peel it off your nails. My daughter has now created many styles using regular nail polish and has even did some of her friends nails. Overall, she loves the Nail Style Studio kit.
Klutz Nail Charms