The holidays are inching ever closer, and you still haven't finished your gift shopping!  For the child on your list, books make the perfect gift.. As the seasons change, so do the books that I put out for my daughter to enjoy.  She always get so excited when it's time to welcome a new book. As a parent, I am always actively looking for new children's classics. It's not easy to find books without too many words, with simple graphics and magical stories. We have recently added two winter themed children books from Chronicle books to our daughters book collection.  Both have been sure fire winners and make for a perfect evening of bonding.
About Bunny Slopes
I really love the abundance of interactive books these days.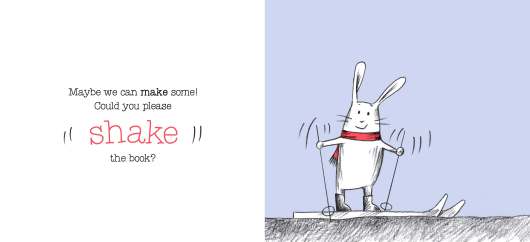 This book is one of my daughter's  new favorites.
Wearing a bright red scarf, Bunny is ready to tackle the bunny slopes. Bunny slopes are those beginner hills where new skiers learn to ride the hill.  But there is one problem and Bunny needs your help.
This fun engaging book gets even the youngest child involved in reading. Shake to help Bunny make it snow, tilt to help Bunny ski down the slope, and turn to help Bunny escape a cliff in his path. Bunny Slopes kept my daughter giggling as she sent Bunny down the slope, into a tree,  and over a jump.Claudia's illustrations of Bunny gliding, flying, and trying to stay up on his skis are humorous.
Bunny Slopes is the perfect winter warm-up. Now is the perfect time for kids to cozy up on the sofa with a cup of coco and enjoy  the tale of Bunny Slopes.
About Claudia Rueda
Claudia Rueda is the award-winning, New York Times bestselling author and/or illustrator of more than 30 books for children, available in more than 10 languages. She lives in Bogota, Colombia, where she curls up under a red blanket to drink hot cocoa at the end of a long day illustrating energetic bunnies.
About the Wish Tree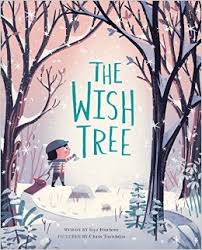 Charles wants to find a wish tree. His brother and sister don't believe there is such a thing, but his trusty companion Boggan is ready to join Charles on a journey to find out. And along the way, they discover that wishes can come true in the most unexpected ways.
Chris Turnham's engaging, delicate and intricate digital illustrations with an eye for both detail and background- are a terrific match to quietly rhythmic text. Th tender message about believing in something when no one else seems to, makes this picture book a heart warming tale for both children and parents.
Overall, The Wish Tree makes for a great seasonal read.
About Kyo Maclear
Kyo Maclear is a children's author, novelist and essayist. She was born in London, England and moved to Toronto at the age of four. Kyo is the author of several critically-acclaimed children's books including our new Christmas favorite- The Wish Tree.
I've got these  following books on our wish list for Christmas. I think they will be our next additions! Have any of you read these yet?
The nutcracker
First Snow
Penguins, Penguins, Everywhere!
Flora and the Penguin
Sleep tight farm
To pur­chase The Wish Tree by Kyo Maclear or Bunny Slopes by Claudia Rueda, please visit your local independent bookseller or http://www.raincoast.com/. Enjoy the season, and don't forget to give the gift of books.
What are your favorite winter themed children's books?
Winter themed books Giveaway
One lucky Canadian reader is going to have the opportunity to win The Wish Tree by Kyo Maclear and Bunny Slopes by Claudia Rueda. You must be 18 years or over to enter. One person per household may enter.